Travel bloggers Amrita Das and Rutavi Mehta list out their recommendations.
(Psst! They also happen to have a common favourite!)
We are sure you will enjoy reading these lists. And to add to your joy we are inviting you to post your recommendations with photographs here -- #Travel-2015. We will carry the best responses on Rediff.com!
With the New Year around the corner, it seems apt to draw out our travel wish lists for 2015.
National Geographic's Traveller magazine recommended these places and Lonely Planet recommended these.
We spoke to travel bloggers Amrita Das and Rutavi Mehta to suggest their favourites and this is what their lists looked like.
Both recommended Nepal which is now even more easily accessible thanks to a Delhi Transport Corporation bus service.
Amrita's top five:
Hyderabad, Telangana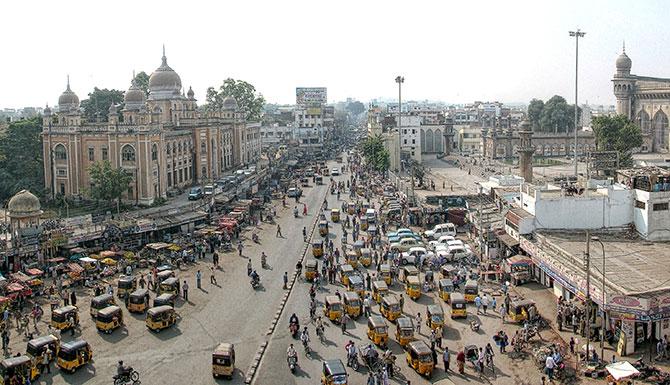 The capital city of Telangana and Andhra Pradesh may not be seen as a tourist destination but don't let that stop you from visiting it in the New Year.
Hyderabad is where the old and the new jostle for space and co-exist.
Visit the Golconda fort, Chowmahalla palace and the Charminar.
Or get lost in the narrow lanes savouring the Hyderabadi Biryani and its unique cuisine that is such a lip smacking blend of the Lucknowi and the Andhra flavours.
ALSO READ Traveller lists Hyderabad among the top destinations to visit in 2015
Photograph: Eric Parker/Creative Commons
---
Mawlynnong, Meghalaya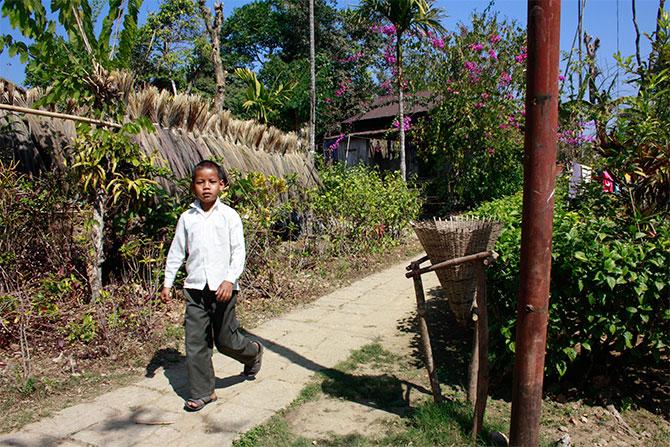 Located in the East Khasi Hills district of Meghalaya, Mawlynnong was practicing cleanliness long before Narendra Modi embarked on his Swachcha Bharat campaign.
Located merely 90 km from the state's capital, Shillong, Mawlynnong is known as the cleanest village in Asia taking off from the title it was given by the travel magazine Discover India.
Land in Shillong and hit the road for a couple of hours and you will find yourself in paradise.
Mawlynnong offers several homestays and options to volunteer. Make the most of them, be part of a community that is making a difference to itself and the ecosystem around it.
Photograph: Rajesh Karkera/Rediff.com
---
Gulmarg and Sonmarg, Jammu and Kashmir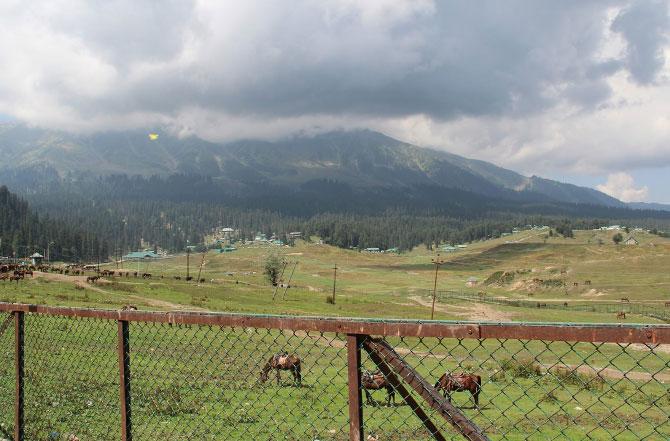 Talking of heaven, can J&K be far behind?
If Sonmarg offers stunning views of glaciers and paradise, Gulmarg has stunning green pastures... and of course one of the best skiing slopes in Asia.
But even if skiing doesn't interest you -- the season gets over in February anyway -- visit Kashmir simply because there is some truth in the famous Persian couplet that compares it to heaven.
A lot of people believe Kashmir isn't safe to travel but that isn't the case.
I have travelled there solo and discovered that not only is it one of the most beautiful places in the country it also happens to be home to some of the most warm and wonderful people!
Photograph: Rediff Archives
---
Coorg, Karnataka
Now Coorg is a very popular getaway for Bangaloreans and should be on your list to visit in 2015.
Experience the rain forest during monsoon.
Unwind amid tea and coffee plantations.
Go back in time and stay in century-old bungalows and have butlers at your service.
If you're eco-conscious, Rainforest Retreat, a self sustaining eco-lodge is the answer to your problems.
Visit Coorg to do nothing.
ALSO READ Coorg, the perfect do-nothing getaway
Photograph: Sooraj Shajahan/Creative Commons
---
Singapore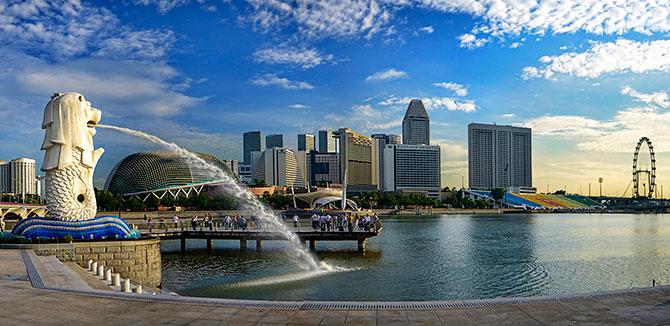 On the other end of the spectrum is Singapore, a country that at first may seem dreary and all concrete.
But there is something to learn from this man-made efficiency and how its citizens benefit from it.
The public transport system is great; the work-life balance is fantastic and so is the night life.
Singapore also has a lot to offer for the family -- from restaurants to zoos and more.
So if you're a family person, Singapore is the place to go to next year.
ALSO READ Eat, play, see: What you must not miss in Singapore!
Photograph: William Cho/Creative Commons
---
Nepal
Amrita Das says:
If adventure tourism is on your mind, Mustang in Nepal is where you should be heading.
From mountain biking to trekking to cliff-hanging to... you name an adventure activity and it's there.
Mustang also retains its rural flavour. So if you like exploring new cultures, new cuisines and meeting new people, check into a homestay and experience what life in rural Nepal is like.
Rutavi Mehta says:
Trek up a hill or meditate in a monastery.
Experience a new culture that in so many ways isn't very different from our own.
Or discover the magic of singing bowls.
There's a lot to do in Nepal and with the recently-launched Delhi Transport Corporation bus services, Kathmandu is closer than ever before.
Photograph: Darren and Sandy Van Soye/Creative Commons
---
Rutavi Mehta's list continues:
Lakshadweep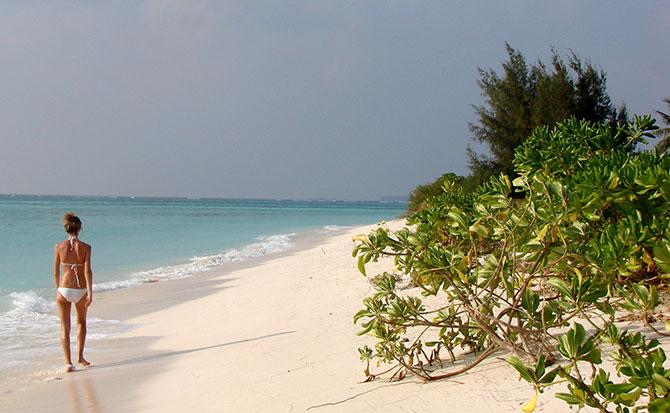 The archipelago has restricted access and requires permit to visit it.
There are several travel agents who will promise to get one for you but I would recommend you visit the office of the Secretary to the Administrator of Lakshadweep in Kochi yourself to get the job done.
Since entry is restricted, the islands are shorn of the trappings of a tourist destination.
There are guest houses and hotels but you can also opt for tents, of which there aren't a lot but are possibly the best lodging options.
Alcohol isn't permitted and it isn't altogether very expensive.
The other option is you go on a cruise, spend your days on the islands and return to the ship every night.
Photograph: Sankara Subramanian/Creative Commons
---
Nagaland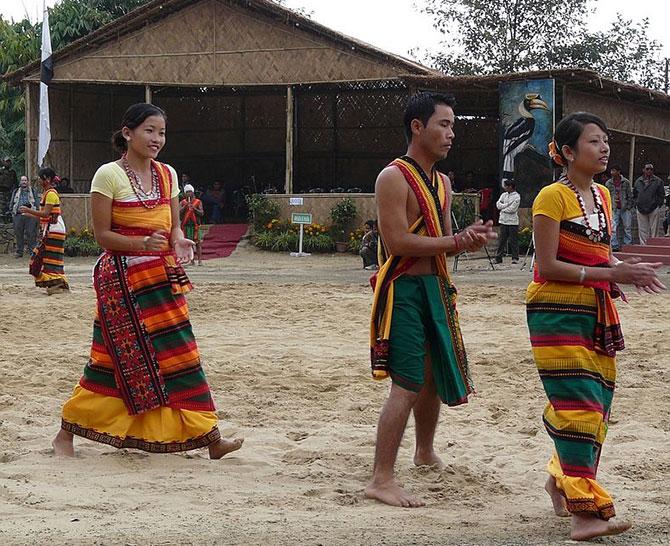 It may be difficult to access this northeast Indian state -- flying to Dimapur can be more expensive than flying to Thailand -- but it isn't impossible.
If you plan your trip well in advance it is possible to get yourself a return flight ticket for a reasonable price (about Rs 10,000).
The other option is train; but it takes forever to reach.
Soak in the breathtaking vistas of the Dzukou Valley, visit the Kohima War Cemetery that pays tribute to the soldiers who fought the Japanese during World War II or the Kisama Heritage Village where you can get a sneak peek into the lives of the Naga people or pay a visit to the Khonoma Nature Conservation and Tragopan Sanctuary or simply soak in the varied traditions of the several tribes of state.
Opt for homestays, break bread with the locals (if you're a meat lover, you will find yourself at home in Nagaland) insist on a local tribal guide and if you aren't very stuck up on music, visit Nagaland after the Hornbill festival when the rates drop considerable.
Photograph: Rajkumar1220/Creative Commons
---
Purushwadi, Maharashtra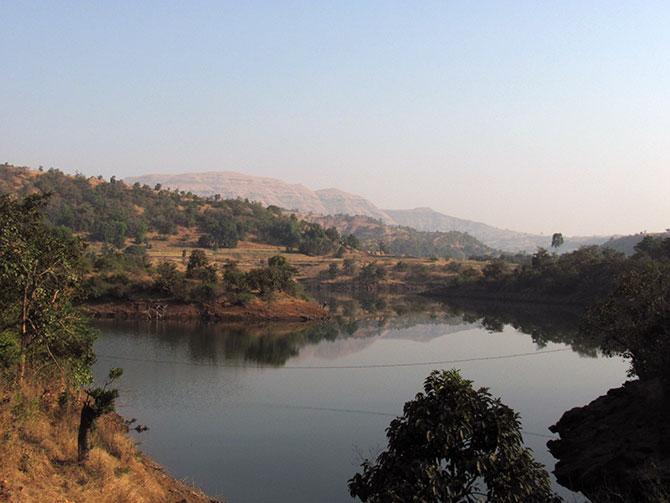 The best part about this little-known village in Maharashtra's Ahmednagar district cannot be captured on camera.
Every night millions of fireflies light up the trees and put up a show that can put any man-made spectacle to shame.
Located about 200 km from Mumbai, fireflies are Purushwadi's speciality and there is no way any camera can do justice to this brilliant show.
But Purushwadi is also a great place to experience slice of Maharashtrian rural life, taste some spicy Maharashtrian cuisine and appreciate the tribal Warli art.
Photograph: Bhatta/Creative Commons
---
Kudremukh, Karnataka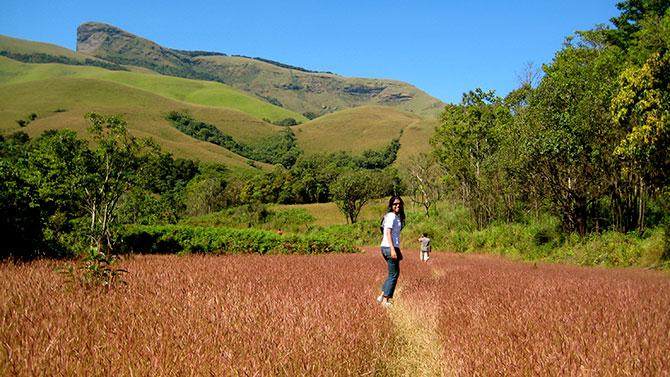 The mountain range of Kudremukh in Karnataka's Chikkamagaluru district and the eponymous national park is a great place to unwind after an extremely stressful time at work.
Spread across over 600 sq km, the national park is home to several animals including the tiger.
Visit the Kadambi Waterfalls, a popular attraction in the park or trek through the various hills (with the permission of the forest ranger of course) and stay in the rest house in the heart of the park.
Camping in the premises of the national park isn't permitted but if that's the sort of thing you're looking for, there are a lot of picturesque locations on its periphery to pitch your own tents. But then you're on your own! :-)
Photograph: Praveen/Creative Commons
---
Where would you like our readers to visit in 2015? Post your recommendations with photographs here -- #Travel-2015 -- and we will carry the best responses on Rediff.com!
Amrita Das blogs at Travelling Ides of March. Rutavi Mehta blogs at Photokatha.