'After toiling in the field and selling vegetables in the local market, we don't make more than Rs 1,500 a week.'
'That is just enough for the five of us to survive.'
'My family cannot afford to pay for private coaching for IIT-JEE.'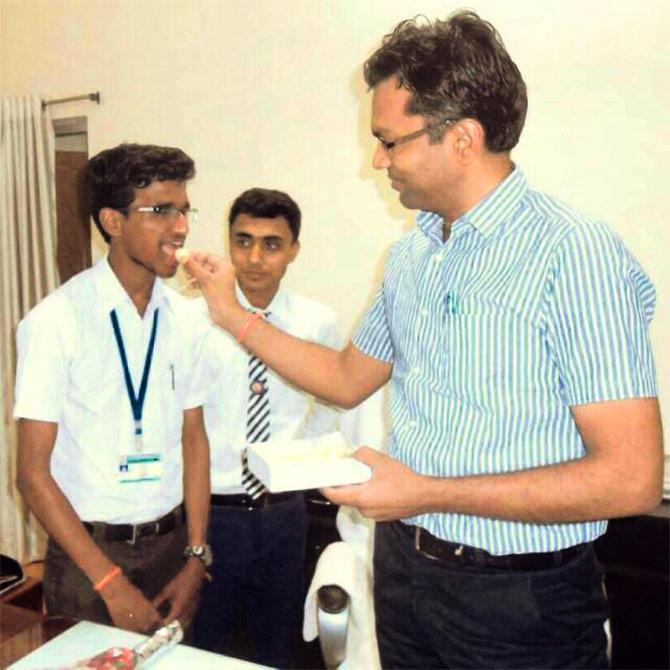 IMAGE: Dhavendra Kumar is congratulated by his teacher after topping the Class 12 board examination in Chhattisgarh.
Photograph: Kind courtesy Dhavendra Kumar
Dhavendra Kumar Sahu, 17, a farmer's son, would have remained a vegetable vendor all his life. But he challenged his fate with determination and hard work.
His elder brothers quit their studies after Class 10 to help the family make ends meet
Dhavendra, who scored 90 per cent in the Class 10 exam, toiled extra hours and scored 98.6 per cent in the Class 12 Chhattisgarh Board Examination.
Dhavendra, who belongs to Londi village in Chhattisgarh's Balod district, topped the state this year.
He had earlier dreamed of studying at the IITs, but could not appear for the IIT-Joint Entrance Examination because he knew his parents would not be able to fund his coaching or pay his college fee.
"The government does not care what happens to poor students like us," he says. "Even after scoring good marks, I won't be able to study at IIT."
"After toiling in the field and selling vegetables in the local market, we don't make more than Rs 1,500 a week. That is just enough for the five of us to survive for a week."
"My family cannot afford to pay for private coaching (for IIT-JEE). But I want to pursue engineering and my parents want to support me."
Ashwan Sahu, Dhavendra's father, studied up to Class 12; his mother Lata Sahu dropped out of schhol after Class 8.
On a small plot of land, the family grows rice and vegetables like brinjal and ladies finger.
After his story was reported in the media, Dhavendra has received many calls offering financial help.
"Un sabka bahut dhanyavaad par main IIT nahi karna chahta (I thank them all, but I don't want to go to the IITs)," Dhavendra tells Rediff.com
Dhavendra has almost given up his IIT dream and plans to study civil engineering at BITS-Pilani.
"I want to appear for the UPSC (Union Public Service Commission) exam. Civil engineering students have a good chance of cracking the test," he says.
"I want to focus on clearing the exam and become an IAS officer so I can help deserving students like me get better education and scholarships," he adds.
So, how did he juggle his time to top the board examination?
"I used to wake up at 4 am, study for a few hours, then help my parents farm. I would go to school or the library to take notes," he says.
"In the evening I would help my mother transport the vegetables to the market. Once back home, I would study. I studied four to five hours a day."
Besides his teachers, Dhavendra is thankful to his chacha, Somendra, a jobless engineer who trained him for the exam.
"There are thousands of students like me who struggle to complete their studies and follow their dreams because of poverty," Dhavendra says.
"If I can reach so far, I shouldn't give up so easily. I should motivate other students to work harder and become successful."