Environmental engineer Siddharth Mohan Nair has launched DesiTude, a swadesi clothing brand to promote khadi in appealing new avatars.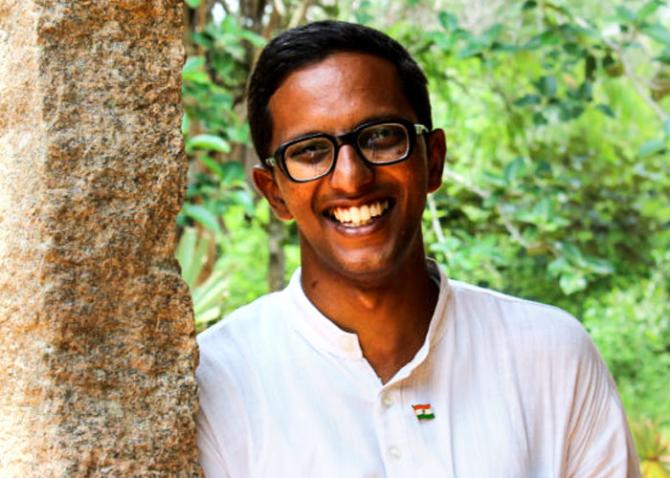 Siddharth Mohan Nair, founder of DesiTude.


All photographs: Kind courtesy Your Story
"Would you wear khadi to college?" I ask my 18-year-old son after an intriguing conversation on Twitter with Siddharth Mohan Nair, 26, a Gandhian and founder of DesiTude, a clothing brand that promotes handcrafted khadi denim.
He replies after some thought, "I may wear a kurta, but only on ethnic day."
I then showed him the DesiTude website and what it had to offer. It changed his perception about khadi -- now, he thought it was trendy and definitely cool.
While khadi has always been a symbol of India's struggle for Independence, it was not -- until recently -- perceived as fashionable.
Khadi was mostly associated with Gandhians, politicians or senior journalists.
Over the years, the fabric has taken on different hues, regained its lost lustre and is definitely trending as coveted fashion clothing.
The ideology behind the business
Siddharth completed his engineering in energy and environment from the Tamil Nadu Agricultural University in 2012.
It was at this time that the Lokpal movement, headed by Anna Hazare, was gaining momentum.
"I was drawn to the movement and began working as a volunteer in Kiran Bedi's office.
"This exposed me to Gandhism and I started visiting Rajghat regularly.
"I also got to interact with a few old Gandhians and it brought me closer to Gandhiji and the ideologies he practised and professed.
"It is then that I decided to follow Gandhism and started wearing khadi," he says of his initiation into the world of khadi.
After completing his engineering, Siddharth appeared for the civil service examination but did not succeed even after three attempts.
In the meantime, he also enrolled for a course in law, as he felt that being a lawyer would enable him to learn new things and meet new people.
He also worked as a freelance writer for a news website for six months. However, khadi remained on his mind.
Radha, a domestic help from Kerala, wearing DesiTude's tie-dye khadi denim jacket.
Khadi is 'chic' too!
"From the time I have been wearing khadi, I have tried -- almost unsuccessfully -- to get people to wear it.
"Most of them have an issue with it being old-fashioned and requiring more maintenance.
"Khadi denim negates both issues. It's handspun, handwoven and hand-dyed; it reflects the spirit of human labour, helps generate employment, is eco-friendly and yet fashionable, trendy and relatable to almost all age groups, especially the youth," he says.
Siddharth started his venture by getting a pair of khadi jeans made for himself. He showed the jeans to his friends and family, who were clearly excited by the new product.
"However, even after getting my hands on the fabric, I did not think of becoming an entrepreneur.
"It was their positive responses that made me write about it on Facebook. It was not a planned decision; it just happened by chance."
He took a loan of Rs 30,000 from his mother to start off and, after a while, borrowed again from his parents and from a family member.
"I did not want to go the investor route. I wanted independence without any hindrance so that I could run DesiTude with all its social and environmental commitments," he says.
Siddharth was clear about one thing though. He wanted to move from his hometown Palakkad, Kerala, to Mumbai to start DesiTude.
"Mumbai is cosmopolitan in nature and it's easy to get work done here.
"I also knew that going online was the right way to reach people and thus www.desitude.com (external link) came into being," he recalls.
Being socially relevant
Siddharth lists two reasons for setting up DesiTude.
"Firstly, I wanted the concept to reach as many people as possible because, if more people bought it, spinners and weavers would benefit.
"I also wanted this to be a social enterprise and set aside 10 per cent of every sale to buy swadesi sanitary pads for girls in orphanages. Also, for every item sold, we plant a sapling."
Amritha Anilkumar, a college student, wears DesiTude's tie-dye khadi denim skirt and shirt.
The range is broadly classified into khadi denim and regular khadi, hand-spun and hand-woven, with the main offering being khadi jeans in customised fits and styles.
According to Siddharth, people who buy from DesiTude are largely those who want to try something unique and different, clothes they do not find in regular retail outlets.
DesiTude adopts a simple, down-to-earth approach when it comes to popularising its products on the website.
"We use real, everyday people, without any make up as our 'models'. We want people to accept their bodies positivitely and be confident about the way they look.
"Our models are migrant workers, domestic help, old people, school and college students and artists. We have generated a lot of goodwill because of this," he says.
Siddharth also wants to reach out to celebrities interested in khadi, eco-fashion and sustainability to help promote the cause.
The challenges so far
"While khadi may be traditionally fashionable, the price is a huge deterrent. But it's important to understand why khadi is expensive," Siddharth says.
"Though khadi is well-known, not many understand how it is made and what makes it expensive.
"The handiwork and labour that goes into making the fabric is niche.
"They are ready to pay for linen, a fabric that closely resembles khadi and is almost as comfortable, but is mill made and therefore cheaper.
"There is clearly a lack of awareness and this needs to be resolved. There is a rich heritage behind the fabric and it also contributes to the livelihoods of many," he says.
Siddharth believes the current hype around khadi will help startups like DesiTude.
"Prime Minister Narendra Modi's slogan, 'Khadi for nation, khadi for fashion', is timely and appreciable," he says.
Desi chic, anyone? It's available at DesiTude.