Sona College of Technology's integrated Japanese course has helped seven engineering graduates find jobs with six-figure salaries in Japan.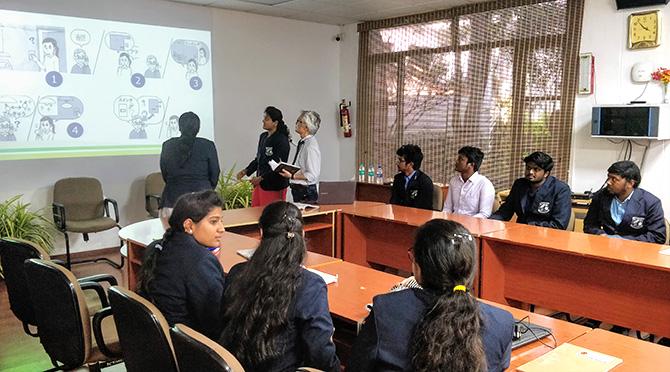 At a time when some of the best engineering colleges in the country are struggling to produce employable graduates, a college in Salem, Tamil Nadu, is training its students for careers in Japan.
Currently, seven students from the Sona College of Technology are working as engineers in Japan, drawing six figure salaries.
As many as 360 students learn Japanese along with their engineering course so that they can get a job in Japan.
The initiative is the brainchild of Professor S Saravanan.
After pursuing his engineering from Tiruchi, for his PhD, Saravanan sought his internship in Japan and submitted his thesis in 1997.
He did his post doctoral research in Japan for three years and worked at a company in Japan for almost 9 years before returning to India.
In May 2009 he joined the Sona College of Technology.
"In 2015 while I was chatting with an old friend in Japan he said there was a shortage of manpower there," Professor Saravanan tells Rediff.com's A Ganesh Nadar.
With its declining birth rate, Japan has a graying population. By 2025, it is estimated that over 500,000 skilled foreign workers will be employed in the country across sectors.
Comparing the statistics with India, Professor Saravanan says: "There are 100,000 engineers passing out of colleges in Tamil Nadu and 60 to 70% are employed in non-engineering jobs. I saw an opportunity and spoke to my management who supported me. I called a friend in Japan and he agreed to come and teach here."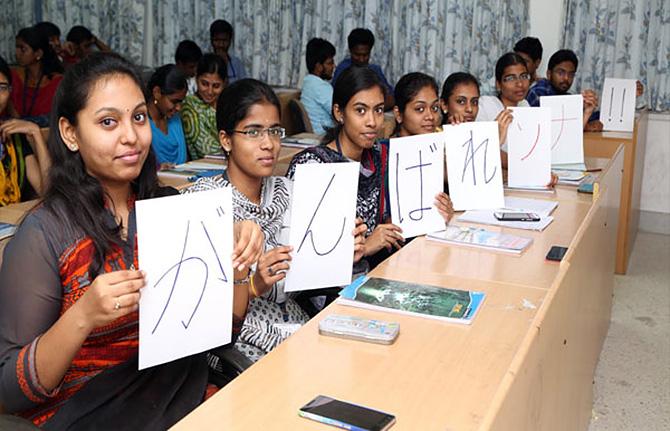 When the Japanese teacher started her first class in 2016 there were only 40 students.
Now three teachers from Japan cater to 360 students.
At the institute Japanese is taught in Japanese with no reference to English. It is called demonstrative teaching.
Initially, there were initial difficulties; but four months later, the students started performing better, inspiring other students to join the programme.
"After six months they start conversing easily as Japanese and Tamil are similar," points Professor Saravanan.
The students learn Japanese in their 2nd, 3rd and 4th years of engineering.
From the 2020 batch, as many as 740 students have registered to learn Japanese along with their degree.
"I have many contacts in Japan who help in placement. Seven of our students are already working there earning between 15 to 20 lakh rupees a year," says Professor Saravanan.
Chocko Valliappa, vice-chairman, Sona College of Technology, is confident that this initiative is the need of the hour.
"We know Japan is recruiting foreign skilled workers. My son is working in Japan. He learnt Japanese at the University of Michigan and he picked it up very easily," says Valliappa.
"Japanese is similar to Tamil as the grammar is the same. The Japanese teachers do not speak in English. In fact, they pick up Tamil here. They teach Japanese without any reference to English."
The language is taught to first year students free of cost along with their engineering course. For those who sign up later the fee is minimal.
Valliappa informs us that N-5 is the entry level proficiency test. Then there is N-4 and N-3 which takes 3 years to complete. As the course is taught simultaneously along with engineering, they start in the second year.
For those who want to learn Japanese full time, there is a yearly programme. The Sona Group of Institutions has a separate college for that. Apart from Salem, it has branches in Delhi, Bengaluru and Chennai.
Vijay Raman, a final year student of mechanical engineering, started learning the language in January 2019. "I was studying animation, I also wanted to work in Japan, so I decided to learn the language" he says.
Vijay found learning Japanese as easy as learning Tamil. He cleared the N-5 test in July with 123/180 marks. He cleared the N-4 test in December with 128/180 marks. He is confident of clearing the N-3 test in July.
For N-5, he paid Rs 7,500 as fees, and for N-4 and N-3, Rs 10,000 each.
Roshni Subburaj, who is in the final year of a computer science course, also signed up last year. She has already cleared her N-5 and is planning to clear the N-4 level before the final exam and N-3 proficiency after graduation.
"I want to work in Japan," she says. "I discussed my plans with my parents and only after they agreed did I start preparing for it."
The Japan Foundation has authorised eight centres in India to conduct the Japanese Language Proficiency Tests. One of its centres is in Salem.
Besides language proficiency, the students are taught Japanese etiquette, customs and how to deal with everyday life in the Land of the Rising Sun.