'30 to 40% of the industry needs to be reskilled as existing jobs will go to automation.'
'Reskilling is required as some existing jobs will not be required in the future.'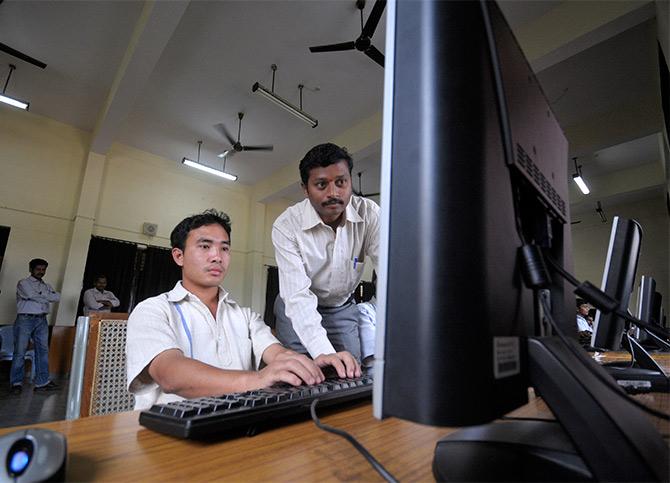 According to Nasscom Chairman Raman Roy, there is a shortage of skills globally in multiple technologies. Photograph: Krishnendu Halder/Reuters
With artificial intelligence, cloud computing, automation, virtual reality, Big Data analytics, 3D printing, etc expected to take over the world, there is an urgent need to re-skill and upskill India's techies.
It is with the intention to upskill 4 million IT employees that Nasscom launched the Future Skills Platform earlier in February.
"I have no doubt that India will play not just a major role, but a dominant role in the adoption of new technologies," Nasscom Chairman Raman Roy, left, below, tells Rediff.com's Shobha Warrier.
The last time we spoke, you said that the panic about losing jobs is only for those who were not ready to reskill themselves.
How will Nasscom's Future Skills Platform upskill techies?
We have created the platform for people who need to be skilled, and for those who have the content and capability to be able to skill themselves.
Intermediates like companies also will play a role in this.
For example, a company may want 100 or 200 of its employees to be skilled in a particular technology.
There are intermediates like colleges who want to upskill their students.
There can be individuals who like to skill themselves in new technologies like Blockchain or Cyber Security or 3D Printing.
On the platform we are creating, any individual can assess themselves, understand the content, test and then learn the technology. They can do so either through intermediaries like companies or as individuals.
There will be multiple content providers, some free content and some paid providers.
Companies can get into a contract with the paid providers so that their employees can learn the content they provide.
After going through an assessment, testing and then learning, an employee or a student can get a certification which he can use to get a new job.
Will the certificate be provided by Nasscom or the content provider?
Nasscom has been issuing certification on the courses that we are offering. But on the Future Skills platform, Nasscom maybe one of the certifiers.
A student can choose whose certification s/he would like to have.
Last year Nasscom had formed a group to identify future technologies and this group identified eight such technologies.
We worked with the Boston Consulting Group to further identify 55 job roles that cater to these technologies. We did this because the skill requirement for different jobs is different.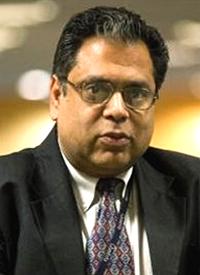 When will the platform be ready?
The platform has just been inaugurated by the prime minister. We plan to get it ready within this calendar year.
How aware is the Indian IT industry and its employees about reskilling?
Nasscom represents the industry. All the industry representatives are our members.
The need of the hour was first identified by the industry and it means the industry is very much aware of the changing technologies.
What is available, what needs to be done in the future and how we can work on it was decided by Nasscom after working with the industry members.
All our member companies are talking to their employees and making them understand the need to get themselves skilled in the new technologies.
Are we in pace with the rest of the world in adopting the new technologies? How prepared are we?
Our growth forecast for the year ending is 7.8 per cent which is the top line growth.
The growth in head count is less than 5 per cent which means per head revenue is rising.
It is rising because, as an industry, we are using advanced technologies where the per head revenue is higher.
The earliest indication of non-linear growth, which is a manifestation of the industry adopting to the newer technologies, is there.
At the same time, Nasscom has found last year that 30 to 40 per cent of the industry needs to be re-trained, and our newer employees will need newer capabilities in new technologies.
This is where the future of the platform comes into play.
This platform will play the role of retraining people within the industry.
It will also facilitate colleges and other institutions to use the content on the platform to train students or future employees so that they become ready for the jobs of the future.
India played a major role globally in the Y2K crisis. Do you think India will be able to take advantage of the emerging technologies by getting ready early?
I have no doubt that India will play not just a major role, but a dominant role in the adoption of new technologies when compared to various other economies of the world.
During the Y2K crisis, there was a shortage of Cobol programmers globally to fix the Y2K issue. That was when we as a country stepped in, and the result was mutually beneficial.
I see exactly the same thing happening now.
There is a shortage of skills globally in multiple technologies that are in the early stages of development, and some just about to be adopted by the industry.
If we are able to get our act together, and as our non-linear growth indicates that we as an industry are in our act together, we will definitely play a dominant role as the location of first choice for future technologies.
You mean a platform like this can help millions of Indians get prepared to face the world of new technologies?
That is exactly what we are hoping to achieve.
We want to target students also as they are the employees of tomorrow.
Will this training help nullify the effects of automation in reducing jobs?
That's why I said 30 to 40 per cent of the industry needs to be reskilled as the existing jobs will go to automation. Reskilling is required as some of the existing jobs will not be required in the future.
The new mantra is, reskill or perish.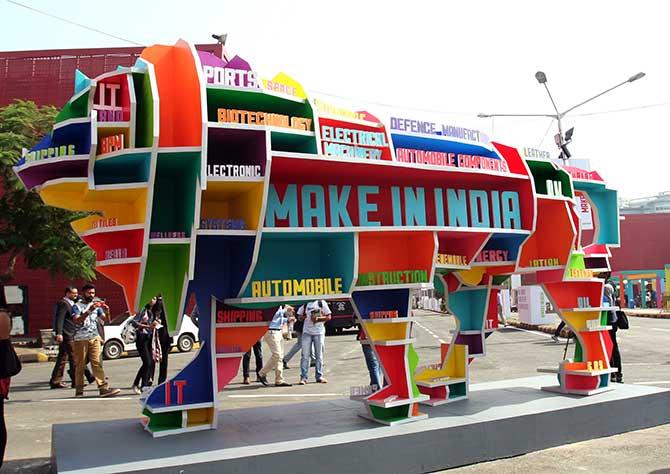 'If you look at the attrition of employees in technology, we lose hundreds of thousands of people every year. It is not that they are sitting at home unemployed; they are joining other industries,' says Raman Roy. Photograph: Sanjay Sawant/Rediff.com
At the launch of the platform, IT Minister Ravi Shankar Prasad said for every 10 jobs the IT industry loses, technology can create 100 more jobs. Is this true?
This has been demonstrated earlier too. When computers first arrived, people were scared and said computers were going to take away all the jobs.
What happened? Computers created more jobs.
Today, you are talking about Facebook, WhatsApp, Twitter, Uber. Technology has created the platform for all these and the list is endless.
Technology has only created more jobs; it has not taken away jobs.
What is the future of jobs in India going to look like?
There is a huge expansion in the base with the government planning to have a trillion dollar digital economy.
Just look around and see what your telecom service provider, bank or the retailer is doing.
Everybody is adopting technology. Even the RBI has made it mandatory to have people with technical know-how on the board of directors in banks.
All these are leading to employment in technology outside of the IT industry.
Earlier in our country, when adoption of technology at the domestic level was at a very nasal stage, technology jobs were largely in the IT industry.
Now, with the economy growing at 7.2 per cent or so, many industries are adopting technology.
If you look at the attrition of employees in technology, we lose hundreds of thousands of people every year. It is not that they are sitting at home unemployed; they are joining other industries.
Nobody is assessing the technology jobs that are being created in other industries.
For example, you take an e-commerce platform like Flipkart. Thousands of people are being employed by this one company. These jobs are not counted when you talk about new jobs being created.
So, the future of creating a trillion dollar digital economy is not just bright, but exceedingly bright. We have to find ways to estimate the jobs beyond the IT industry.
Is the panic about job loss unnecessary?
Yes. You have to understand the shift that is happening. For example, retail has become e-commerce.
You say retail is going down, but you refuse to acknowledge that e-commerce is going up.
Those who are creating panic are unfair to the public. They are presenting only a part of the picture and not the holistic view of the job scene.