Kommune, an unusual collective of performing arts, is a hub for storytelling talent for many like him, writes Vanita Kohli-Khandekar.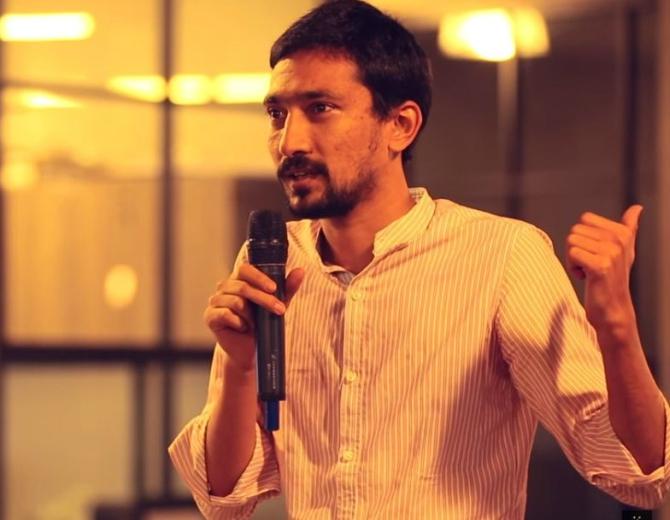 Hussain Haidry went viral with his poem Hindustani Mussalmaan.
Photograph: Kommune India/YouTube.
Hussain Haidry, a struggling writer, performed the poem Lat (Addiction) at a Kommune workshop in suburban Mumbai in the summer of 2016.
When Kommune wanted to upload the 3.55-minute poem about cigarette addiction on YouTube, Haidry was hesitant. This MBA from the Indian Institute of Management-Ahmedabad had quit corporate life to come to Mumbai because his heart was in writing, poetry and stories. But his family in Indore did not know this. What if they saw the video?
Finally, with a "who's going to see it?" shrug, he agreed.
His fear became a reality in February 2017 when Hindustani Mussalmaan, another poem he performed at Kommune, went viral. The 2.37-minute, goose-bump-inducing ode to being an Indian Muslim has been watched more than half-a-million times.
Overnight, Haidry, 32, became a mini celebrity with newspapers and TV channels vying to interview him.
There are dozens like Haidry.
They may be struggling writers like him or reasonably successful actors such as Tisca Chopra or Sandhya Mridul, or simple storytellers like Rabia Kapoor or singing poets such as Rakesh Tiwari.
Most have day jobs elsewhere. But for all of them, Kommune is a home where they perform their stories.
Since it started, Kommune has become to budding Indian storytellers what YouTube is to the world -- an audition theatre of sorts where they come and perform stories, poetry or any spoken word. The key word being "perform", not tell or recite.
"Storytelling has one advantage over comedy. It is not only about laughing, but also about crying, empathising or agreeing," says anchor, director and media personality Roshan Abbas. "What people like most is stuff around relationships and love -- be it familial love or love for a city. As our world becomes more socially dyslexic, we are looking for ways to connect," says he.
Abbas is the founder of Kommune and a majority shareholder of the company. TV producer and former VJ Gaurav Kapur and singer-songwriter Ankur Tewari are the others.
Over three years, Kommune has held between 50 and 60 workshops at 16 locations across the country -- from Kashmir and Tripura to Chennai and Mumbai.
If you have a story to tell, all you have do is register and turn up at the next Kommune workshop in your city. You pay ₹300 to attend a workshop and tell your story, if your courage doesn't fail you.
"For me, the reluctant storytellers are the best, the ones who listen to three or four stories and then talk," says Kapur.
As Kommune has grown in size and scale, its ability to funnel these raw storytellers further has grown both online and offline.
Online, it has 180,000 subscribers on YouTube and over 115,000 followers on Facebook.
Offline, it curates professional shows, or pro-shows, using the people (now 30) discovered in the workshops along with outside artistes. These could be for companies such as Asian Paints, which wanted a show on "Homes", or for HSBC. Or, it could be shows in clubs or restaurants such as Blue Frog.
Kommune's biggest triumph so far is "Spoken 2017".
This two-day festival of the spoken word was held in Mumbai's Jio Garden last October and featured 62 artistes.
Many of them, such as Tanmay Bhat of AIB or TV host Mini Mathur, were from outside of Kommune. Some of them were friends of Kapur, Abbas or Tewari, and were part of the media and entertainment ecosystem.
It took months of preparation, but till the last day no one knew if it would work. What if the 13,000-sq-ft Jio Garden remained empty?
When the first 200 people walked in, an exhausted Kapur turned to Abbas and said "Mazaak mazaak mein kaafi bada bana diya (it started as a joke and see how big it has become)."
Spoken eventually had an estimated audience of 6,000 Mumbaikars, who bought tickets priced at ₹799, ₹ 999 and ₹1,299 to listen to slam poetry, and stories about conversations, love and life.
Kommune had arrived.
Abbas has been a radio jockey, a TV host, an emcee and the man who set up Encompass.
In 2008, global marketing and services firm WPP bought the brand activation and event firm, though Abbas still runs it.
In 2009, he decided to make a film. Always Kabhi Kabhi released in 2011 and failed.
A depressed Abbas found himself in a professional vacuum. "I was questioning my creativity. That's when friends from the creative space took me for plays, shows and so on. Slowly I started getting my mojo back," he says.
This was when the idea of a "place where creative people could meet other performers, perform, find an audience and get help from other performers" took shape.
Long discussions with friends like Kapur, Mridul and Tewari, among others, followed.
"Kommune was really born of random living room conversations," says Tewari.
Their search for something similar led them to The Moth, a New York-based collective for performing arts. And a vague idea took form -- why not a similar space for personal storytelling in India?
Abbas asked a friend to lend him her dance studio, Aamad, in Mumbai's Versova for an evening. She gave him an 8 pm weekend slot in October 2014.
About 30 people were invited; only 12 turned up.
One of them was Tess Joseph, a casting director who now (also) runs Kommune. She was "dragged by a friend and ended up being the second person to take the stage and tell a story," laughs Joesph.
Kapur shared a story about falling out of love during a train journey and Abbas about a surreal experience he had when his mother was hospitalised.
At the end of 2 hours, "magic happened," says Abbas.
Next week, fate intervened.
A chance meeting with Vijay Nair of event management firm OML led to them being pulled in for a professional performance of an hour each in Pune and Mumbai.
This forced them to quickly form a formal structure and a name -- Kommune.
Both Abbas and Kapur put money into the collective, and they were set.
Many workshops followed at Aamad and also one at Symbiosis, Pune to discover fresh talent.
The first pro-show was held at the Blue Frog in Mumbai in February 2015.
"Some of us had ideas, somebody had a venue, skill and finance; we joined the dots," says Tewari, who brings his understanding of the independent artiste community and its sensibilities into the creative choices Kommune makes.
Kapur brings in healthy doses of digital savvy, an understanding of how social media works, and how platforms such as YouTube can be used to amplify Kommune's voice, which is now being heard across the Indian media world.
"We are in conversations with Amazon and Saavn (an American digital distributor of English, Bollywood, and regional Indian music) on shows around storytelling. We need to consolidate this," says Abbas. "I believe that the stories of tomorrow for films, shows or serials can come from Kommune. The biggest struggle for content is finding stories that can be created in another format."
Kapur, meanwhile, worries about scaling up.
"We have a storyteller's bible and can do a show in, say, Mysuru or anywhere, for that matter, but how do we get the Kommune stamp of quality on it? We haven't been able to scale beyond a performance here or there," he says.
That sounds like happy growth pangs.
How a Kommune workshop works
A Kommune workshop is usually held at any convenient venue offered to the collective -- a studio, an empty theatre or a club.
The workshops typically run for two hours.
Anyone can register online and pay ₹300 to attend.
The average group size is between 30 and 50. Smaller towns pull in between 60 and 80 people.
They are then split into groups of five each and are trained for 30 minutes on storytelling.
During the next 30 minutes a theme -- say, "when worlds collide" -- is thrown at the people and they tell their stories. The stories cannot be more than 5 minutes each. A typical workshop throws up 10 new voices.
"The storytellers improve with each telling," says Tewari.
Some of the money collected goes to the venue, pays for the camera and editing. Some of it is shared with performers and the rest goes into building a corpus for Kommune.
Abbas' dream is that "10 years from now, artistes should be able to walk in without the fear of being judged".