Unless you've been hiding under an Internet-blocking rock, you must have chanced upon some of the crisp, polite, informative and frequently witty posts crafted by the Mumbai police.
Mrigank Warrier meets Sunchika Pandey, the brains behind the Mumbai police's quips.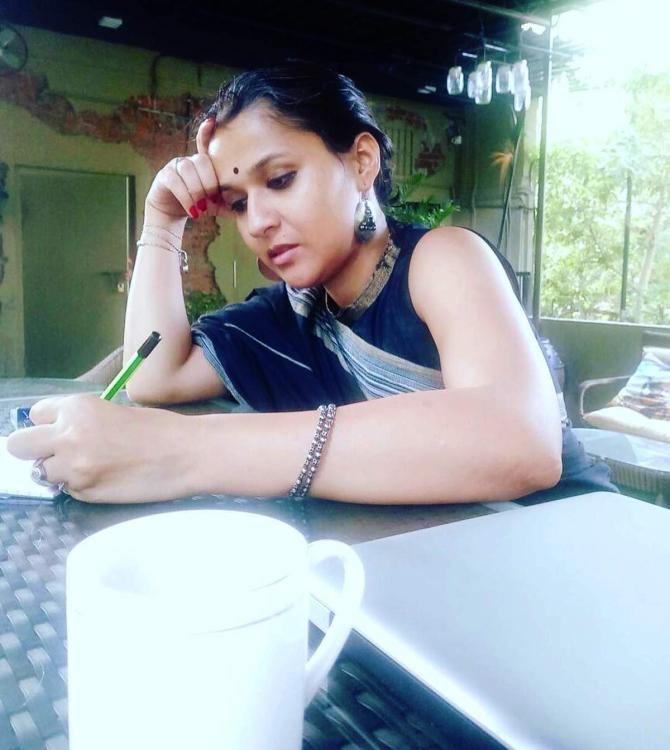 In the century-and-a-half-year-old headquarters of the Maharashtra state police, they know her as 'Twitter Madam'. But Ranchi born-and-raised Sunchika Pandey's earliest memory of a policewallah is from visiting her politician/social activist father in the lockup.
'Papa ko toh khaana bhi nahin diyaa jaa rahaa hai (Papa isn't even being given food to eat),' her family told the child. She broke down.
Eventually, she saw past the lie and realised that he was being looked after quite well.
"This was my first understanding of the difference between perception and reality," she says.
Decades later, it is this communication gap between the government and the public that Pandey bridges through the social media handles of the Mumbai, Thane and Pune police, the municipal corporations of Mumbai and Pune, the government railway police and more.
"We are not conditioned to appreciate the police," Pandey tells Mrigank Warrier. "Criticism is much easier. Because of a couple of black sheep, so many good policemen were being deprived of appreciation. That is a thing of the past; it is being taken care of now." And how.
Unless you've been hiding under an Internet-blocking rock, you must have chanced upon some of the crisp, polite, informative and frequently witty posts crafted by her team.
Announcing the opening of vaccine slot bookings one minute, reaching out to a victim of cyber crime the next, hilariously reprimanding a citizen determined to gallivant during lockdown -- Pandey's posts have helped transform the stereotype of citizen-centric bodies from inefficient, unapproachable and fuddy-duddy to hardworking, accessible and oh-so-cool.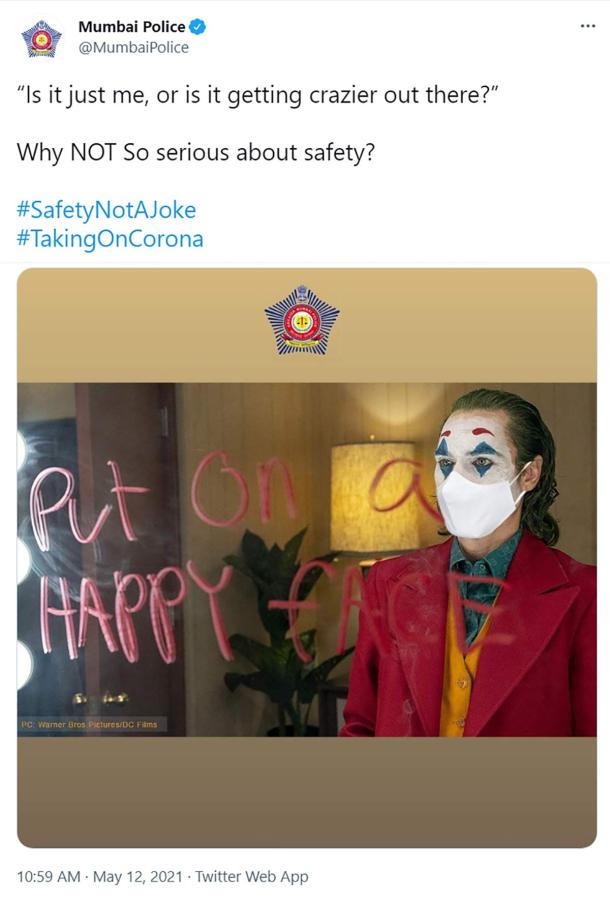 Beat cop, neat cop
Delhi. The early noughties. A college-going Pandey and her female friend are being harassed by a group of louts travelling in their bus. She tells them off but, at every new stop, another ruffian joins the gang. Her friend alights, but Pandey must travel on.
"I wanted to find a police chowky before getting off. I wasn't looking for just any support or shelter; I was looking for a policeman," Pandey recalls. That a policeman is a beacon of security and police stations are safe spaces is a recurring motif in Mumbai police tweets
Pandey tells another tale from those Delhi days -- of a schoolboy grabbing her dupatta and pedalling away, grinning. She chased after him, grabbed the back of his cycle, brought him down, administered a slap or two and dragged him to the nearest police station. "I didn't file an FIR, although now I know it should always be done," she says.
Through the Mumbai police's tweets, she makes sure we know this too.
While humour is what grabs the attention of idle scrollers, Pandey's team meticulously ensures that the gag doesn't overpower the message.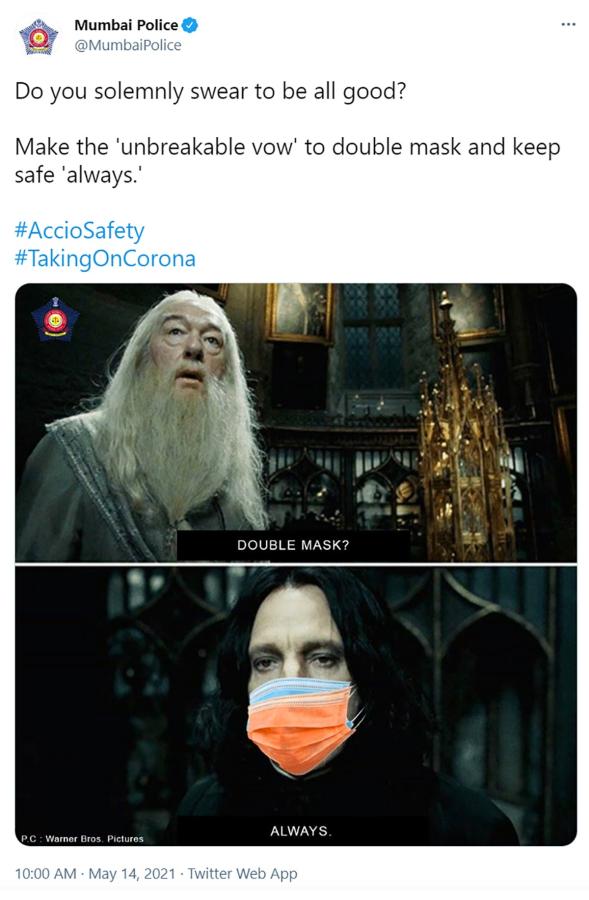 Funny Girl (featuring Sunchika Streisand)
At home, she is known for her repartee. But, in conversation, Pandey doesn't crack you up with a non-stop series of one-liners. However, the randomness and irreverence of her sense of humour are apparent, even on our voice call.
Asked her age, she first declares she's 40, then clarifies she'[s 38 but would feel much better if I mention she's 39 instead, because she is "dying to be 40. That's what I'm working towards."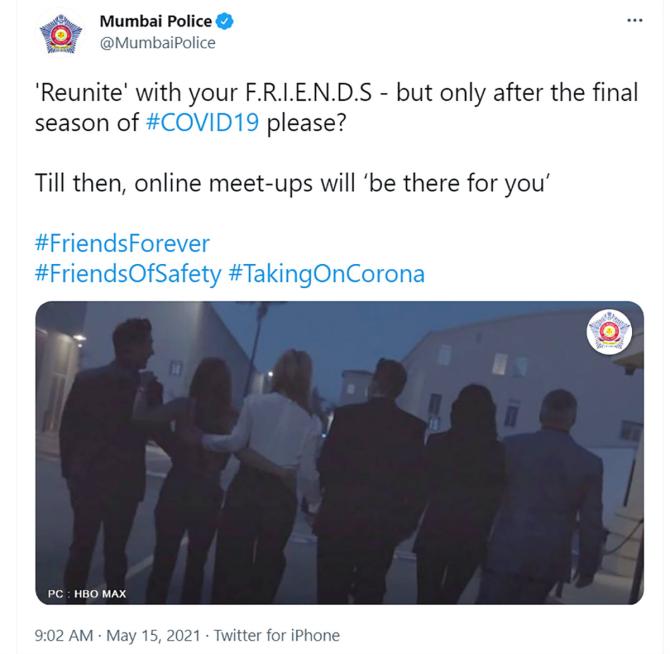 Some laughs I almost miss.
Days after greenlighting the above tweet, she describes a three-month hiatus from managing the Mumbai Police handle as: "I was on a break." I didn't notice her pause, or chortle, until I played our call back later.
What's it like to test jokes in a WhatsApp group with your city's district and joint commissioners of police? Few other than Pandey know the feeling.
Her merry band of punsters also includes constables in their early twenties -- "sweet boys" -- who are thrilled to bits when one of their joke suggestions is appreciated by a senior cop.
An anti-establishment slant can be the bedrock of a quip; but when the Establishment itself is being funny, no one can be the butt of the joke.
"There are so many jokes which made us laugh our hearts out, but couldn't be used. We can't put the reputation of such a revered institution in jeopardy," avers Pandey.
Naturally, nothing is posted without approval from the highest echelons of the IAS and IPS. However closely her team works with police and civic officials, they know their role is a creative one. The buck stops elsewhere.
Cop culture and pop culture
That Mumbai is a cosmopolitan, diverse city is a trope which presents problems for the creative person writing for a specific audience.
"How do we decide whether a joke will make you laugh or not?" Pandey wonders. "Because a joke for me may not be a joke for everyone."
Her team has to double-check that it is catering to everyone's interests, including the elderly. From Rajesh Khanna to Ranveer Singh, every cultural icon is put through the humour mill
Like this.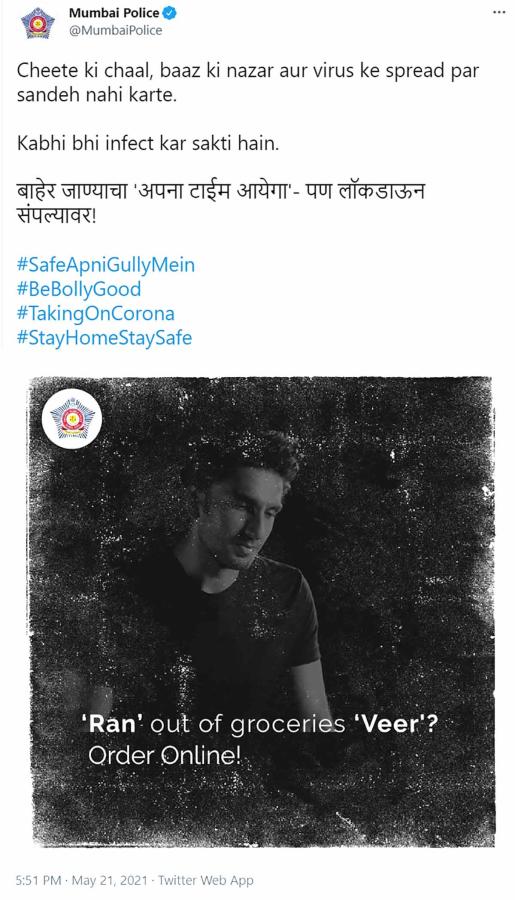 And this.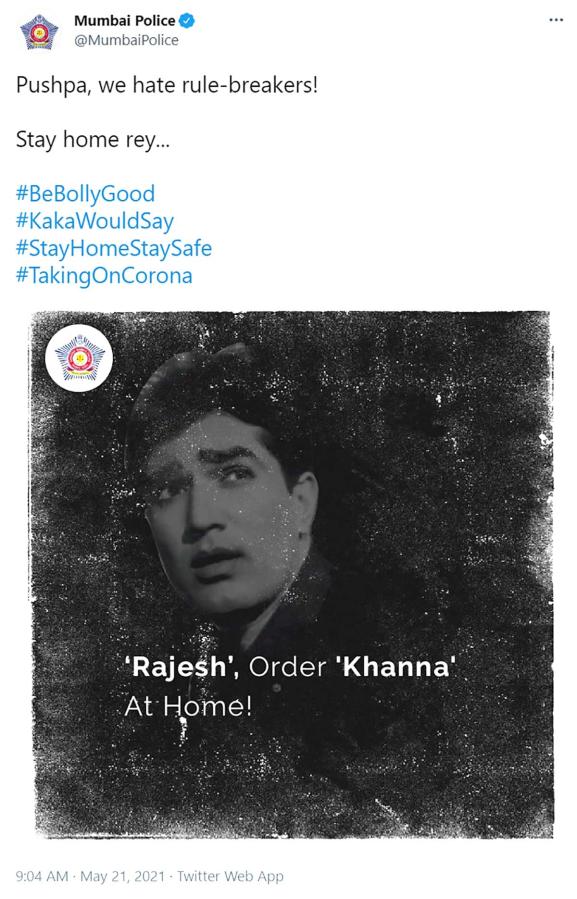 This is the police speaking
Some of the most popular -- even viral -- posts are those where netizens hear back from the authorities to whom they had casually tweeted.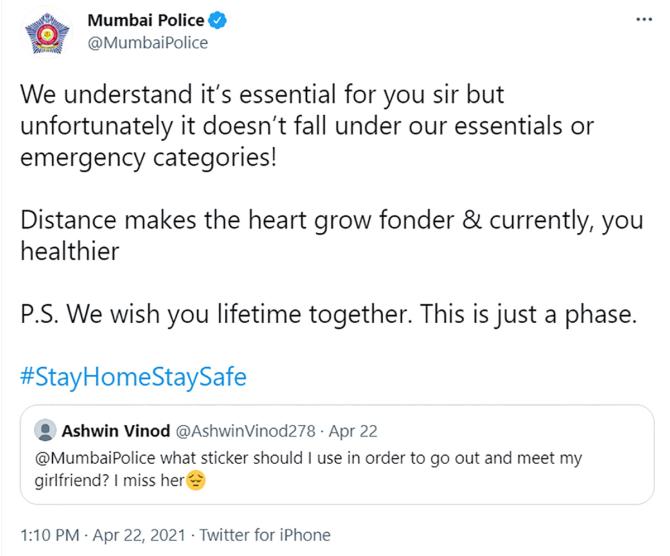 An on-duty constable brought the original post to Pandey's notice, with a morose 'Dekho Madam, yeh kya bol raha hai (Look at what this fellow is saying, Madam).' A good laugh later, the cops themselves decided to provide a fitting reply.
And got an appreciative shout out from actor R Madhavan. For which, of course, they had to say this.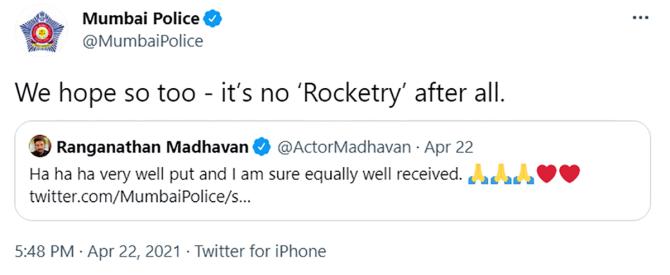 "During the pandemic, civic officials and cops have lost so many colleagues. That they are able to keep their cool as well as keep up their interest in humouring people is commendable,' Pandey says.
#NaToCorona
"If we were working 18 hours a day pre-COVID, it's 24 hours a day now, because someone somewhere is always suffering," she states.
When the daily deaths dip, her team cheers before posting the day's COVID statistics that are awaited by most Mumbaikars on Twitter.
Sometimes, they have to announce the demise of an official they knew. It breaks their hearts.
And then there are times when one of their own has a loved one in hospital, but also has to allocate COVID beds via official handles.
When they hear from higher-ups of a bed in that hospital becoming free the next morning, they also know that it is because their loved one did not make it through the night.
For whom the hell tolls
Although she does not mention it, a widely followed influencer shared Pandey's Twitter bio with her legion of followers.
Alluding to Pandey being a former journalist, she alleged that this was why the Mumbai police was 'SO lightening (sic) quick to respond to every tweet or post on SM by Bollywood selected Bollywood actors but is completely deaf to requests of help by ordinary citizens.
Ironic, considering that the handle's prompt responses to citizens -- within seconds, if not minutes -- are why so many people tweet to them in the first place.
Over time, some netizens have started holding Pandey personally accountable for attending to their civic problems. They tag her for help. Such tweets can get abusive.
#ArrestSunchikaPandey even became a trending hashtag. It was a dark phase, she says. A director general of police told her: 'Sunchika, the people who are saying these things are people who don't even know you. We know your work and we are very proud of it. Keep going.'
Good cop, good rap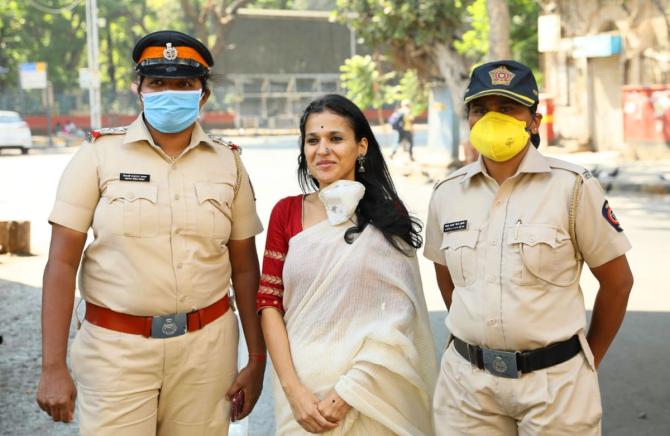 Jungle mein mor naacha kisi na dekha
Hum jab thodi si peeke zaraa jhoome
Haaye re sab ne dekha
(The peacock danced in the forest, but no one saw it
But when I drank a little and danced,
Everyone was watching.)
-- Movie: Madhumati, 1958. Lyrics: Shailendra. Music: Salil Chowdhury. Singer: Mohammad Rafi.
Pandey uses the song to describe the days when a government authority's hard work was never noticed, but its every little blunder immediately criticised. No more.
"People make fewer generalisations about these officials now. When something negative happens, they take it as a one-off incident," she says.
More importantly, she has fulfilled her original mandate of establishing a two-way communication between public servants and the public.
Not only is the police force more tuned in to people's complaints, lay people have also begun to empathise with the conditions in which cops live and work.
In some instances, that empathy has developed into a camaraderie closer to home.
A member of her team has offered to run the Mumbai marathon with a cop, and the latter has requested to train with him for an hour every morning.
One is 24 years old; the other, a joint commissioner of police.
And from your lips she drew the Hallelujah
When the story of an individual cop is posted on Instagram, Pandey feels gratified by their children's proud comments: 'That's my father/mother.' They love that their parent's work is being celebrated and get in touch with Pandey, wanting to pitch in themselves.
But Pandey has no time to rest on her laurels.
Not long after Cyclone Tauktae, actor Pooja Bhatt tweeted to the Maharashtra State Electricity Distribution Company Ltd, castigating it for the prolonged storm-induced power cut. When the handle responded, Bhatt sarcastically thanked it for its 'automated response'.
"When I saw it," says Pandey, "I called up the MSEDCL MD and said, 'Today is my day to start work. It's time; she's having too much fun at your expense. She bloody well knows that you too are losing people."
And just like that, she was at it again, tweeting the good word on behalf of those fighting the good fight.