Trying to better the country's education system drives them more than building a hefty bank balance for a comfortable retirement.
Anjuli Bhargava reports.
Almost every other week, I meet or come across someone who has stepped off the treadmill and chosen to plunge in to make a difference in India's failing school education system.
In the last three or four years, I can list dozens I have come across who are wholly devoted to bettering the Indian education landscape.
A common thread runs through many of the initiatives.
Almost all the people I have met are highly qualified, in careers that are likely to offer them a mini fortune in the near future and several are in their late 30s to mid 40s with families and the whole set of responsibilities that it entails.
Yet in more than one case, the founders or leaders of the initiative have chucked up these lucrative careers, rocked their steady boats and plunged into a world full of uncertainty.
Almost all have made the move out of a conscious choice.
Trying to better the country's education system drives them more than building a hefty bank balance for a comfortable retirement.
The initiatives are mostly set up post the year 2000, cover almost every aspect of the country's education system, are sincere, carefully thought through and in a few cases flawlessly executed.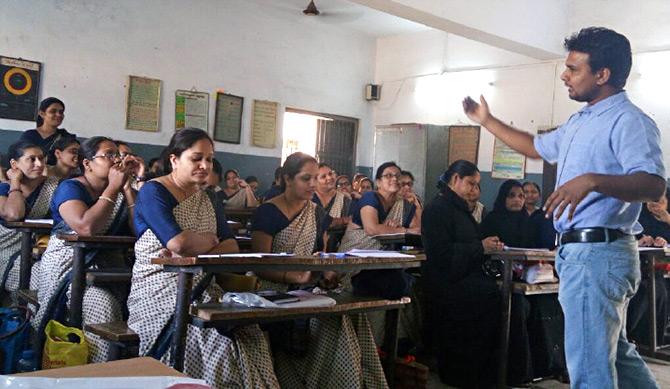 There are some direct interventions in the school education space.
Two schools -- West Bengal's Levelfield and Uttarakhand's Purkal Youth Development Society -- both stand out in terms of what they have attempted and achieved.
The former is a break from the traditional approach of education while the latter proves that opportunity can overcome any constraint that birth may place on a child.
The promoter of Levelfield gave up a financially steady and highly paid career to take the plunge.
I met the promoter of a budget private school chain called Sunshine who rejected a life of comfort in the US and the great American dream to attempt to bring quality at a low price to students and parents disillusioned with the government school system in his own country.
There are several organisations dedicated to bringing systemic change.
Right from Central Square Foundation (founded by former investment banker Ashish Dhawan) to smaller organisations like Indus Action, Zaya and Adhyayan, there's a host of individuals who are driven by a common passion and mission.
Among some of the organisations I see making a mark, there's Education Alliance that's working on identifying authentic and capable civil society bodies and NGOs who can improve the government school system.
The young CEO who heads it could well have pursued a more lucrative career, but this is where his passion lies.
Aditya Natraj, the head of the Kaivalya Education Foundation, gave up his career in consultancy and decided he needed to set up something akin to the IITs and IIMs to inspire and churn out stellar and committed principals and school leaders.
The zeal and enthusiasm many of these individuals bring to the table never fails to amaze me. A host of international NGOs and foundations appear willing to fund many movements.
Of course, more funding would be welcome by almost all of whom I meet but it is far more available than a decade ago.
International agencies were always willing but now even Indian corporates and foundations are pitching in like never before. Kaivalya, for instance, is a Piramal initiative.
More CSR funds too are available.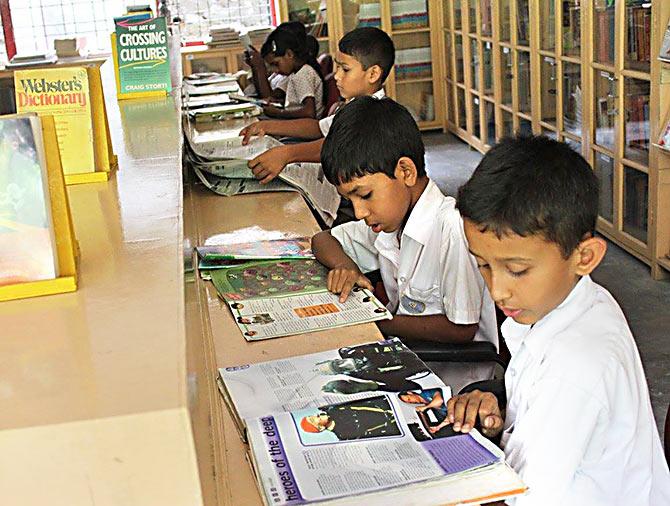 It's not as if everything is restricted to the metros.
Shaila Brijnath -- a former New York stock exchange broker -- who heads the Aasraa trust in Dehradun and Pankaj Jain of Gyan Shala in Ahemdabad are focused on out of school and slum children.
Former education secretary Anil Swarup spent three and a half months travelling to 20 states and found 110 different models across the country spearheaded by NGOs, civil society bodies or individuals that seemed to be delivering better results than the rest.
Of these, 24 solutions were picked to be scaled up with government backing. Whether this actually happens or not remains to be seen.
The point I'm trying to make is this: India's education sector is not short on ideas, talent, commitment or even funds.
An increasing number of people appear willing to make a selfless contribution to change the way we educate our children.
Yet for any real change to happen on a scale that is perceptible, the government -- be it at the Centre or in the states -- has to meet the private initiatives and civil society halfway. This is the vital missing link.