As more empowered young Indian travellers set out to explore the world, they will seek out newer experiences, compared to the generations before them. And it is time that the travel and hospitality industry heeded those voices, says Indrajit Gupta.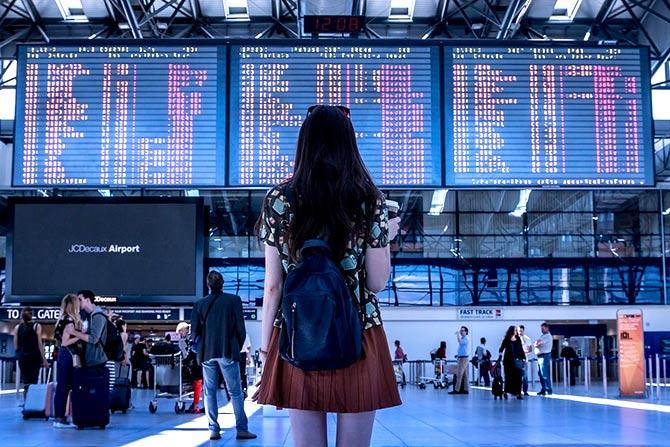 Photograph: Pixabay.com
I have to confess, when it came to planning our family holidays, I tended to be lazy and relied on our travel agent.
This year too, when we began planning for a nine-day holiday to east Europe, my first instinct was to ask for a quote from our friendly travel agent.
And, the quote arrived promptly, replete with private packaged tours, airport transfers, flight tickets, and hotel accommodation.
I would have plumbed for it, had it not been for a close friend who nudged me to try doing it on my own.
It took a fair bit of research over a couple of weekends to figure out an alternative plan.
To be sure, the vital information that you need to plan your vacation -- how to get the best deal on inter-city train tickets or on airport transfers, figuring out the most interesting off-beat experiences, or indeed the best neighbourhoods to stay in -- isn't available all in one place. But in the past few years, thanks to the internet, aided by cheap data, helpful travel sites, and better search options -- there has been an explosion of highly useful travel information.
And if you vet some of the ideas you pick up through online reviews with friends who've been there and done that, there's a bucket load of cash that you're likely to save -- and also curate an unique travel experience for your family.
About a week ago, I finally wrapped up our family holiday plan for this summer.
And I've shaved off nearly half the cost -- yes, no kidding -- that I would have spent on expensive hotels, airport transfers, trains, and costly packaged tours.
Instead, I've identified free-wheeling tours and unique, off-beat cultural experiences that we would have clearly missed out on. I'll know soon enough if the trade-off between the convenience of a pre-packaged itinerary and my do-it-yourself (DIY) experiment was indeed worth it.
So what's the upshot?
So far, if they aren't staying with relatives abroad, a significant number of Indians still prefer to rely on a travel agent to help them with holiday planning. Many of them tend to be first-time travellers, who either tend to be making a mistake in bookings or don't have the time to figure out the best deals for themselves.
Over the next years, India is poised to become one of the fastest-growing outbound travel markets in the world, second only to China, with current volumes of 20 million likely to more than double to 50 million by 2020. And while the base of first-time travellers will continue to grow, I'm willing to bet that increasingly, a new generation of tech-savvy millennials will prefer to curate their own travel experiences, instead of relying on any intermediary like a travel agent.
This big shift is already having a ripple effect on the travel and hospitality industry around the world. Battle lines have been drawn.
Between large hotel chains and destination managers on the one hand, and tech platforms such as Airbnb and villas.com on the other.
Between airlines and travel agents.
Between consolidators and small travel boutiques.
Between home-stay hosts and municipal councils across many cities around the world.
Let's stick to the battle between hotel chains and Airbnb.
Imagine living in a fully-furnished, WiFi-enabled boutique apartment in the heart of town. Now compare that to being cooped in a small hotel room.
Now here's the coup-de-grace: I was able to curate a eight-night stay across three cities in Europe for a family of four within a budget of about ₹50,000. Using the Airbnb app, I was able to negotiate early check-ins and late check-outs directly with the hosts. And also pick useful travel tips which only a local would know.
Across Europe and the United States, short home stay options are popping up all over the place, as owners realise the economic benefits of listing their property on aggregator platforms.
However, this drastically reduces housing supply and pushes up long-term rentals significantly for local communities. And not to forget, the plight of hotel owners, who struggle to compete with an entity that doesn't pay taxes and does not have to endure the health and safety scrutiny of local civic authorities.
For the last couple of years, hotel chains have been lobbying politicians and local authorities to place curbs on the growth of the sharing economy.
Airbnb itself has been forced to enforce an annual limit of 90 days for London home-stay hosts last year.
In a bid to dramatically shrink home listings, US hotel associations have been using private investigators to run controversial sting operations to ferret out professional landlords running a de facto hotel, in violation of local tenancy laws.
No one quite knows whether these cloak-and-dagger measures will curb the growth of the sharing economy. But one thing is sure: Empowered young travellers will seek out newer experiences, compared to the generations before them. And it is time that the travel and hospitality industry heeded those voices.
The writer is co-founder at Founding Fuel.