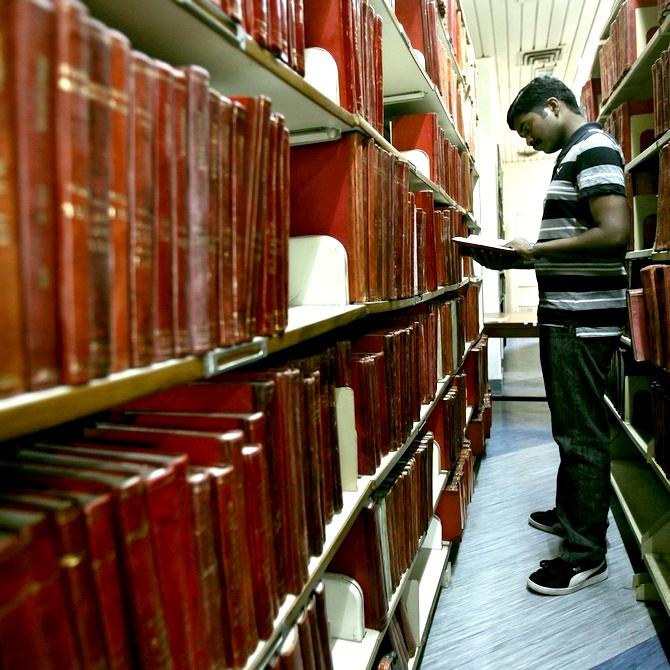 'Indian universities are giving out PhDs without adequate evaluation,' charges Dr Satya Narain Jatiya, MP.
Dr Satya Narain Jatiya, MP, who heads the parliamentary panel on Human Resource Development, recently tabled a report in Parliament raising serious questions about the quality of PhDs in the country.
In an exclusive interview with Rediff contributor Rashme Sehgal, Dr Jatia emphasised the need for a major overhaul of our educational system.
Your panel has raised serious questions about the quality of PhD holders being produced in the country?
We have raised serious questions regarding the quality of many of our PhD holders. Every year, there are over 7,000 research scholars being awarded PhDs and yet the quality of their research has been found to be not up to the mark.
Otherwise, why would we have a situation where such a large number of teaching posts in our colleges and universities continue to remain vacant?
These research scholars should have been hired to fill these posts, but many high level educational institutes complain that they find most of these candidates to be unsuitable for the post.
The point our panel has made is that Indian universities are giving out PhDs without adequate evaluation of their work. The research must be original. It must come from the heart. It must reflect the research student's individual and original assessment of a situation and not comprise of mere generalities which are neither here nor there.
In this context, I would like to cite the example of my own PhD degree in which I wrote about the problems faced by village people and how they could overcome them. This was based on my own personal experience and on the experience of people around me. It was based on a slice of my own life. I did not consider getting a degree for the sake of a degree.
The problem is that our educational system lays too much emphasis on degrees and educational certificates. The result is that teachers and researches register for PhD degrees not because they have any genuine interest in research, but because getting a degree will help them climb the ladder of promotion.
Naturally then, the research will not be up to the mark. This research does not help society in the long run.
What are your suggestions on how to get around this problem?
The entire process of evaluation of PhDs must be reoriented. We need to come up with new schemes for offering teaching assistantships in order to meet this shortage.
As a first step, the human resources development ministry should come up with a report to understand why suitable candidates are not being found. Maybe we should also reorient the entire system of evaluation of PhD and other research scholars.
There is a shortage of faculty in many of our premier institutes including the IITs and IIMs.
The ministry has to come up with a concerted strategy. One suggestion is that if the norms for appointment of faculty are too strict, then the UGC (University Grants Commission) and other regulatory bodies should review them and make whatever changes are required to fill up the vacant posts.
Several educational experts believe that higher education in the country is in the throes of a major crisis. We produce more engineers than any other country in the world and yet we do not have a single world class institute.
I do not think I am competent to speak on this subject. There is no doubt that our educational system is facing major shortcomings. I have always believed we need to initiate major reforms. But my views on this subject are a little different.
I do not believe it is enough to get a degree. We also need to create a system whereby our learning can be seamlessly translated into our day-to-day life. That is the true purpose of education.
Can you expand on this a little further?
The narrow view of education which was imparted to us by the British in which all that was produced in our country were second grade clerks must become a thing of the past.
Education is not just about memorising text books and then parroting the content in exams. The HRD ministry needs to come up with a composite plan in which it first highlights the country's requirement in terms of specialists, scientists, doctors, engineers and so on.
The next step would be, how do we groom and prepare the youth to work for the upliftment of the nation. Young people have to be taught a variety of skills.
The focus cannot just be on scoring high marks, though this is not to say that marks can be downgraded completely.
You believe there should be a complete overhaul of our educational system.
Yes. That is the need of the hour. The entire educational environment in the country needs an overhaul. The latent power and talent of our youth needs to be harnessed.
I think much more emphasis needs to be given in the fields of science and technology. More emphasis needs to be given to innovative and critical thinking and this is something that should come up in the research of our PhD students also. Students must also develop a passion for research.
Are you saying that there should be an overhaul of the private education system as also government-run institutes?
I believe we are aping the West and losing our own intrinsic culture. No country can afford to lose its own traditions. We cannot afford to lose our roots.
Education must be a combination of the latest technological developments, but must also emphasise our roots.
There is a complaint against the over commercialisation of our education.
Education cannot be over commercialised. It must reach out to the youth belonging to all socio-economic groups. The government has to set out clear and achievable goals and then reach out to ensure their immediate implementation.
For all this, inputs will have to be incorporated from all sections of society. But in doing so, we cannot lose our own pehchaan (identity) as a society.
You have spoken about the need to improve the quality of education of our students and researchers. But what about the need to improve the quality of teaching in our institutes. A large number of our village institutes can hardly be described as functioning properly.
All appointments must be based on merit. I believe there should be stricter monitoring of schools at the village levels. But I also believe education must have a practical edge to it. It cannot be an ivory tower.
The youth must also be taught the importance shramdaan (voluntary contribution of labour). Three years ago, some villagers approached me to help construct a road over a small river. I personally went to the site and worked shoulder-to-shoulder with them for three days to build it.
Overall, we need reforms in education in order to come up with a system which is more result oriented and which is rooted in our own traditions.
Education has to have an organic link to our society.
It cannot be thrust from the top. I am sure if people come forward in large numbers to demand reform of our educational system, such a reform will take place.
REDIFF RECOMMENDS