'Prurient', 'esurient', 'parturient' and everything in between.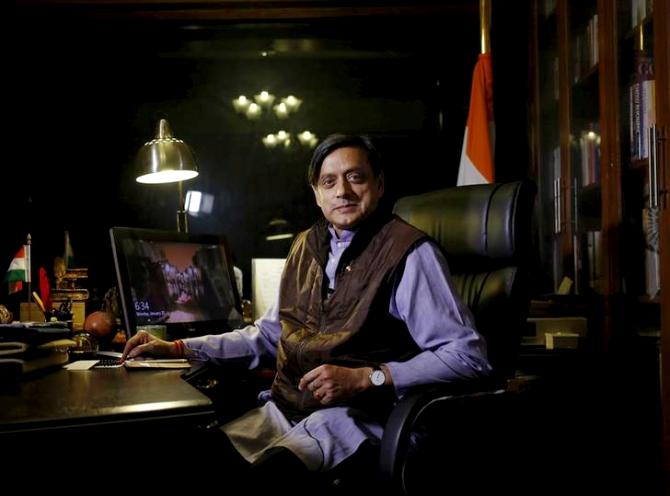 Photograph: Anindito Mukherjee/Reuters
It is now clear that no one in India can get more people to reach for a dictionary than Shashi Tharoor.
'A mischievous friend,' he tweeted today, 'challenged me to find a rhyme for the word 'prurient'. And Tharoor did.
In the early months of 2017, he taught India the word 'farrago' through a tweet and became the subject of countless jokes and memes -- the MP from Thiruvananthapuram did it again.
In December 2017, Tharoor attempted to explain why he uses the words he does.
He tweeted, 'To all the well-meaning folks who send me parodies of my supposed speaking/writing style: The purpose of speaking or writing is to communicate w/ precision. I choose my words because they are the best ones for the idea i want to convey, not the most obscure or rodomontade ones!'
Coming from someone as articulate as Tharoor -- and he has often proven on Twitter that he has a sense of humour -- it is safe to assume that he was also sniggering at himself.
But with a word like 'rodomontade' out there, matters escalated quickly.
As Tharoor continues to expand our vocabulary, we bring you a guide -- which we promise to update -- to Tharoor's English.
You are welcome :)
PRURIENT: 'H

aving or encouraging an excessive interest in sexual matters, especially the sexual activity of others

'.*
ESURIENT: 'Hungry or greedy'.
PARTURIENT: '(of a woman or female mammal) about to give birth; in labour.'
SCRIPTURIENT: 'Having a strong urge/ passion to write'.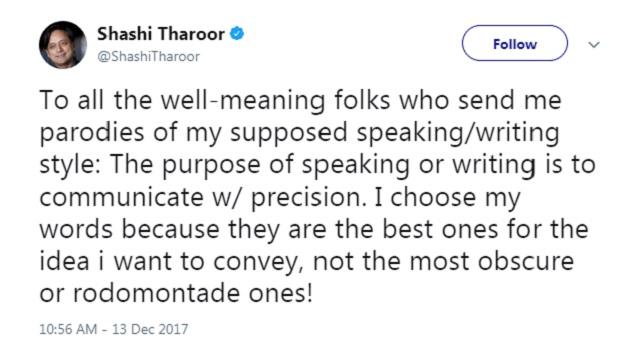 RODOMONTADE: 'Boastful or inflated talk or behaviour'.*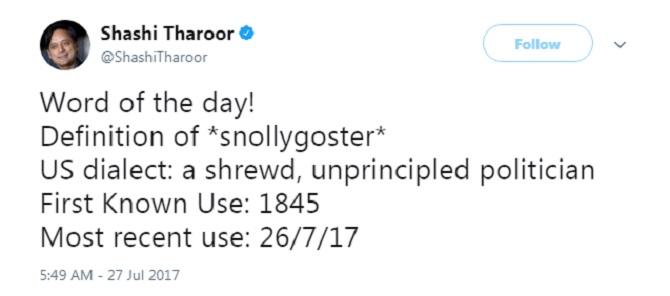 SNOLLYGOSTER: Since Tharoor kindly explained this one, here's a little more on it -- it traces its origin to mid 19th century perhaps ultimately to the 'German schnelle Geister, literally quick spirits'.

WEBAQOOF: The entry for the term in the Urban dictionary is dated June 7, 2017. It took a Tharoor tweet to clue India in.
P.S. Of course, the usual dictionaries are still no match for this one.

FARRAGO: 'A confused mixture'.
EXASPERATING FARRAGO: 'Intensely irritating; infuriating' 'confused mixture'.
*All definitions, unless specified, sourced from Oxford Dictionary.