The mystery of the viral video has been solved.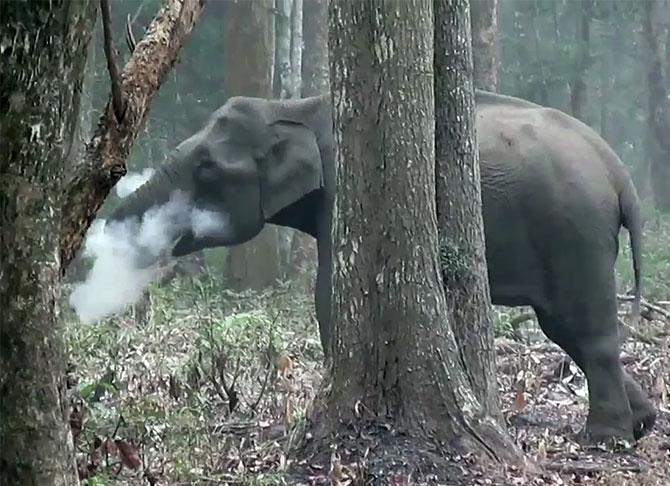 Photograph: Courtesy Wildlife Conservation Society Video
The puzzling image of a wild elephant seemingly enjoying a quiet smoke in a video that has gone viral may have a simple explanation for its odd behaviour.
Varun R Goswami, elephant biologist and senior scientist with the Wildlife Conservation Society (WCS), India Program, said that in all probability, the elephant was trying to ingest wood charcoal, as she appeared to be picking up something from the burnt forest floor, blowing the ash away that came along with it in her trunk and consuming the rest.
Charcoal has well recognised toxin-binding properties which attract wild animals, a WCS statement added.
It can also serve as a laxative, thereby doubling its utility for animals that consume it after forest fires, lightning strikes or controlled burns, it said.
Video: Courtesy Wildlife Conservation Society
The video was shot by Vinay Kumar, assistant director, WCS India Program, in the Nagarhole National Park in Karnataka in April 2016 when a WCS team was involved in a project monitoring tiger and prey.
Kumar said that though he felt there was something unique about the elephant and the smoke when he was shooting the video, he forgot about the episode later.
Recently while checking his records, he stumbled upon the video again: "I discussed it with Goswami, and it was then decided that we would release it."
The video has been shared on social media sites and the elephant's behaviour debated at length across international agencies and publications in recent days.
This is the first known video-documentation of a wild elephant exhibiting such behaviour, and thus had scientists and experts puzzled, a WCS statement said, adding that it provides new insights into the behaviour of wild elephants.