Guys, this Navratri, charm your 'dream girl' the retro way -- pay her a compliment, ask her out for a dance.
Girls, DON'T fall for it so easily!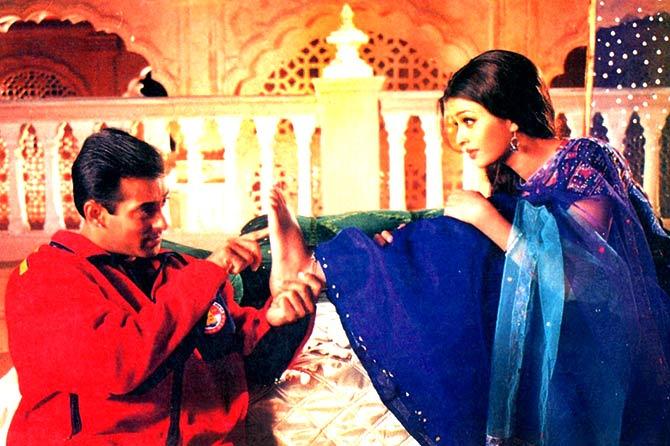 For most of us Navratri is a festival that celebrates glorious tradition.
But trust us, GenNext looks forward to the nine nights to mingle and tingle.
For those of you boys new to the dating game, some tried and tested ways to patao (woo) girls you like.
And girls, some tips on how to respond to these 'one-liner' Romeos.
1. Tumhari aankhen bahut khoobsurat hai (You have beautiful eyes).
Girl's response: Maine to contact lens pehna hai (Oh! I am wearing contact lenses).
---
2. Tumhara perfume bahut khushboodaar hai (You are wearing a nice perfume).
Girl's response: Par main ne aaj bath nahin li (But I haven't bathed today).
---
3. Tumhare honth bahut khoobsoorat hai (Your lips are beautiful).
Girl's response: Tumhari Maa ki tarah na? (Just like your mother's, right?)
---
4. Tumhara figure bahut mast hai (You have a nice figure)
Girl's response: Tum kya mere geometry teacher ho? (Are you my geometry teacher?)
---
5. Tumhare baal bahut sundar hai (You have lovely hair).
Girl's response: Maine toh wig pehna hai (I am wearing a wig).
---
6. Yeh envelope pe address aap ka hai? (Is the address on this envelope yours?)
Girl's response: Main e-mail padhti hoon. Koi mujhe letter nahi bhejta (I read e-mails; no one sends me letters).
---
7. Aapka phone number kahin 982457...?(Is your phone number 982457...?)
Girl's response: Mujhe sirf 103 pata hai... tum jaise Romeos ke liye (I know only 103 phone number for Romeos like you.).
---
8. Kya aap single hai? (Are you single?)
Girl's response: Par aap se mingle hone mein koi interest nahi hai (But I am not interested in mingling with you).
---
9. Kya aap mere saath dance karoge? (Will you dance with me?)
Girl's response: Manjulika wala dance chalega? (Would it be okay if I danced like Manjulika -- a mentally unstable character from the film Bhool Bhulaiyya?)
---
10. What's your name?
Girl's response: What is in a name, Shakespeare said.
---
Think we missed something in the list? Tell us in the messageboard below.
IMAGE: A scene from Hum Dil De Chuke Sanam, published only for representational purposes.