A Book Launch With Two Stars was not how I imagined last Friday's release of Clearly Invisible In Paris, in Mumbai, would be like, when I received the electronic invite that had only Koel Purie Rinchet and Suhana Khan's names on it.
But did they shine... And how! Read on.
All photographs and videos: Rajesh Karkera/Rediff.com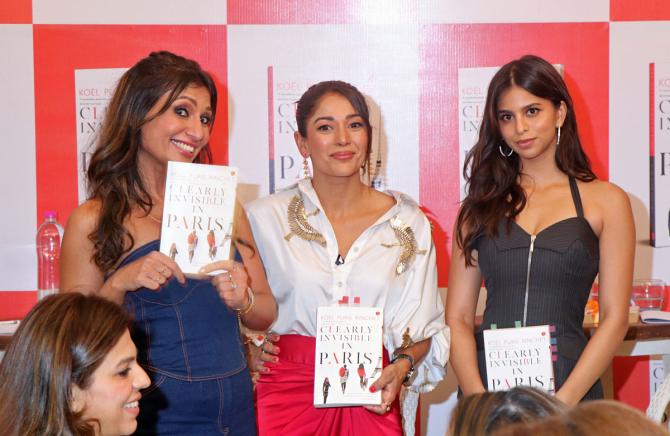 Slated to be a small book launch, it was scheduled to take place at the Olive Bar and Kitchen in Khar, north west Mumbai; a cute little place to catch up at.
When I entered, the venue was empty, promising not much crowd and lots of good visuals for this feature.
Shortly thereafter, in walked actor Koel and author of the book being released Clearly Invisible In Paris. She smiled at me and immediately held out her hand with a "Hi, I'm Koel Purie."
I was floored and at a loss for words, never expecting to be greeted this way by a Bollywood-wallah. Felt really stupid there.
Then the guests started pouring in, as the night grew younger.
The place was chock-a-block as celebs -- and more celebs -- kept sashaying in, air-kissing, hugging and posing.
Have a look at the attendance roster...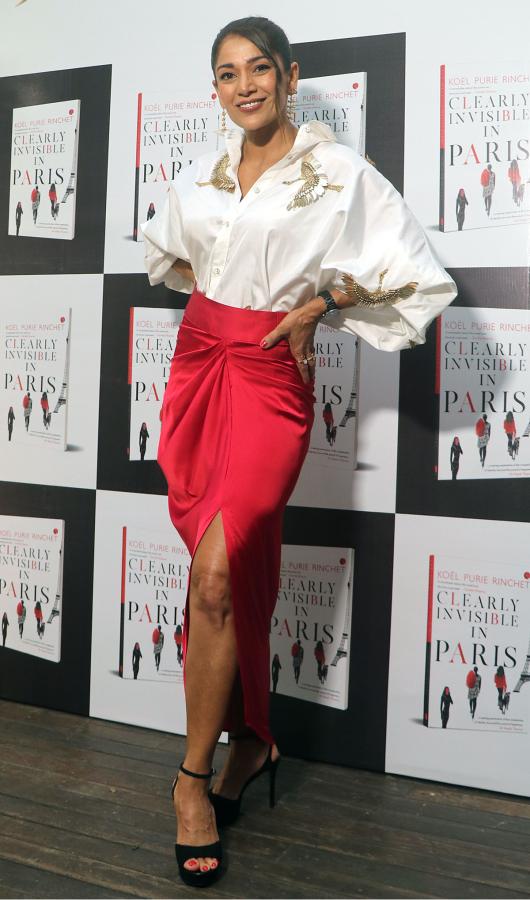 The first attendee was, of course, The Diva In Red -- the author herself.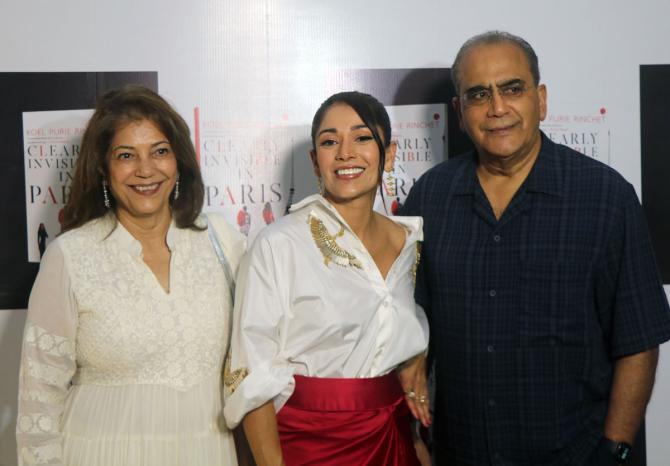 Flashbulbs popped as Koel took a pic with her parents, Aroon Purie, the publisher and editor-in-chief of the India Today Group and Rekha Purie, who works in education. Koel said she owed the book to them.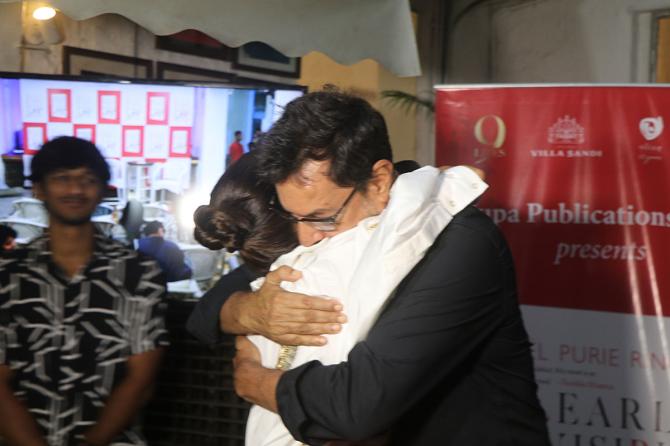 Actor Rajat Kapoor showed up. The friends hugged.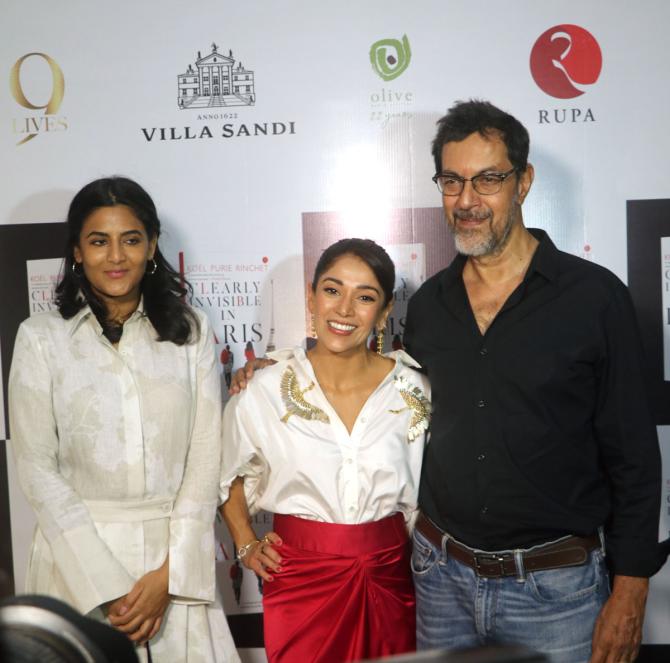 On Koel's left was talented costume designer, Poornamrita Singh. Singh worked with Koel on the designs of the soon-to-release series on Netflix, The Archies.
Model, fomer Miss India, actor and activist Manasvi Mamgai owns eyes that smile... broadly.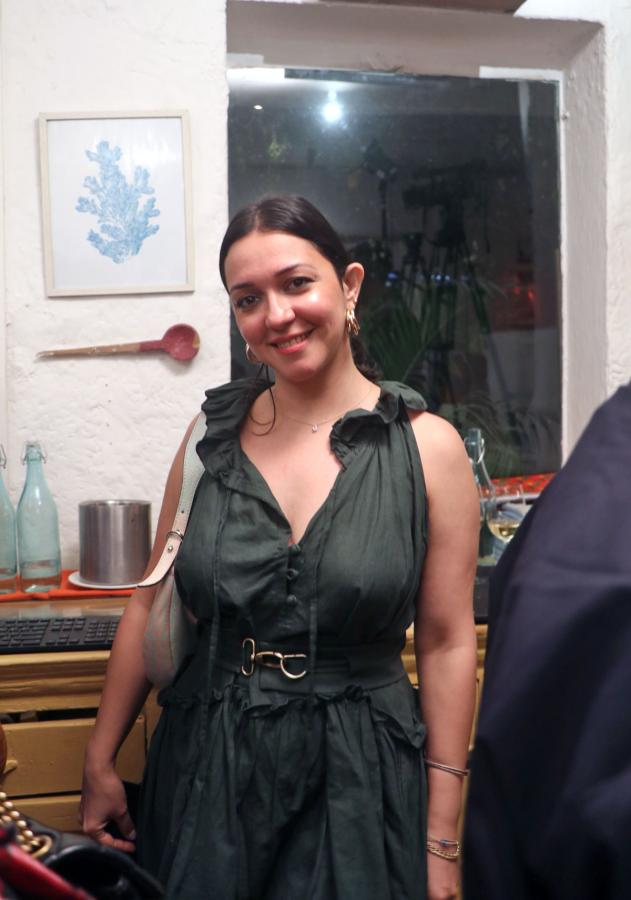 Remember the Piya Basanti girl? Yup, Nauheed Cyrusi was there with her husband, who jumped out of the frame as soon as I asked Nauheed permission for a quick photograph.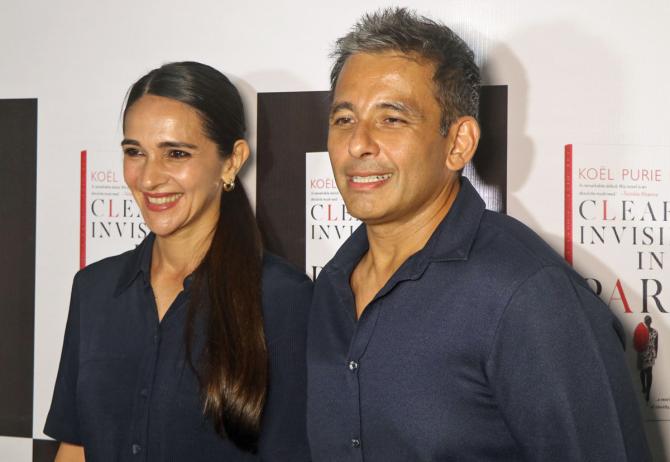 Television host-actress Tara Sharma -- looking lovely in blue -- rolled up with media entrepreneur hubby Roopak Saluja.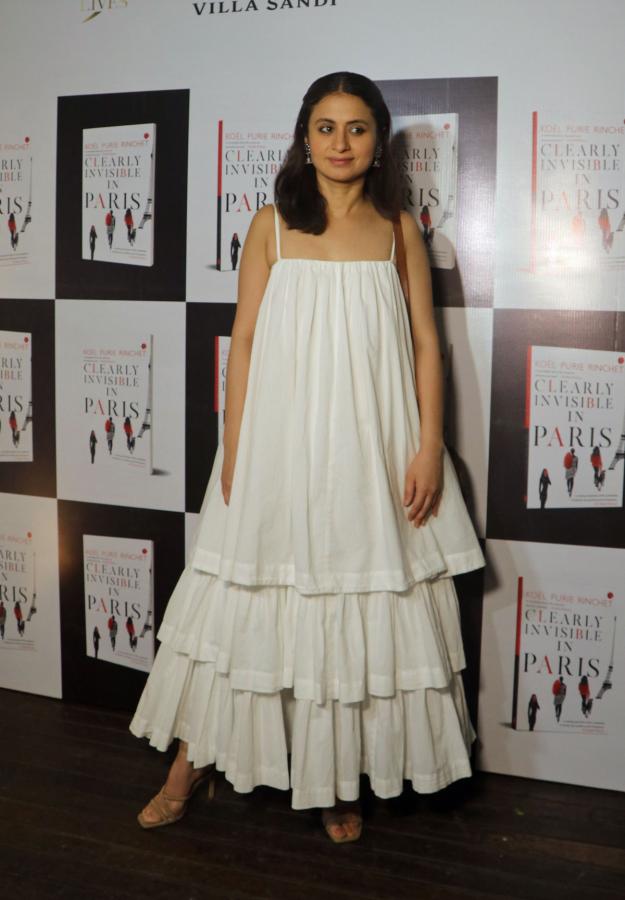 The reclusive Rasika Duggal, whose performances on screen are always mind-blowing, beamed shyly in layered white. You saw her recently in the 2023 Amazon Prime series Adhura, where she plays Supriya the school counsellor.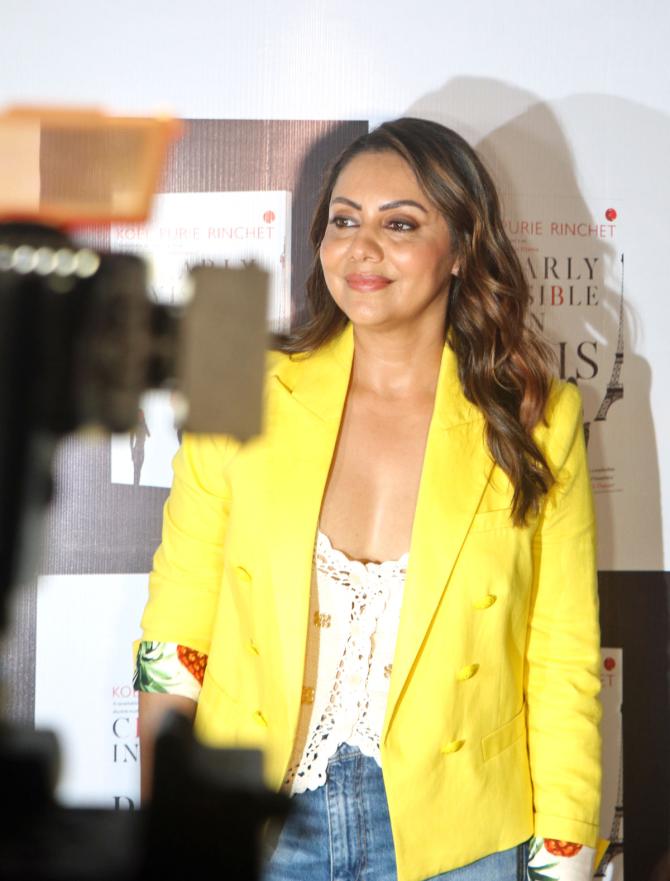 Gauri Khan was there to cheer daughter Suhana in a sunny cheerful colour too.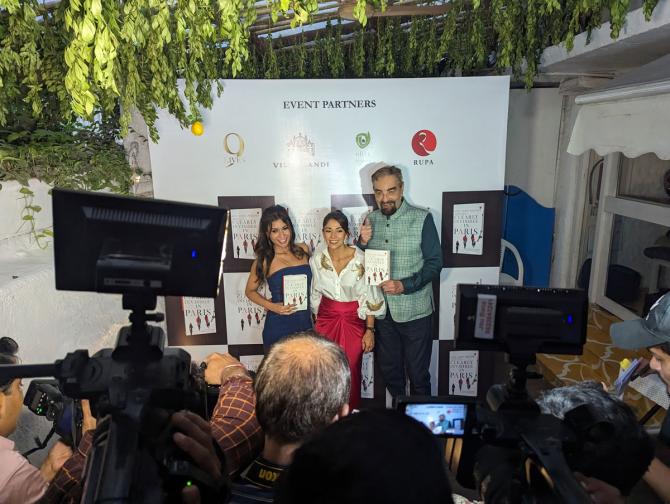 Influencer Miss Malini, left, Koel with actor Kabir Bedi.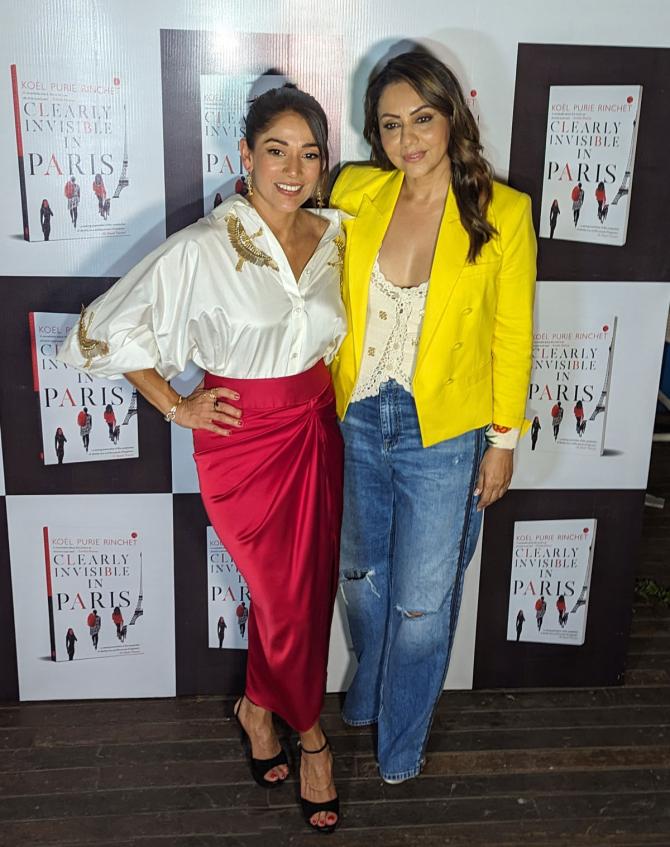 Lotsa bonhomie between Koel Purie and Gauri Khan.
Let's see who was seated inside for the launch.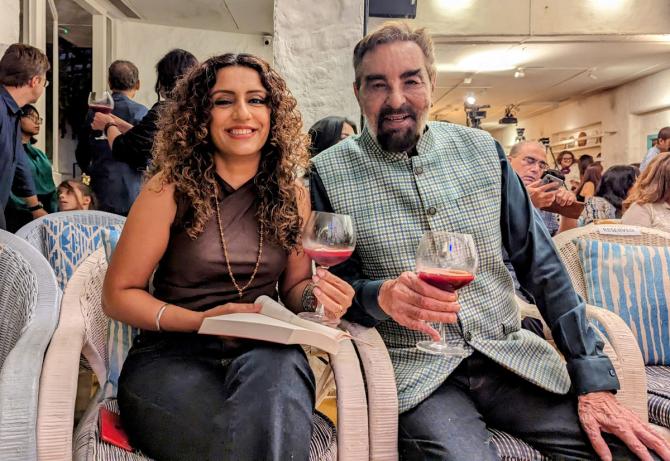 Parveen Dusanj, diligently reading the book before the event began, sat in the front row with hubby Kabir Bedi.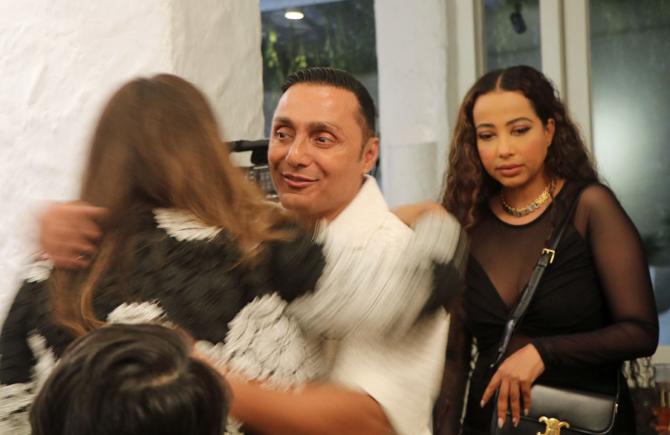 Actor Rahul Bose -- who acted with Koel in White Noise and also directed her in Everybody Says I'm Fine, handed out many a hug and greetings.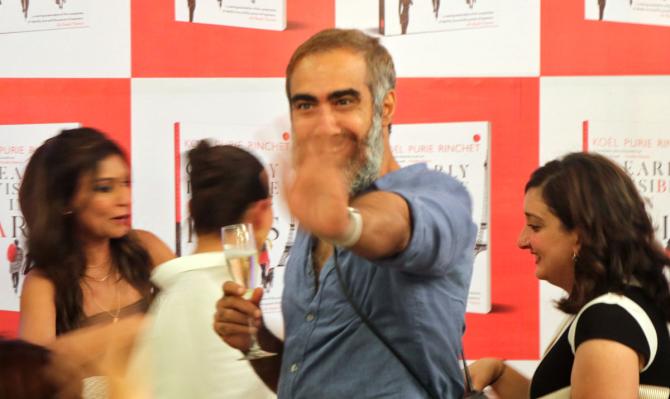 Ranvir Shorey may not have wanted the camera to see him with his glass of champagne.
Now on to the main event...
A hug before Suhana took her seat at the top of the room for the book reading.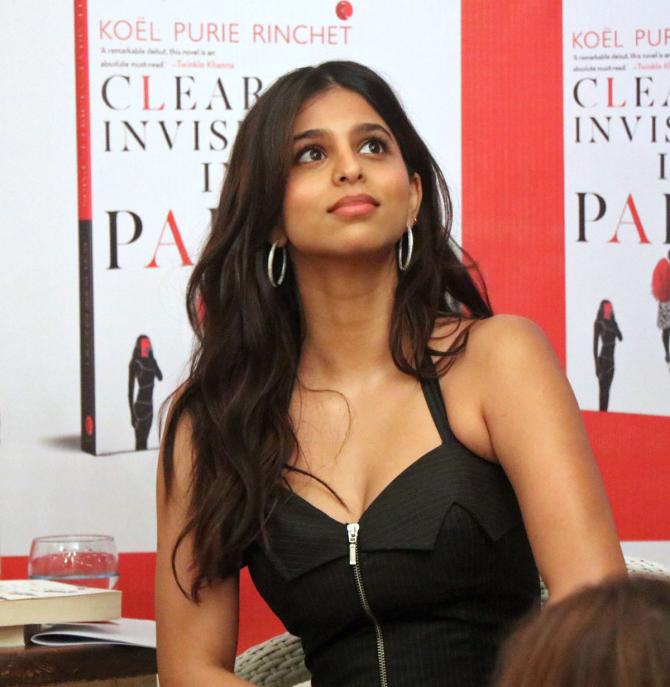 In an austere black dress SRK and Gauri ki beti was super fetching.
Scroll on for a few key video snippets from the occasion.
VIDEO: Suhana explained what made her come to Koel's book launch.
"Paris is a city that I love. I am happy to be an Indian in Paris," said Koel. Hear what else Koel had to say:
VIDEO: Koel declared the book to be her take on Paris.
Suhana told the audience what she liked most about Koel's book.
VIDEO: Suhana liked Koel's writing style, she said.
Miss Malini and Koel read a few interesting extracts...
Video: The book reading by Miss Malini and Koel Purie
As the evening was winding down for a post-launch mingling, Suhana was asked about the top moment of Koel's book.
Suhana said her favourite part was the interaction between Neera and Violet in Clearly Invisible in Paris, when they are talking about home and how home was nothing but two arms holding you tight.
Suhana related/identified with that description and recalled home-sick days in New York, where she studied drama and acting at NYU's Tisch School of the Arts, and London, where she attended Ardingly boarding school in Sussex, and the culture shock for her at that time.
References to biryani were the best part of the book too, for Suhana. Listen why:
VIDEO: See how Suhana revised her take and revealed her 'new' best part of the book for her.