Rishabh Lawania, 'middle-class boy', tells Divya Nair/Rediff.com how he became a multi-millionaire at 25.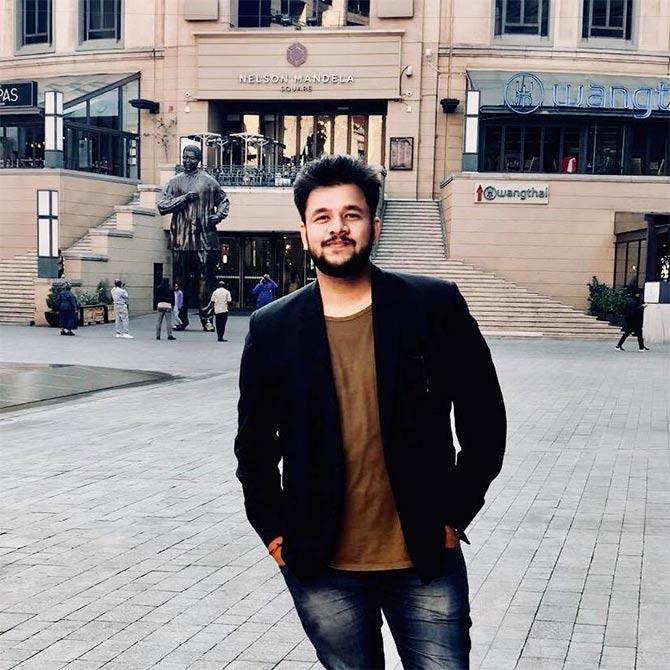 Ten years ago, Rishabh Lawania, son of a railway employee, an average student, would have never thought he'd start a company.
Or that he'd become a millionaire.
Because, he says, it was never part of the plan.
But then, Rishabh Lawania did not expect he'd fail in his class 12 board exams. Nor did his parents when they pressured him "like all middle-class parents do" to take up science (PCM: physics, chemistry, mathematics) after Class 10.
While sitting at home wondering how not to "embarrass (my) parents or lose any more of their hard-earned money and trying to plan (my) next move," Rishabh got a phone call from a friend.
He stepped out to attend an event which eventually led him to work for a promotional activity in the city.
That evening changed Rishabh's life forever.
Entrepreneur at 17
"Till then, my knowledge about events was limited to marriage, birthday parties etc. That evening I was introduced to promotional marketing events. All I had to do was ask participants to answer a feedback form for a beverage company that had sponsored the event. At the end of it, I was paid Rs 450 or Rs 500," Lawania tells me over a WhatsApp call from Cape Town, South Africa where he is currently based.
A few events and dozens of phone calls later, Rishabh, a little over 17, co-founded his first company with two partners.
Red Carpet Events, a promotional events start-up was bootstrapped and ready with its first event contract even before it was launched.
That's the best part about events, Rishabh says. "You can easily make a profit of 45 to 50 per cent. Even during bad days, you'll cut a deal at 15 to 20 per cent profit."
A year later, he quit this start-up to complete his studies.
While pursuing his graduation in business administration from (Guru Gobind Singh) Indraprastha University, Rishabh struck upon his second idea.
Start-up lessons from failure
In his second year, Rishabh teamed up with two other friends to start Just Get it &-- a hyper local food delivery start-up in Gurgaon.
The idea was to work with restaurants in the radius of five to seven kilometres that can deliver food within 35 to 40 minutes.
"We developed the app. It was on the lines of what Swiggy is right now. We were offering them logistics provided we could pull off a fixed number of orders a day," Rishabh explains.
The plan seemed profitable on paper. In reality, it wasn't.
JustGetIt shut down within seven months.
While Rishabh did not lose any money like his partners, he says he'd invested a lot of time and effort in building and promoting the idea.
With his first failure, Rishabh learned his first business lesson: The faster you fail, the less money you will lose.
Millionaire dream
While in college, he started reading about global research firms and how sector-focussed research was in high demand in both developed and developing nations.
Post completing his graduation, Rishabh secured a job as an analyst in a consulting firm in Delhi.
"I saw opportunity in research consulting. I started compiling data and hired people who were interested. I did it for free and made some contacts. I also knew some angel (investors) and VCs (venture capitalists) so I shared the idea with them."
In 2015, during his visit to the US to meet his sister, he worked on the idea and launched his start-up Xeler8 in beta mode with another partner.
"I quit my job. I worked for free, kept hiring and investment at minimum. I mostly hired freshers and paid them between Rs 3,000 to Rs 5,000. With a monthly investment of under Rs 1 lakh we built the company from scratch. We were offering start-up database to venture capital and private equity firms," Lawania recalls.
In January 2017, the company was acquired by a Chinese accelerator and venture fund and became ZDream Ventures.
After some research, in March 2018, Rishabh was ready for his next adventure.
He launched WeeTracker, a global tech media/data company. It currently has offices in India, the United States and South Africa. The idea is to provide media/content about Africa for emerging markets.
"For most of the world, Africa is a poor country. We want to change that. The start-up ecosystem here is different from the rest of the world. Currently, Africa is what India was ten years ago. It's not the same, but there is a lot of potential here and I want to explore and bring it out to the world, tell their stories," Rishabh says.
Tips for entrepreneurs
With three successful and one failed start-up, Rishabh's career looks promising so far.
Prod him for the secret and he says: "When I do something, my intention is not just to make money. My idea is to make good conversations, I'm good at that. I'll continue to do that wherever I go, whatever I do."
"If, in the process, I make some money, it's good. People may call me a millionaire, multi-millionaire, but the truth is, the money is not all mine. It's a team effort."
His three tips for success:
1. Innovate.
2. Fail fast.
3. Always see ahead of time.
"If your company should fail, it should within the first 10 months. As an entrepreneur, you should see it coming. Otherwise, you'll end up putting all your money and losing it too," he says.
For first time, first-generation entrepreneurs, he offers two tips:
"1. Don't start a company for the sake of starting up. It will get you nowhere. Understand your market, your product and what your customer/client really wants."
"2. In business, networking is everything. But that doesn't mean you do it anyway."
"If networking or making friends involves you to do something you're not comfortable, don't do it."
"Example -- don't drink/socialise so you can expand your network. You'll end up in bad company."
"Socialising doesn't mean you wreck your life and health. Do it wisely. Work with the right people."