Aman Garg, Devansh Kaushik and Anmol Gupta have more than just the coaching institute they went to in common.
The trio, who bagged the top three slots in the Common Law Admission Test this year, share their success journey.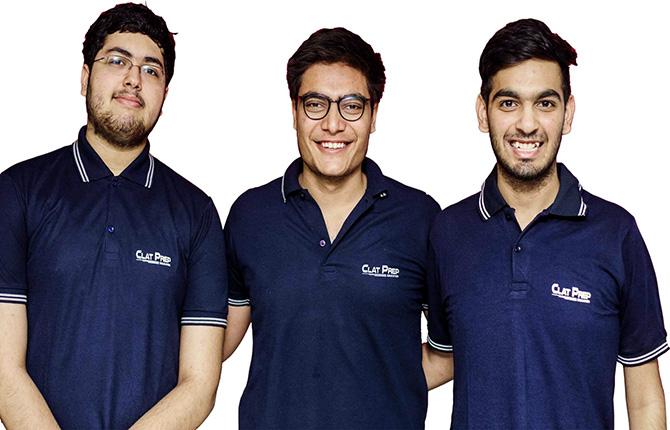 In August 2017, when Aman Garg, 17, Devansh Kaushik, 17, and Anmol Gupta, 18, took their first mock exam at CLATPrep, a coaching institute in Jaipur, little did they know their destinies were to entwine.
Devansh had stood first, followed by Anmol at second place. Aman was among the top five.
Ten months later, when the results for Common Law Admission Test were released on May 30, Devansh (157.5/200) had stood second, Anmol (157.5) was third and Aman (159) had topped the exam.
The coincidences do not end here.
All three, who had appeared for the law entrance examination from Jaipur, had scored cumulative grade point average of 10 in their CBSE Class 10 exam, selected the commerce stream for Class 12 and scored approximately 93 per cent in their CBSE Class 12 examination.
If luck favours the trio, Aman, Devansh and Anmol may continue their friendship at the National Law School University, Bangalore.
"Devansh and I are the studious kind. Anmol once mentioned that we should watch (the movie) Avengers: Infinity War; but we weren't sure because of the exam. We'd mostly argue over sample answer keys. Even if there was a minor fluctuation in the answer, we'd debate it between us. Overall, there was a very healthy competition. We learned so much from each other," topper Aman Garg told Divya Nair/Rediff.com over the phone.
The three friends tell us how they prepared for the exam.
Aman Garg
All India Ranking: 1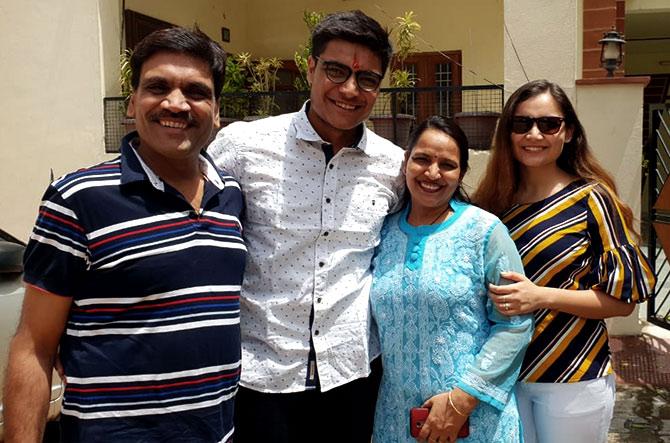 The year was 1992. Arun Garg's photograph and interview had appeared in the local newspaper.
The son of a businessman -- who'd stood third in the Rajasthan Board Of Secondary Education Class 12 exam and topped the bachelor of commerce exam at Ajmer University -- had made it to the top 10 in the Rajasthan Public Service Commission exam.
Twenty-six years later, Arun's son Aman dominated the headlines when he topped the Common Law Admission Test.
"I was in Class 10 when my father, who worked in the Rajasthan Administrative Services, introduced me to law. I was good at debating and immediately loved the legal concepts and how it linked government and judiciary. Today, I'm happy I chose law and could make him proud. He told me I took him back in time to 20 years ago," Aman, 17, told us over the phone from Jaipur.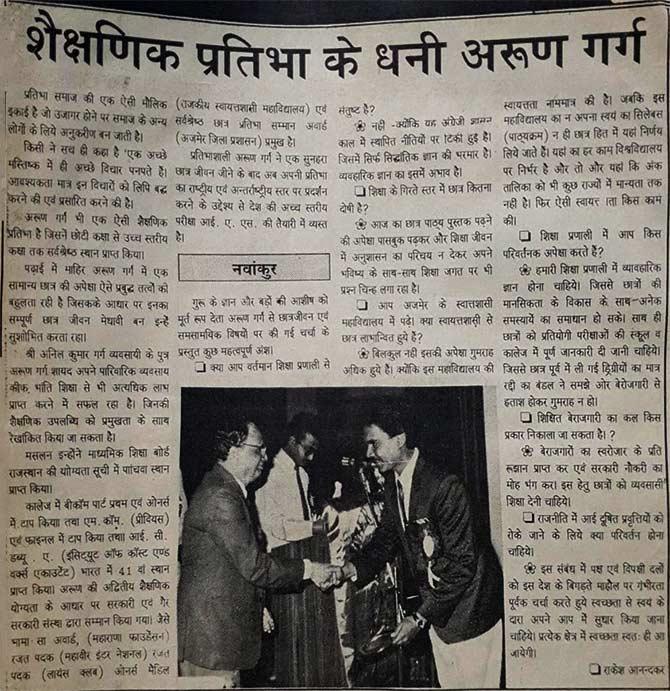 Preparation and study secrets
Most people take Class 11 for granted. For me, it was the best time to get started with my law preparation.
CLAT is an aptitude test. There is very little to mug up.
I ensured I had enough time to prepare for both my board examination and CLAT.
I attempted 90 to 100 mock tests and added 2,000 to 3,000 words to my vocabulary by reading Word Power Made Easy by Norman Lewis.
What aspirants don't realise is that CLAT is a new exam. It doesn't test you for legal knowledge; it tests you for application of knowledge. For example, maths is simple, not dependent on formula; GK tests your awareness about current affairs.
During the exam, the power went off for 10 minutes. I saw how other students started panicking. I knew it was an online examination and was better prepared to deal with the situation.
When you are appearing for an exam, you have to be calm and focussed.
I like to balance my time. When I was in Class 10, I represented my school (Pink City School, Jaipur) in cricket and football. I read books on Indian history.
Tips for CLAT aspirants
Set your target and start preparing early on. I believe we have only one life, so aim for the best.
You have to work hard every day. Never be complacent. Don't limit yourself to just studies.
Always be humble about your achievements.
I don't think I would have reached this far without the help, support and sacrifice of my family, my teachers and friends. My contribution is just five per cent.
Devansh Kaushik
All India Ranking: 2
Preparation and study secrets
I started preparing for CLAT in March 2017. I have always wanted to appear for the UPSC exam and enrol for the Indian Administrative Services. I want to work for the betterment of society.
I realised that studying law would give me that opportunity.
Even when preparing for my Class 12 board exam, I prioritised law. I studied for the board exam for six weeks only.
I referred to CLAT preparation material from Arihant Publication and Word Power Made Easy by Norman Lewis.
I enjoy reading books by Dan Brown, Shashi Tharoor and J K Rowling.
Tips for aspirants
CLAT is an unpredictable paper. Consistency is the key to crack it. You have to be prepared to deal with all kinds of questions. Don't look for patterns because there isn't one.
Focus on getting your concepts clear from Day One.
Joining a coaching institute helps you prepare better for an entrance exam. If you can cope with competing against 500 students, you can very well tackle 60,000 students.
Anmol Gupta, 18
All India Ranking: 3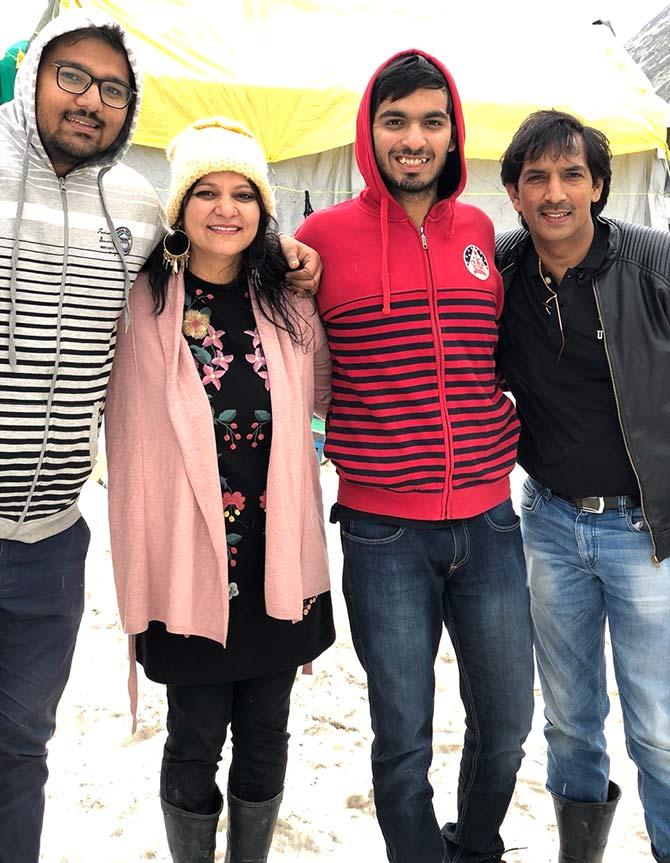 Preparation and study secrets
It took me just five minutes to decide I was going to study law after Class 12. I was talking to a friend who told me I was good at writing and debating and law seemed like a good bet.
I joined a crash course and ended up scoring an AIR of 657. I realised that if I prepared well, I could change my future.
So I took a break. It was one of the most difficult decisions I ever made.
I signed up for coaching in July 2017 and took up every subject with equal focus.
I don't remember a single day when I didn't study.
When the results came and my name featured in the top 3, I told myself, this is what dreams are made of.
Tips for aspirants
Be consistent in your preparation. Don't underestimate your abilities or the examination.
Be competitive. Solve as many mock exams as you can.
Read a lot. Read different stuff. But don't be just a bookworm.