Anjuli Bhargava visits the women of Stree Shakti, an organization that is helping women in Uttarakhand's villages to supplement their family income.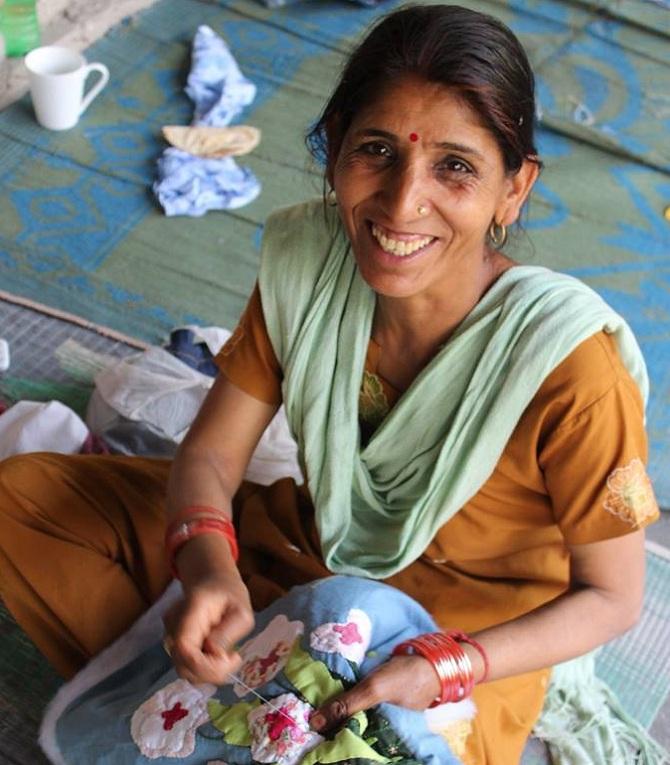 IMAGE: Stree Shakti in Purkal, Uttarakhand, now has 10 self-help groups. The women, who come from many neighbouring villages as well, earn a fixed amount as wages. Photograph: Courtesy @PurkalStreeShakti/Facebook.
When Sunita Thapli approached Chinni Swamy, who lived with her husband in Uttarakhand's Purkal village, for help, she didn't realise she would indirectly be doing a favour to a host of women from the village that has a population of around 2,000.
Thapli had two children and a husband, who had some mental problem and was thus dependent on her, to feed. She was desperate for any kind of work and told Swamy that she had a sewing machine and could stitch.
More out of Thapli's need than her own, Swamy found some fabrics lying around and decided to teach her how to make a patchwork quilt from them -- a hobby she had pursued for many years. She paid her ₹500 for her first piece of work.
Swamy got three quilts made for her family.
When Thapli pressed her for more work, she decided to get yet another one made for herself. For this she found a new design in a magazine and handed it to Thapli.
What Thapli produced was exceptional, so her husband suggested that instead of keeping it for herself, she should present it to their school's chairperson who resided in Delhi. The chairperson couldn't believe that a local village woman had created something so exceptional and showed it to the others.
Before she knew it, Swamy had an order to produce eight more quilts.
That was the beginning of Stree Shakti.
To execute the first order, Swamy had to quickly gather some more village women and along with Thapli teach them how to make the quilts. From there grew the idea that here was an opportunity for the village women to make some money.
Ever since she had moved to Purkal around 2000, Swamy had been keen to help the local women find a way to earn some kind of living.
Families in the village mostly survived on agriculture till a few years ago, but with agriculture becoming less and less remunerative over the years, men in the village had taken to all kinds of jobs -- construction workers, rickshaw-pullers, carpenters, electricians and so on.
Women, however, had -- and still have -- very few means to eke out a living.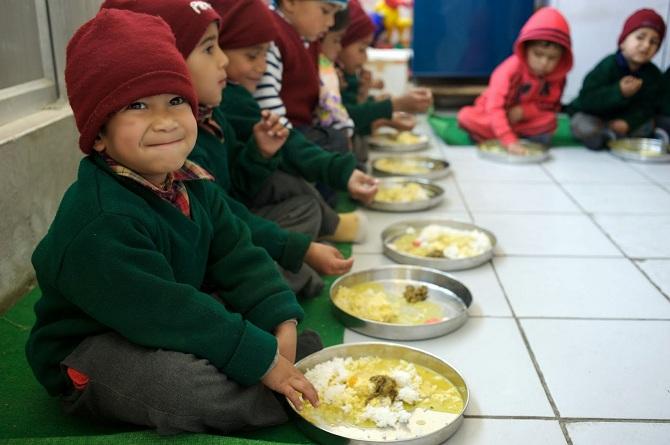 IMAGE: Stree Shakti also empowers women by offering their children an early learning centre that is run at the Purkal Youth Development Society school -- housed in the same complex as Stree Shakti. Photograph: Courtesy purkalstreeshakti.org.
For Balvinder Kaur, a homemaker from Rajpur village, Stree Shakti has been a saviour.
After losing her husband -- a carpenter -- to typhoid in 2007, Kaur had no means of earning an income. She had two children to support. A relative sent her to the Stree Shakti society.
Since 2008, Kaur has been working and producing quilts, bedcovers and a range of products that the society produces.
In the initial years, Kaur, who is now a supervisor of one of the society's self-help groups, earned a meagre ₹1,000 to ₹2,000 a month, but now she earns up to ₹9,000 a month. There's a free bus service that brings the women to work at the society and they get lunch here for ₹5 a day.
Poonam Dhiman, 32, has been working with the society for five years now.
She dropped out of school after Class X and was a homemaker.
Her husband, who used to be a driver, hasn't been working steadily for some years now. As a result, he contributes little money to the house every month. Dhiman primarily supports him and their three children.
She works in one of the self-help groups, Pragati, and earns anywhere between ₹5,000 and ₹6,000 a month (the earnings vary based on how much work they manage to do).
It isn't much and making ends meet is an effort, but she says it's better than nothing, which is where she was some years ago.
Although some of the women working at the society are in a position to treat their earnings as "pocket money", a large number of them have stories similar to those of Kaur and Dhiman.
Those with young children have the support of the early learning centre run at the Purkal Youth Development Society school that is housed in the same complex as Stree Shakti.
Stree Shakti now has 10 self-help groups. The women, who come from many neighbouring villages as well, earn a fixed amount as wages.
The money from the sale of products goes into the account of the self-help group and is later divided among the members.
If any of the women is in dire need, she can take a loan from her group. Each group has a leader who is responsible for the income generated by the group and of managing the workload and deadlines of all the women in her group.
There are a host of retail outlets that stock the products of the society. They also participate regularly in melas organised by Dastkar and similar outfits in cities like Delhi, Mumbai, Bengaluru and Chennai.
Swamy says that managing 160-odd women on a regular basis is not a cakewalk and there were times she felt overwhelmed by the enormity of what she had started. But, seeing what it does for the lives of these women makes it all worth it in the end.
Scroll down for more inspiring stories of empowerment of women in rural India.