Ajit Mishra, Vice President, Research, Religare Broking, answers readers' queries on a weekly basis.
Here are his replies to some of the 'buy, sell, hold or avoid?' emails that we have received.
If you want his advice on what you must do, please mail your questions to getahead@rediff.co.in with the subject line, 'Stock Market Query', along with your name, and Ajit Mishra will offer his unbiased views.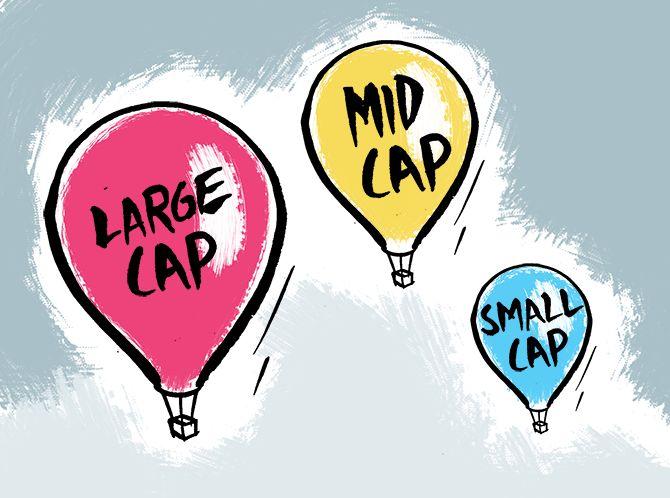 Illustration: Dominic Xavier/Rediff.com
---
Sunil Bhandari: I have invested for long term from 2-3 years in the following shares: Future Consumer 29000@Rs 38, IDBI BANK 2600@Rs 46. Please suggest what I should do as these shares are with me for more than eight months?
Ajit Mishra: We would advise to exit both Future Consumer and IDBI Bank.
Future Consumer has been reporting losses and has high debt in balance sheet while IDBI Bank too has been reporting continuous losses and the asset quality is still deteriorating even after LIC's investment.
---
Anil MK: I would like to buy few shares each for Rs 10,000 from below list. Kindly advise if these are fundamentally sound shares for 1 to 2 year investment?
Ajit Mishra:
| | |
| --- | --- |
| ApcotexInd | Avoid |
| Cadila Health | Avoid |
| Cipla | Buy on dips |
| Coal India | Buy on dips |
| Dishman Carboge | Buy |
| EverestInd | Avoid |
| Gabriel | Avoid |
| Jyothy Labs | Avoid |
| L&T Finance | Buy on dips |
| Motherson Sumi | Avoid |
| NCC | Avoid |
| Navneet | Buy |
| Philips Carbon | Buy |
| Rallis India | Buy on dips |
| Subros | Buy on dips |
---
Sridhar Panda: I have purchased 13500 shares of Hotel Leela Ventures @ 15.50. Now, it's @ 7. Please guide me what can I do?
Ajit Mishra: Hotel Leela Ventures: Exit on rise due to high debt on books and promoter pledging issue.
---
Mihir: Kindly guide me regarding these stocks: Sintex Industries (90% down), Sintex Plastics (80% down), Navneet Education (30% down).
Ajit Mishra: Navneet Education can be brought at current levels and on dips for healthy return over long term. However, both Sintex Ind. and Sintex Plastic are not fundamentally stable, so we would advise to exit the stocks.
---
Amit: I have following stocks around of Rs 3 lakh total. Kindly suggest for Average or exit/hold. Currently facing a huge loss.
Ajit Mishra:
| | | |
| --- | --- | --- |
| Stocks | Cost Price (Rs) | Recommendation |
| Alembic Pharmaceutical | 651 | Average & Hold for long term |
| Bank Of Baroda | 175 | Exit (Prefer HDFC/ICICI bank) |
| IndusInd Bank | 1414 | Hold |
| L&T Finance Holdings | 123 | Hold |
| National Aluminium co | 78 | Exit on rise |
| NHPC | 36 | Exit on rise |
| Rashtriya Chemicals | 94 | Exit on rise |
| Tata Power Co. | 81.2 | Hold |
| Tata Steel | 433 | Hold |
| Tin Plate Co. | 150 | Exit on rise |
---
Shyam Sunder Malpani: I have purchased RCF and Sil Investments. Please advise.
Ajit Mishra: Exit both RCF and Sil Investments on bounce.
---
Shankar: I am holding the following shares:
Sanwaria consumer 1500 shares @ Rs.15.5
Skil infrastructure 1100 shares @ Rs.37.5
Ajit Mishra: Exit both Sanwaria and Skil infrastructure, based on poor financial track record.
---
Krishna S: Please advise on these stocks as though I have invested last 3-6 months back after fall but now these have fallen even steeper. Can I average, hold, exit or accumulate more?
Ajit Mishra:
| | |
| --- | --- |
| Sterlite Technology: Down by 50 per cent | Exit |
| PFC: Can I accumulate more? | It may take more time to deliver results, hence exit |
| Escorts: Can I accumulate more? | Average and hold for long term |
| Zen Technologies: down by 50 per cent | Exit |
| L&T Finance: Down by 30 per cent | Accumulate and hold for long term |
| Mahindra Holidays: Can I accumulate more? | Accumulate and hold for long term |
| Cadila: down by 30 per cent | Exit |
| Jindal Steel: Down by 30 per cent | Exit |
| Sundaram Clayton: Can I accumulate more? | Hold |
| NCC/Dilip Buildcon: Down by 40 per cent | Exit |
| SBI: Down by 30 per cent | Average and hold for long term |
| Tata Motors: Down by 70 per cent; Can I average? | Exit, until there is any meaningful sign of revival |
| Edelweiss Financial: Can I accumulate more? | Exit |
| Britannia: Down by 20 per cent | Average and hold for long term |
| DCM Shriram: Down by 30 per cent | Hold |
---
Swapnil: I am holding 9000 shares of PCJ @ 160. How long shall I hold? I don't want to sell in loss.
Ajit Mishra: PCJ has been facing corporate governance issues from quite some time. In addition, the stock is not financially stable and it would take time for revival. Hence, we would advise to book losses and exit the stock at current level and on every rise. In addition, we recommend you to shift to more stable counter.
---
Uma Dhar: Thanks a lot for your beautiful & meaningful tips on various stocks. Can you please share your opinion on Bank of Baroda, IDBI First Bank & ONGC for long term? Besides, kindly recommend one or two multibagger stocks for long-term perspective of 2-3 years?
Ajit Mishra: Avoid investing in Bank of Baroda and IDBI First Bank. However, you can invest in ONGC for long term. Further, investment can be made in stocks like HDFC Ltd, Britannia, HDFC Bank and Maruti for long-term.
---
Siddharth Kejriwal: Hello sir, I am new to the market and recently purchased ITC @257. Please also advise for long term investment in shares.
Ajit Mishra: ITC is fundamentally sound stock which can earn healthy returns over 2-3 years. At current levels, you can average and continue to hold for long term.
---
Satish: Please find below for my portfolio. I am holding these stocks for almost 10 years now. Your opinion is required whether to continue to hold them or sell?
Ajit Mishra:
| | |
| --- | --- |
| BHEL | Exit |
| TATA STEEL | Hold |
| SAIL | Exit |
| NTPC | Exit |
| SBI | Hold |
| VEDANTA | Exit |
| BHARTI AIRTEL | Exit |
| HINDALCO | Hold |
| ONGC | Hold |
---
Venu Gopala Reddy: I would like to invest Rs 5 lakh now. Kindly suggest which stocks shall I invest for a period of 2 to 3 yrs?
Ajit Mishra: From fundamental perspective, investments can be made in the stocks like HDFC Bank, Britannia, Dabur, Titan, Maruti Suzuki, Eicher Motors, IGL, Axis Bank, ICICI Bank, Whirlpool, IFB Industries, Reliance Industries, TCS, Infosys, Asian Paints, Berger Paints, Cipla.
These companies can be bought in staggered manner at CMP and on dips of 8-10 per cent from CMP. All these companies are fundamentally sound with strong growth prospects. They can deliver healthy returns over the next 2-3 years.
---
Darpan: Share prices of auto and auto ancillary companies have come down substantially during the last one year. Would you please advise two-three stocks from these two categories for long term investment (2-3 years)?
Ajit Mishra: Auto stocks like Maruti, Eicher Motors and Ashok Leyland are currently good bets, which will yield healthy returns over long term.
---
Meghna: I have 65 shares of Atul @ 3982. It is trading range bound between 3575-3625. Your advice, please.
Ajit Mishra: After a long bull run, it's currently witnessing correction and this may extend further in near future. For existing long positions, put a strict SL at 3380.
---
Ajay Srivastava: What is your view on NBCC, Jain Irrigation and IOC? Is it right time to buy stocks?
Ajit Mishra: NBCC: After a decent correction from its record high, though it has witnessed marginal bounce but upside seems capped. It has got a strong hurdle at 37.50. For any fresh long, one should avoid right now.
JISLJALEQS: It's has been witnessing correction for past more than a year now and still there's no sign of reversal. Avoid fresh long.
IOC: It has swiftly rebounded of late after re-testing its crucial support zone around 115. Currently, it has got a strong resistance at 130 levels. For any upside momentum, it has to give a decisive breakout above this level else consolidation will resume. For fresh long, one should wait till it gives a breakout above 130.
Srikanth: I have shares of GSFC (2000 @93), India Cement (1000@99). Please suggest when can I exit or can I hold for some more days?
GSFC: It has retraced considerably from its record high and has reached closer to the major support zone around 68. Recently, it has swiftly rebounded from thereon and now looks fine on the chart. Indications are in favour of consolidation followed by recovery ahead. We suggest traders to hold the long positions with strict SL at 71.50.
INDIACEM: Mostly cement counters are reeling under pressure these days and INDIACEM is no different. After such a correction, marginal pull back can't be ruled out at the current levels, but overall recovery still looks slim. Existing long positions can be held with strict SL at 70. Next crucial resistance is at 78.50.
---
Disclaimer: This article is meant for information purpose only. This article and information do not constitute a distribution, an endorsement, an investment advice, an offer to buy or sell or the solicitation of an offer to buy or sell any securities/schemes or any other financial products /investment products mentioned in this QnA or an attempt to influence the opinion or behaviour of the investors /recipients.
Any use of the information /any investment and investment related decisions of the investors/recipients are at their sole discretion and risk. Any advice herein is made on a general basis and does not take into account the specific investment objectives of the specific person or group of persons. Opinions expressed herein are subject to change without notice.