Anik Jain, Founder and CEO at Symbo, will answer your questions on insurance -- life, health, motor, travel, etc -- on a weekly basis.
Please mail your questions to getahead@rediff.co.in with the subject line 'Insurance Query', along with your name, and Anik will offer his helpful advice.
In the run-up to this QnA with Anik, here's his take on how you can make buying insurance the cakewalk that it is.
Illustration: Uttam Ghosh/Rediff.com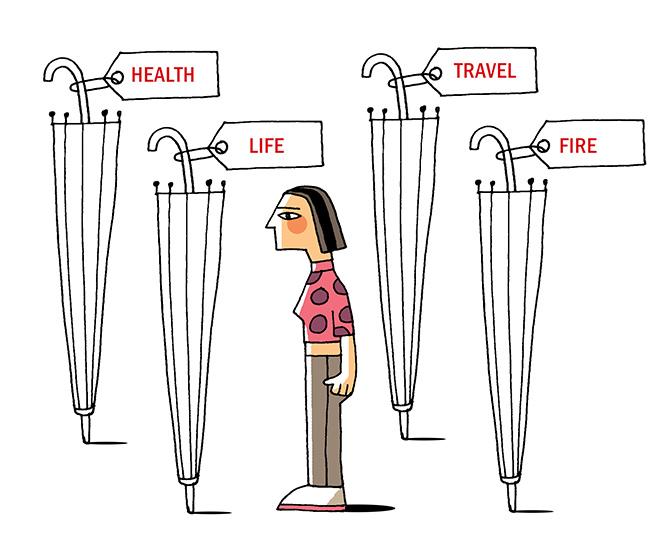 Let's face it: insurance can be an intimidating subject. Buying insurance, hence, can seem like solving a complex math problem. However, understanding insurance is quite simple. Buying insurance is only tricky if you (the buyer) are unclear about your needs. Just like rationing food items based on the consumption of the household, insurance too should be purchased by carefully assessing individual requirements.
Let's look at a few ways and factors that can make buying insurance the cakewalk that it is.
Your age
Buying an insurance policy based on your current age plays a crucial role in deciding the type of insurance policy you should opt for. Your age is major factor while calculating the premiums of term and health insurance policies. The younger you are, the more cost effective your policy is going to be. This is simply because our bodies are exposed to far more illnesses and risks as we grow older.
The threat of greater risk makes the premium amount shoot up. Hence, buying insurance at the earliest is a smart and economical choice to begin with.
Understanding individual needs
To buy the insurance policy that best suits your needs it is important to determine the basic need for which the policy is being purchased. For someone with financially dependent family members, buying a life insurance policy is extremely important. A life insurance policy in this case will provide financial security to the family in the event of the death of the breadwinner.
With rising health costs, having health insurance has become increasingly important. Insurance companies design policies with optional covers such as critical illness cover and personal accident cover among various others which cater to customers' unique needs.
Understanding the coverage and options offered helps you make a smart and informed decision about which cover you need.
Asset insurance also comes with a host of options to choose from, understanding how much you can spend and coverage in terms on necessities is the way to go.
A third-party motor insurance is mandatory by law, but a comprehensive policy covers the vehicle owner's damages too. Such policies have exclusions which can be covered using optional covers. Evaluating the kind of coverage that actually benefits you helps you save money and get the appropriate cover.
Annual income/Asset value
The total sum insured, or the amount of cover depends on your current income. Firstly, the premium should be such that, if deducted from your income, will not have a huge financial impact on your day-to-day requirements. When buying a term plan, it is best to have a life cover that is at least 10 times that of your annual income. This considers various economic factors such as inflation and keeps up with your standard of life in absence of life assured.
For insuring assets through motor and home/fire insurance the value of the asset is taken into consideration while calculating your premium. For example, for motor insurance premium is calculated on the IDV (Insured's Declared Value) of the vehicle and as the vehicle depreciates year on year the annual premium also decreases.
For home/fire insurance, the premium is calculated based on the reinstatement value of the property.
Understanding the gaps in your existing cover
It is vital that gaps in your current policies are evaluated to make sure that your insurance cover is adequate. Most organisations offer health and life insurance policies to their employees which in some cases can be extended to family members. However, only having the cover provided by your organisation is not enough as the sum insured may not be adequate. Also, such covers cease once you leave the organisation or when you retire. Hence it is always recommended that you get a personal policy in addition to the one your organisation provides.
Another common error that people make is that they purchase term insurance once and then forget about it. However, as you grow career-wise the sum insured you're eligible for increases as your income increases.
Regularly checking term plans and the sum insured you are eligible for ensures that you get the maximum cover.
For asset insurance such as car and home/fire you can track trends and look at new insurance products or new optional covers that you want to include in your existing cover. For example, you have purchased a basic fire insurance plan which covers your home against the perils of fire. However, the value of the contents inside your home isn't covered and is an option you may want to include along with your basic cover.
Tax benefits
Insurance is also an avenue for tax savings. For health insurance, an exemption of up to Rs 25,000 is allowed on your annual premium which increases to Rs 50,000 if you are a senior citizen as per Section 80D of the Income Tax Act.
Tax deduction up to Rs 1,50,000 can be claimed for life insurance premiums under Section 80C and the amount received on claiming a life insurance policy is exempted under Section 10(10D) of the Income Tax Act.
Cover cost reduction
Insurance companies calculate premiums based on the risk you present, the lower the risk the lower premiums will be. This is why the life and health insurance premium for a smoker is always higher than that of a non-smoker.
Insurance companies reward claim-free years with a no-claim bonus. In the case of motor insurance, if you have not claimed insurance for your vehicle for one term, the premium for the next term is discounted.
Early purchase also ensures that the premiums are lower, as the older we grow, the more risk we present to the insurance company. The facility offered varies between insurance companies and should be compared before a purchase for maximum benefit.
These are some of the fundamentals to keep in mind while purchasing insurance. Know-how of these factors, along with thorough research of the available policies in the market will enable smart and profitable decision making.
Anik Jain, is Co-founder & Chief Executive Officer of Symbo. An alumnus of IIM Calcutta, Anik brings with him 17 years of experience working across organisations such as Marsh, Mahindra Insurance Brokers, Reliance Life and ICICI Lombard. Symbo serves the insurance industry across product, distribution and operations.