'If you yourself don't believe in the product, you will never be able to sell it.'
'If you have got the basics right, if you have understood the consumer needs well, success will always follow.'
Rajeev Pathak, CEO and founder, funtoot, a personal online tutor, tells Prasanna D Zore/Rediff.com about his plans and the challenges he faces.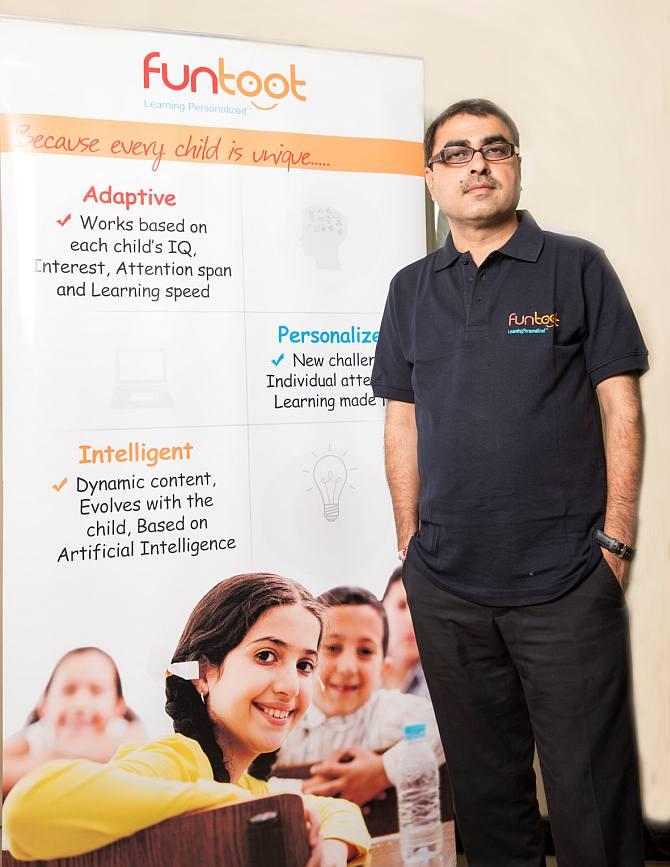 Describe your start-up venture...
funtoot is an intelligent and adaptive personal tutor that observes, assesses diagnoses, interacts, encourages and helps every child based on each child's individual characteristics.
funtoot has been developed after extensive research and is personalised to the precise requirement of students so that they can look forward to fun-filled learning.
It helps cultivate innovative thinking and helps students improve their academic performance. It also assists teachers to monitor their students regularly and help parents keep track of the progress of their children.
Having been built for cloud computing environment, funtoot does not require installation of additional software or hardware.
A computer and an Internet connection is all that is required to get started.

Your Start Up motivation...
A need to make learning fun for children is what inspired a group of three friends to build the technology company, Dreams Edusoft. The idea behind funtoot is to eliminate the learning deficit in each student as the homogeneous nature of modern classroom teaching/learning fails to address individual requirements.
The company deploys this tech product via a hybrid cloud-computing model that can be used in school and at home.
The co-founders -- Rajeev Pathak, Suryaprakash Konanuru and Haris Poonthala -- had two aspirations: Create a fun product for children and build a global product company out of India.
They created a software solution, funtoot, which aids better learning at school and is delivered through the cloud. (Rajeev has an MTech from BITS, Pilani and an MBA from IIM-Bangalore.)
Your Start Up's USP...
funtoot provides individual attention and personalised learning to each child which is a major challenge in the current schooling system.
The USP of funtoot is its ability to assess every child's multiple characteristics and performance in real time, based on which the level of teaching depends.
funtoot is also capable of correcting errors when a child attempts a math problem and assists her/him to find the solution in exactly the same manner a human tutor would do in a one-on-one scenario.
funtoot identifies the learning deficits of each child and facilitates remedial education. Moreover, as funtoot software is cloud computing compatible, schools don't need to invest in additional IT infrastructure.

How do you plan to scale-up? Your revenue model...
There are two channels of revenue. One is B2B; we approach schools and have a discussion about their learning requirements and how funtoot can enhance the experience. School implements funtoot as part of their curriculum and pays us on a per student basis.
We are also aggressively foraying in the B2C market, where we sell funtoot directly to the learners who want a customised/tailor-made learning solution. They are able to create account on the funtoot We bsite and experience it for 7 days without any charge, post which they subscribe for periods suitable to them (1, 2 or 3 years).
There is a three-pronged strategy for scaling up, namely extension, plat-formisation and internationalisation.
We are working on providing funtoot for Maths and Science for classes 2 to 9 across all boards (currently funtoot Maths is available for classes 2 to 9; while science is available only for classes 2 to 5).
We also intend to use our proprietary funtoot platform to introduce personalised content for major competitive exams (GMAT and IIT).
2016 should see us taking our operations to international shores. We are in advanced discussions to tap Middle East and Singapore markets.
Challenges you faced and how you overcame them...
One of the major challenges we faced when we started was abysmal Internet penetration and lack of IT infrastructure in schools. Internet connection was at best patchy, and given that our product was based on cloud, it was quite a challenge.
We countered the issue by installing our servers in schools which were synced with our servers on a periodic basis. We also helped schools set up tab labs, which allow schools to become more agile.

Lessons your Start Up taught you...
Perseverance and focus always helps.
One should have conviction in one's ideas. If you yourself don't believe in the product, you will never be able to sell it.
If you have got the basics right, if you have understood the consumer needs well, success will always follow.
It might start with a trickle (and this is where conviction helps a lot); it will surely turn in to an avalanche given the time and effort.

The positives and negatives of Start Up India...
Well, the intentions are certainly noble. The plans for self-certification, funds with corpus of Rs 10,000 crore (Rs 100 billion), IPR protection, reduction in patent fees etc. are steps in the correct direction. We now need to see implementation of these actions as soon as possible.
Specific to the education sector, a Start Up like us would very much like to see execution of funds which are announced. We would suggest that the government should create a special venture fund for social sectors like education and healthcare.
India is massively challenged on quality of teachers in education and health care infrastructure. We believe indigenous technology innovations can help transform millions of lives in India.
We usually struggle to find funding support from private funds in these two sectors, especially on the technology front. A government fund will be very much helpful for technology innovation in these sectors.

How will Start Up India benefit your start-up?
It certainly creates positive sentiment and this in turn should help attract the best talent.
Hopefully, it will encourage risk taking capabilities across the societal strata and help create jobs at every level.

How many people do you employ? How many do you plan to hire this calendar year?
We are currently a 150+ strong organisation. We plan to double this number this financial year.

What skill sets are you looking for in your employees?
We would definitely like to fortify our product, and take the underlying content, AI (Artificial Intelligence) and ML (Machine Learning) component to the next level. Hiring will take place in pedagogy, coding and design.
We also intend to take funtoot to new markets and tap existing markets more aggressively, so business development and strategic initiatives profiles will be closely looked for.