Tell us how you are helping the chirpy friends. Send us your photographs.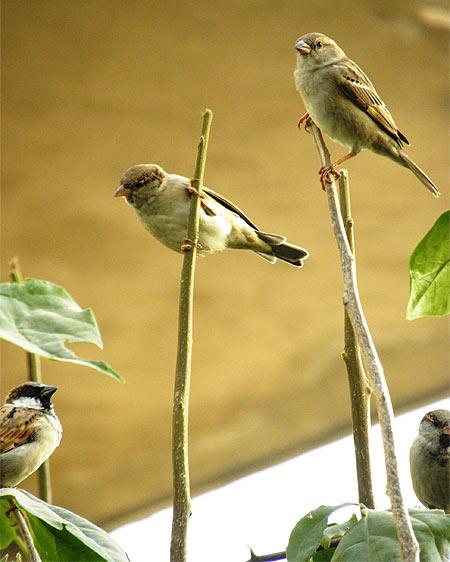 Photograph: Vaihaysi Pande Daniel/Rediff.com
March 20 is celebrated as World Sparrow Day.
It started off as a casual idea suggested by Mohammed Dilawar of Nature Forever Society to protect and raise awareness of house sparrows. (Read all about it here)
The first Sparrow Day was celebrated in 2010.
Sparrows may be not be endangered as yet, but environmentalists are seeing a decline in their numbers.
Some years ago, according to the World Sparrow Day organisation, a leading newspaper in the United Kingdom announced a cash prize for anyone who could explain the decline of sparrows in the country.
"The decline of the house sparrow is an indicator of the continuous degradation the environment around us is facing," the organisation warns.
"It is also a warning bell that alerts us about the possible detrimental effects on our health and wellbeing. We need to know the health risks of the increasing amount of microwave pollution and what is decimating the population of the house sparrow, which co-existed with us, so that we can estimate the effect on all forms of life, including ours."
Experts, bird lovers and researchers are urging people across the world to do their bit to help them breed and increase their species to avoid extinction.
Dear readers, how are you helping sparrows?
Do you have a bird feeder or a bird bath?
Do you have a photograph of a house sparrow or a rare species? Share your photographs and stories with us.
Send your photographs to getahead@rediff.co.in (subject: Save the Sparrows) along with your NAME, AGE and LOCATION. We'll carry the best entries here on Rediff.com.