Rajul Hedge talks to celeb couples who reveal the secret to a happy and successful relationship.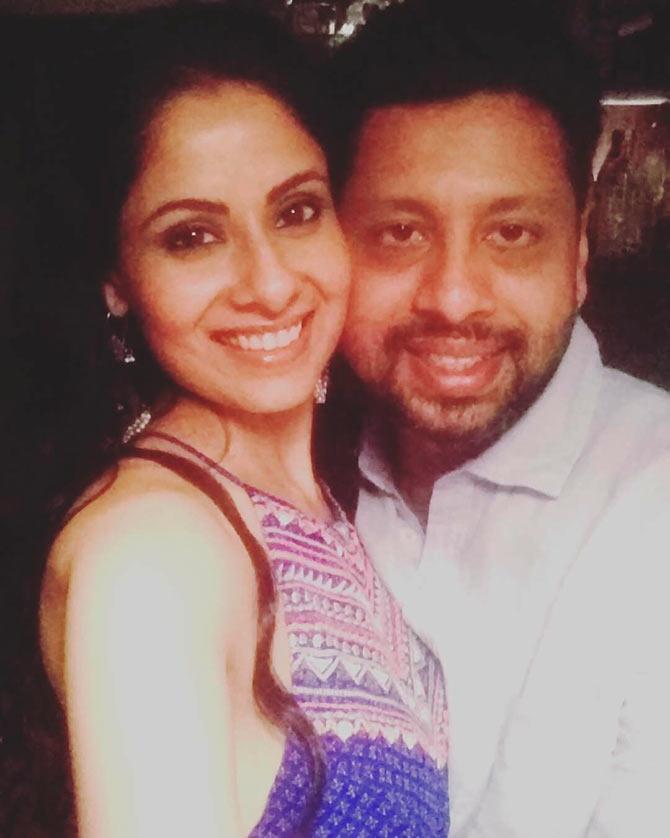 Photograph: Courtesy Chhavi Mittal/Instagram
Krishnadasi actor Chhavi Mittal has been married to director-producer Mohit Hussein for 11 years and is a mother of three-year-old daughter Areeza.
Since both are from the same industry, we asked her if it's easier to understand each other's work and maintain a balanced relationship.
"It has a flip side also. Yes it does become easier to understand the other person's work, needs and long working hours. But as a director and actor we do argue sometimes due to creative differences. But then we realise that we shouldn't get into each others' space and balance it out (laughs).
Chhavi's happy relationship tips
Give space to each other. Everything doesn't always work out the way you want it.
When you have a fight or s/he gets upset, the other person also shouldn't get upset as well. Let one partner be upset and justify it. Give the person time to calm down and indulge him/her even if you don't agree with what s/he is saying. Once things are under control, share your point of view.
Fights are common in every relationship, but never bring in old issues. Then there is no solution and end to the fights.
People like call it compromise but when two people live together or are in a relationship some adjustments are necessary. For example: If one wants to eat Chinese and the other Indian food; have Chinese one day and Indian some other day. Things cannot go according to one person's wish every time. So maintain a balance -- today we will have it your way and tomorrow mine.
Nisha Rawal
Photograph: Courtesy Nisha Rawal/Instagram
Actor, model and singer Nisha Rawal and Yeh Rishta Kya Kehlata Hai actor Karan Mehra had a five year long courtship before they tied the knot in 2012.
Nisha says, "I never really went all out with doing television because it requires tremendous amount of time and we would definitely never see each other if that happened.
"We did Nach Baliye (dance reality show) together immediately after our marriage as that required us to work together. Besides getting a chance to spend a lot of time with each other we also experienced nervousness, excitement, injuries and much more together. We try and take at least four holidays a year. It is important to be able to spend time together away from what you are in your city amongst professional pressures"
Nisha's happy relationship tips:
Love is accepting the good along with the bad.
Be yourself and let the other person be. When you are together you tend to take each other for granted and tend to pay too much attention to the negatives. The idea is to accept the bad and focus on the good!
Don't lose your inner self because your own sanity will truly bring peace in your relationship.
Love gets the best of you. You might need to adjust and compromise, but be sure to not lose your core identity as that is why you are together.
A happy relationship is the one in which you can be the best of buddies and share everything under the sun and grow old together.
You have someone with whom you can share everything: your ideas, thoughts and also your insecurities. Never let your relationship take over the amazing friendship you share.
Take enough time off together.
Sometimes city life gets to you and you tend to vent out all your built-up resentment on your loved one which can lead to pointless arguments. Avoid that. Make sure you do fun things together that you both enjoy. It can be going for dinner dates, movies and holidays. Karan and I really enjoy travelling and make sure we take enough holidays.
Kishwer Merchant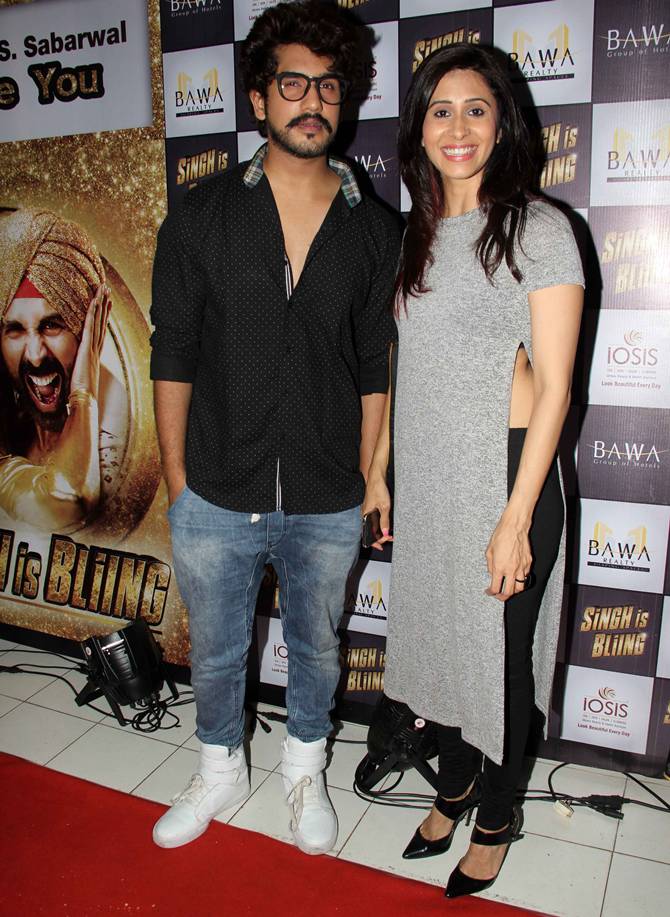 Photograph: Courtesy Vistaas PR
Actors Kishwer Merchant and Suyyash Rai have been dating for five years and are planning to tie the knot this year.
Kishwer's happy relationship tips
You got to be friends, best of friends.
You should be able to talk about everything to each other.
You should give each other space at times; like hang out with your respective friends.
Try to be the more understanding one when the other is angry.
Learn to do things that the other one likes.
Keep the romance alive, surprise each other now and then by doing little little things.
Sahil Mehta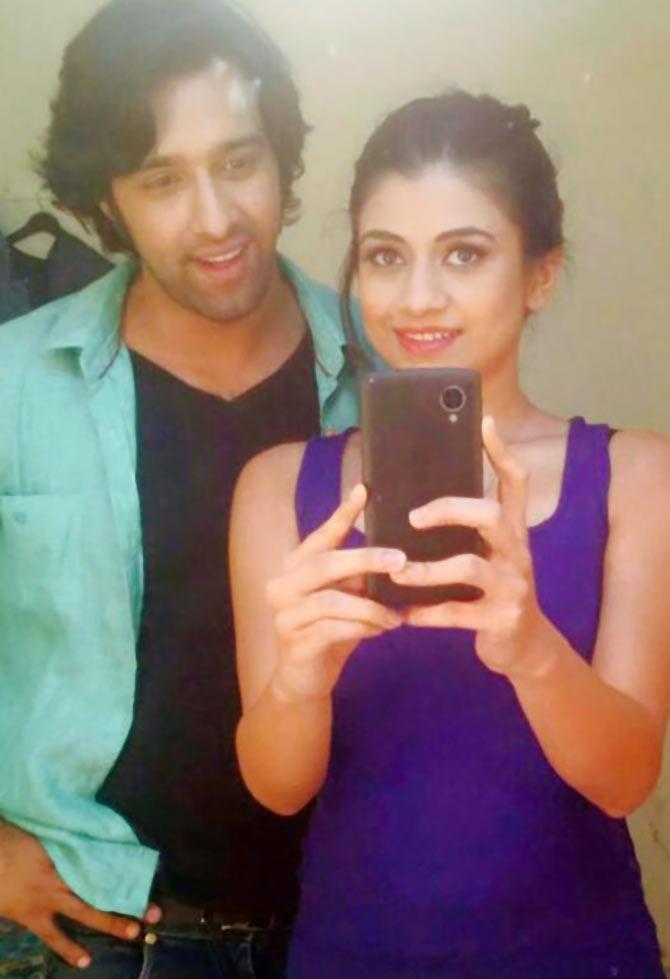 Image: Courtesy Sahil Mehta/Facebook
Suhani Si Ek Ladki actor Sahil Mehta is in relationship with Esha Daniat (who works with Disney India as a creative producer). They are planning to get married in May this year.
"We are each other's priority. So whatever little time that we get, it's always spending together. No matter what," says Sahil.
Sahil's happy relationship tips:
The 3 ALWAYS, I always stick by.
Always finish listening to her patiently and nod yes once she is done talking.
Always tell her she is looking good. No matter how much she instigates you to say otherwise.
Always tell her she is the best cook in the whole universe. No matter how much you miss your mom's cooking. You'll always find your mother in her, if you truly love her. This is what I do.
Arjun Bijlani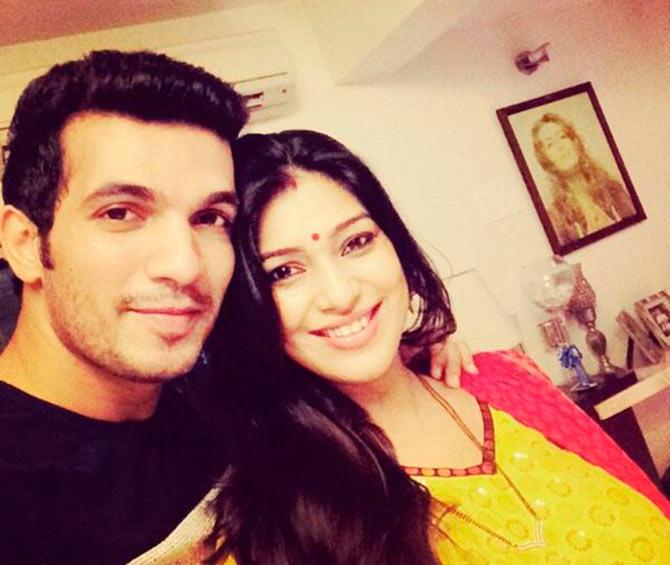 Photograph: Courtesy Arjun Bijlani/Twitter
Naagin actor Arjun Bijlani married his long time girlfriend Neha Swami in 2013. They have a one-year-old son.
Arjun's happy relationship tips:
Surprises act as amplifiers in any relationship and it's important to keep surprising your partner even if it is a small note or a gesture.
I definitely follow the wise man's advice of never saying 'no' to my girl. It's mandatory for all men to follow this for a happy and healthy relationship.
ALSO SEE
5 signs your marriage needs help
Dear readers, share your tips for a great marriage. Post your advice on ZaraBol#Happy-Marriage-Tips
Click here for our complete Valentine's Day coverage
Visit Rediff's Valentine Store & Buy Amazing Touching Gifts for Your Loved Ones