In a no-holds-barred interview, 20-year-old Nikita Azad discusses the backlash she has faced after #HappytoBleed, the campaign she launched to protest a derogatory statement made by the chief of the Sabarimala board.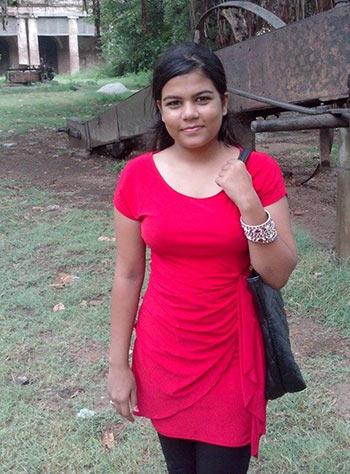 On November 20, Nikita Azad wrote an open letter addressed to the keepers of Sabarimala temple. "I'm shattered to know that for one of the biggest historic temples in India, bleeding is a sin. But, I am sorry. I was not able to end the blood flowing out of my body. I am not able to end my curse, which I obtained by participating in the murder of a Brahmin (that's what the historical justification of menstruation is). Blood flows out. It is my fault, right? With due respect, I dare to ask a few questions about my fault...." (Read the entire letter here)
The letter was her anguished response to a statement made by Prayar Gopalakrishnan, the chief of the Travancore Devaswom Board. According to reports, he said, 'There will be a day when a machine is invented to scan if it is the 'right time' for a woman to enter the temple. When that machine is invented, we will talk about letting women in.'
First published on Youth Ki Awaaz, the letter went viral on social media. Many applauded her response; many trashed it!
Nikita, a second year English Honours student from the Government College of Girls, Patiala, then launched her campaign, #HappytoBleed. What started off as a simple Facebook post gained momentum. Women posted pictures of themselves posing with sanitary napkins and hashtag #HappytoBleed.
They wrote messages like 'I don't bleed blue…I bleed red…and I am #HappytoBleed'; 'On one side people worship Goddess Laxmi and Durga, other side they need purity check… ridiculous'; 'My ovaries, my blood, my business. I decide when to go where, not a priest'.
Anita Aikara/Rediff.com talks to Nikita Azad on what prompted her to take a decision to shame the keepers of the Sabarimala temple.
Why did you take up this issue?
The problems associated with menstruation are a common issue in most families. It's not something that you'll only find in the interiors of India. It affects people in cities too.
In Punjab, from where I come, women who're menstruating are not allowed to touch pickles or the holy tulsi plant because it's believed that their touch will spoil it.
Back in school, my friend and I were once stopped from attending a 'holy' function because we were menstruating.
When they are menstruating, women are forced to sleep on the ground in their homes.
It made me livid to hear someone from such a historic temple make such a statement. Such taboos eventually come in the way of women's health.
Data reveals that 23 per cent girls drop out of school once they start menstruating. They are denied their basic needs as far as sanitation, health care, menstrual care, etc, are concerned.
Did you know that 88 per cent women in India don't even have access to sanitary napkins? This exists purely because of the silence that surrounds menstruation.
Is this the first time you have raised your voice for the rights of women?
Not at all! I have been a part of women activism since I joined college.
Why the term 'happy' in 'HappyToBleed'?
The word 'happy' is used as a satire for people who use the term 'impure' for menstruation.
How have people responded to the campaign?
The response has been very good. People are discussing the campaign; they are discussing menstruation openly.
We have received a mixed reaction from society. Women are openly praising the campaign. A certain section of men have supported it too. But there are some people who have made some really distasteful comments about the campaign.
Something similar was witnessed when students of the Jamia Millia University in New Delhi picked up on the idea of the #PadsAgainstSexism campaign.
What are some of the harshest comments you have received?
People have called the #HappytoBleed campaign a 'scam' and a 'publicity stunt'. One person even said 'we should be fu*#ed on the street by every dog!' Others have termed us as 'prostitutes who should be stoned'.
How do you react to such comments?
These are shallow arguments. I choose not to react.
Do you wish men too have monthly periods? If yes, how would it have impacted the social order?
No, no, not at all…. That would be an impractical argument. But if men had menses, I would like to quote Gloria Steiniem, 'Men would brag about how long and how much. Young boys would talk about it as the envied beginning of manhood. Gifts, religious ceremonies, family dinners and stag parties would mark the day.' Fundamentalists would say women are impure because they don't bleed!
All these taboos are forms of patriarchy and exist to maintain the ownership of resources which a handful of men own, like land. Only three per cent women own land in the entire world.
In order to legitimise the ownership over production resources, you need to say that God made you this way, otherwise people will revolt!
What would you tell people who term this as a publicity stunt?
What about the people who said that Nirbhaya would have survived had she called the rapists her brothers? Why didn't society term that as a publicity stunt?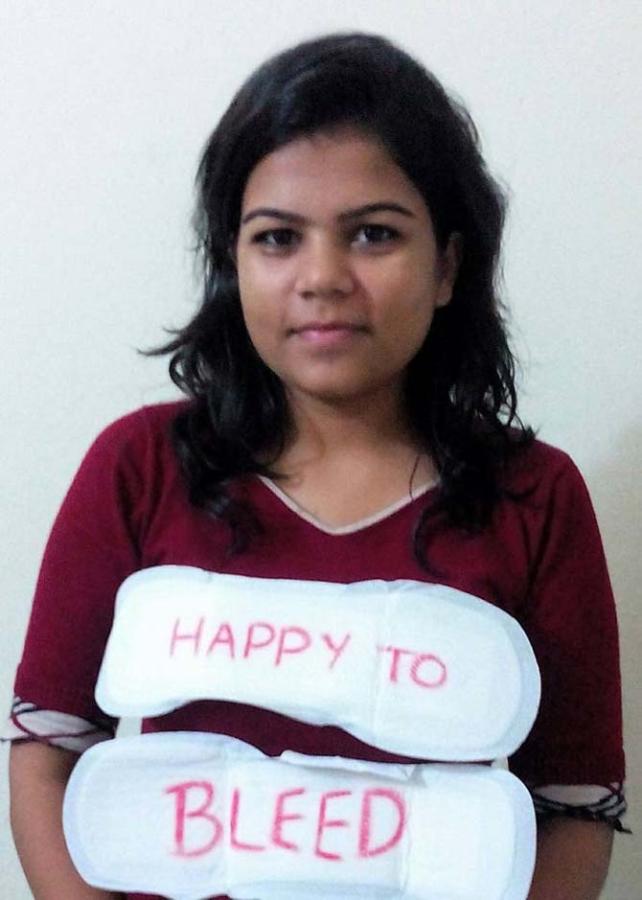 The #HappytoBleed campaign.
What is your campaign's biggest achievement?
Our society has a closed mindset. Sometimes, you just need to shake them up.
This campaign is a kind of shock therapy. There have been similar campaigns that were completely ignored and neglected.
We centred our campaign around sanitary napkins for a reason. We wanted people to sit up and take notice.
You can choose to agree or disagree with us, but at least the issue is being discussed! The open discussion on 'menstruation' is #HappytoBleed's biggest achievement.
If there is a general atmosphere created among the educated segment where they talk openly about these matters, a lot can be achieved.
I also want Dalit women to take a stand on this issue. Such statements affect them the most.
Did you think of taking the legal route to tackle the issue?
There is already a petition pending in the Supreme Court challenging the ban at the temple on women between the ages of 10 to 50.
What other constructive measures have you taken?
We have filed a petition on www.change.org.
Women in Indian society are subject to various forms of patriarchy. One such very prevalent form is shaming menstruation. Women are considered impure because of a natural process.
Through this petition, we urge the National Commission for Women to take a stand on such discrimination and make such practices illegal. We're preparing a second petition, which will be filed soon.
There is also a ground campaign planned in 2016. Right now, as I have my exams on December 4, I'll need to concentrate on that too.
What's your reaction when you hear terms like 'menses', 'periods' or 'chums'?
That's how society has internalised patriarchy.
Whenever I talk to people or address students in colleges, I tell them to use the word 'menstruation'. One, twice, thrice, keep saying 'menstruation', 'menstruation'... I'm trying to make people more comfortable using the word.
There are temples in India that do not allow women inside. Do you think it would help to make this a larger issue?
Yes. Such issues should be clubbed together. This is a bigger problem.
You can follow the campaign on Twitter at #HappyToBleed or on Facebook.
Photographs: Courtesy Nikita Azad/Facebook