'Over 18 years, I've had a very beautiful relationship with Sridevi.'
'She was always caring, simple and sisterly to me. She never had the airs of a star.'
'To the world, she was an actor, but she was more to me. I have lost a sister.'

Kolkata-based designer Agnimitra Paul remembers Sridevi, the mentor who gave her a Bollywood break.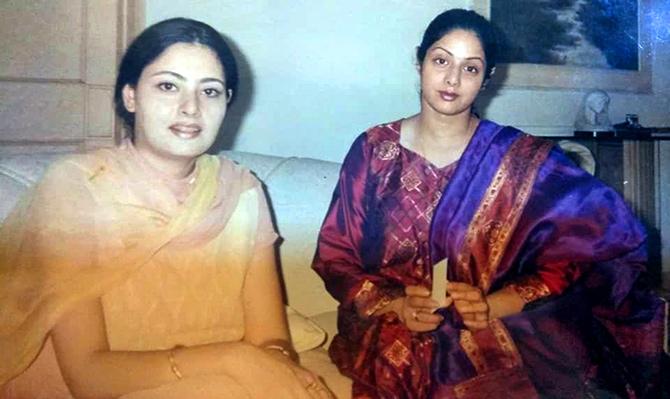 Agnimitra Paul met Sridevi at the latter's residence in 2000.
All photographs: Kind courtesy Agnimitra Paul
I first met Sridevi in 2000. I had started my fashion label in Asansol in 1997.
Like any fresher, I also wanted to work in Bollywood but did not know where to start.
A friend helped me book an appointment with Sridevi's office. I came to Mumbai with my father.
We went to meet her at her residence at Green Acres, Lokhandwala, Mumbai. She'd given me 10 minutes of time.
When we knocked on her door, the servant opened and asked us to sit on the sofa in the living room.
As we sat down, Sridevi emerged from her room. She was wearing a silk magenta salwar kameez. She went near the mandir, did a small aarti. She wasn't wearing much makeup.
Then she came and sat next to me on the sofa. For someone, like me, who grew up in small town Asansol seeing her on the television and admiring her, I was happy to share the same sofa with her.
I was carrying a bag of clothes I had designed. She calmly looked at my work and said she loved it.
At the time Sridevi and Boney Kapoor were producing films. So, I asked if she can help me design clothes for one of her films. She gave me some ideas and asked me to work on them.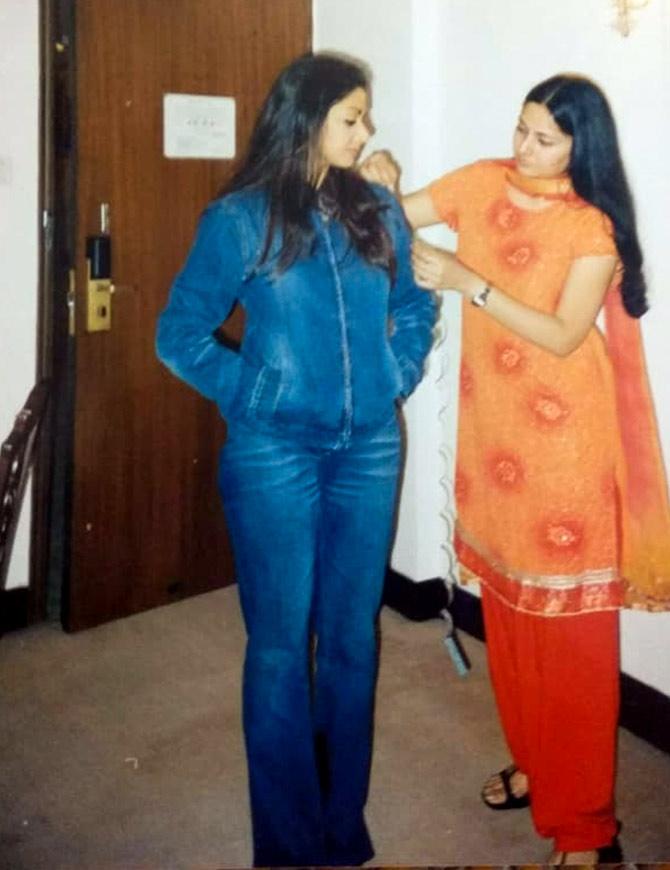 Agnimitra has designed kurtas, salwar kameez and dupattas for Sridevi.
After I went back, I couriered my designs to Sridevi. Four months later, I got a call from her.
'Would you like to design for Esha Deol, (actor Hema Malini's daughter)? We're launching her in Koi Mere Dil Se Poochhe,' Sridevi asked.
I was ecstatic and said yes.
She asked me if I could come and meet her. I requested that I'll have to book my tickets so I'll come a day later. She agreed.
This time, we met over breakfast. I was carrying swatches of my work and Sridevi explained how things worked in films.
She called up Esha Deol and told her that I'll be coming to take her measurements. I went to Hema Maliniji's place and got Esha's measurements.
During lunch, Sridevi called up Subhash Ghai and introduced me. She said something like: 'You remember the first time we met Neeta Lulla? This girl reminds me of Neeta.'
I was a newcomer then and felt so humbled to be compared to Neeta Lulla.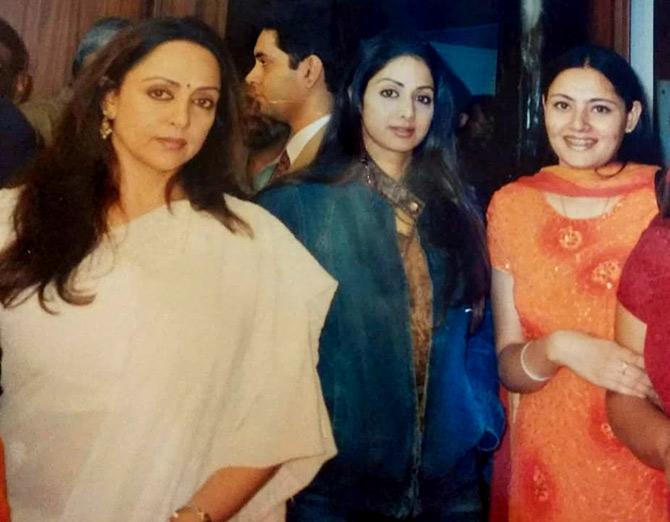 (From left) Hema Malini, Sridevi and Agnimitra at a press meet to announce the launch of Koi Mere Dil Se Poochhe in 2001.
I will never forget what Sridevi has done for me. She introduced me to Bollywood and directors like Subhash Ghai and Satish Kaushik.
Over 18 years, I've had a very beautiful relationship with Sridevi. We'd speak at least three to four times in a year. I'd wish her on August 13, her birthday and she'd ask about my family.
She was always caring, simple and sisterly to me. She never had the airs of a star.
I made Indian and Indo-western clothes and she loved them. I've designed many salwar kurtas and dupattas for her. She mostly loved pastels and preferred georgette.
In 2005, she'd ordered a black kurta with patchwork designs and that is one of the best ones I have designed for her.
She was always elegant, graceful in her dressing. You can never use the terms 'sexy' or 'hot' for her.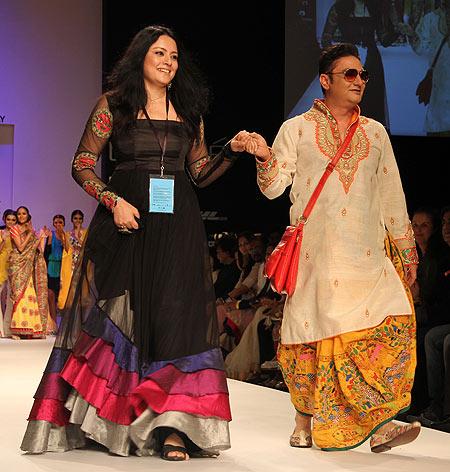 Agnimitra with showstopper Vinay Pathak at Lakme Fashion Week in 2013.
Photograph: Uttam Ghosh/Rediff.com
In 2013, I'd invited her to attend my show at Lakme Fashion Week. She always liked embroidery and my work was about Madhubani art. She said she wanted to come but was travelling so she won't be able to attend.
Sridevi never came to Asansol, but I have met her in Chennai and Mumbai many times.
In 2015, I designed a rose-pink kurta with crepe churidhar and georgette dupatta. She liked it very much. That was the last outfit I remember designing for her.
I wanted to design more clothes for her, but I never imagined her life to be cut short so soon.
I'm angry with God for being so unfair.
She was so talented. She had a kind heart. She supported me when I was a nobody.
If someone like me who knew her for 18 years is grieving and feeling so sad, I can imagine what her family and daughters will be going through.
My heart goes out to them, especially her daughters.
Sridevi is a timeless star.
To the world, she was an actor, but she was more to me. I have lost a sister.
As told to Divya Nair/Rediff.com