Summer is here and, as the temperature soars, you might want to cool off by taking some really interesting summer pictures. Share your unique, original photographs of the season with us and we'll publish it right here.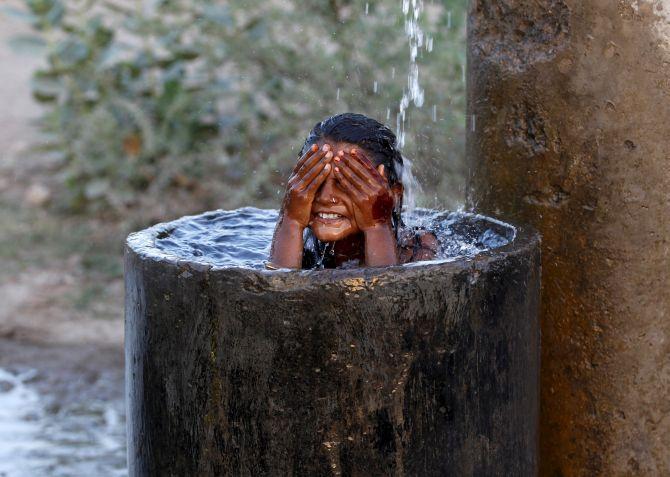 IMAGE: A young girl splashes away the summer heat with water leaking from a broken pipe. Photograph: Jayanta Shaw/Reuters
A picture is worth a thousand words. And we're hoping to get relief from the scorching heat with your interesting and unique photographs.
Everyone loves those once-in-a-lifetime pictures that we stumble across every now and then.
As the mercury rises, it's time to bring out the budding photographer in you. Unleash your creativity and capture some interesting summer snapshots.
Your photographs can be funny, heart-warming, quirky or just plain summery! They could be from anywhere across India or the world, but they have to be original.

Simply post your photographs here -- #Summer Pics -- and we'll publish the most interesting ones on Rediff.com and India Abroad.
You can also mail them to getahead@rediff.co.in along with your NAME, AGE and the place where you LIVE. Do include a little information about where you clicked the photograph and what makes it special.
We are looking for original photographs that have been clicked by you.
ALSO SEE: Unusual summer pics: Water for the village
Share your one-of-a-kind summer pics with us!
Remember, the theme is summer, so your photograph has to gel with the season.