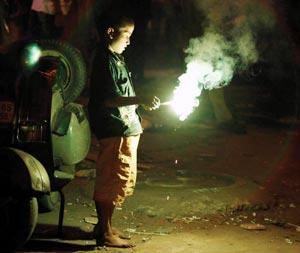 Aseem Chhabra relishes celebrating his otherness during the festival.

A friend once told me that on Diwali day we should keep at least one light on at home. Goddess Laxmi can then find her way into our home -- even an apartment in New York City. I try and remember to do so each year, although one Diwali, I forgot and regretted it as I rode the New York subway into Manhattan, heading for a long day of work. It would have been very inconvenient to go back home just to keep a light on in my living room!

Our Diwalis in the United States are so different than what I remember of my childhood days in Delhi -- the city decorated with lights, sweet shops stacked up for large customer demands, visits to family members to wish them and exchange sweets, the diyas at night, the sounds and smells of fire crackers and the Laxmi Puja, topped with a delicious vegetarian meal. My grandmother was very particular that no meat would be cooked in our house on Diwali. Also, she did not encourage the consumption of alcohol that night.

Having spent more than half my life in the US, I have passed through Diwalis in New York City. But each time there is a substantial effort made to recreate some part of that large Diwali experience that my friends and I remember from our childhood. We gather at each other's homes -- eat, drink (even alcohol), listen to old Bollywood songs and wish each other Happy Diwali. We essentially need that space where we can acknowledge that we are also Indians.
Otherwise a Diwali day looks no different than any other day -- well, with one difference: a few years ago, the New York City Council passed a legislation suspending alternate side parking rules on Diwali day, just like the way it is for other Jewish and Christian religious holidays. Unlike Jewish people, Hindus are not barred from operating vehicles and other mechanical objects on their religious holidays. But getting the City Council to suspend alternate side parking rules for a day is a big thing and a clear sign that we as a community have arrived!
So, this is what I mostly recall from a regular Diwali day in New York City -- especially from the years I worked on the business side of publishing companies. After I would get to work, I would walk up to a colleague and say, 'Wish me Happy Diwali!' The colleague would wish me, and I would sit down and explain the significance of Diwali -- a brief narrative of the mythological story behind the festival, and the fact that in some communities it is considered the start of a new year.
My American colleagues were always curious about my background, my accent, the Indian foods I liked, my interest in Bollywood films and the fact that I would take annual trips to India to visit my family. But seating one of them down and giving a brief discourse on Diwali would feel like a forced experience. Yet it was my way of saying, 'I live in the US. I pay taxes and vote. But I have my own identity and I want the America around me to recognise it. I am not going to hide behind a false veil of becoming an entirely assimilated Americanised person. My Indianness is there for everyone to see and Diwali is or certainly was an important part of it.'
On normal days, I do things that most New Yorkers do -- wake up, eat breakfast, head to work or write from home, meet people, watch Hollywood movies and American sitcoms, discuss politics and sports. But on Diwali day I start to feel my Indianness, my otherness.
Fortunately, New York and most New Yorkers allow us to be what we want to be. It is a city packed with immigrants from every nationality, representing practically all of the world's ethnicities, where parades mark each community's heritage or national day. I like the idea of the big Diwali Mela that is held at the South Street Seaport. It is the brown desis' efforts to celebrate our otherness and our Indian heritage on a grand scale. The fair ends with a fireworks display on the East River. Otherwise, the dances set to Bollywood songs, elephant rides for kids, the henna and the food stalls -- none of that have anything to do with Diwali.
As immigrants we had many different reasons to leave our homeland. But we are blessed that our new home does not demand of us to give up all that defined us. And marking Diwali is one small way for me to remind myself who I was before I came to the US.
Aseem Chhabra lives in New York.
Photograph caption: A boy lights fireworks on the Hindu festival of Diwali in New Delhi.
Photograph: Reinhard Krause/ Reuters