Disclaimer! If you were born post 2000, some of the things mentioned in this piece might seem ancient.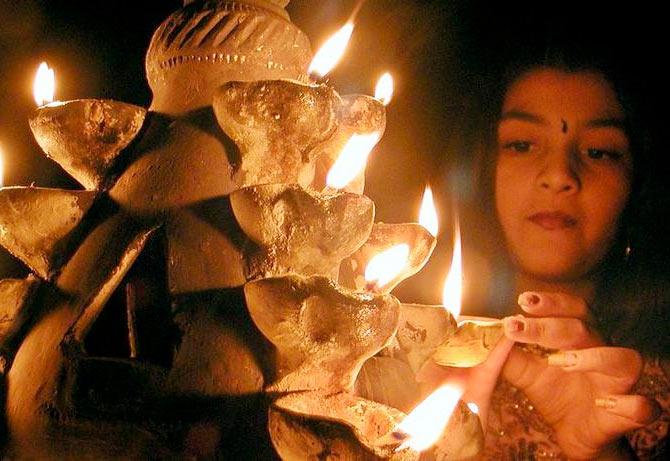 If you were born in the Seventies, Eighties or early Nineties, Diwali was undoubtedly a festival you looked forward to.
Now, the festival brings with it fond memories of people we grew up with, events and fun activities and preparations leading to the festival.
Holidays
In most parts of the country, for lakhs of school students, Diwali signified the advent of a much awaited vacation after the first term exam.
The very thought of spending 20 days away from school and studies would bring a smile on their faces.
Kids would make plans to spend time with friends and cousins, while elders would reserve their holidays to visit their home town and celebrate the big festival with their extended family.
Cleaning up
Diwali is also the time when people tidied their homes, executed pending repair works and decorated the entrances, balconies and stairways with fancy, colourful lights and lanterns.
Right from the wardrobe to the utensils to electronic appliances, everything is cleaned to shine like new.
Floors and walls were scrubbed clean and woe betide if you were standing under a window when the 'saaf safaai' was on.
For kids, it was a matching of wits as we convinced our parents those broken-down toys and that favourite dress could last another year.
Family shopping
Back in those days when computers and the internet had not invaded our lives, one of our favourite events was to go shopping with parents to buy new clothes and gifts for the family.
Remember how your mother embarrassed you while haggling, 'Discount de do na bhaiyya (Please give a discount)' or to 'round off' the total figure (to less than what was on the bill) at your family store.
The sheer delight of shopping for, and with, the family was so special.
Crackers
There was a time when ecofriendly meant ditching plastic and planting more trees.
Celebrating Diwali then was incomplete without crackers.
The memories of the smoke-laden saanp goli, chakri, phuljhadi, dot caps and pistols could easily make some of us cry with nostalgia.
Homemade sweets and farsaan
There was a special joy in helping your mother to make chaklis, shakkarpare, chivda and other farsaan (salted snacks) for Diwali.
It was fun to exchange these goodies with neighbours and visit each others' homes to gorge on munchies.
Sigh! We did not care about piling on calories then.
Earthen diyas…
And not the fancy Chinese candles that died in a day.
The mud-coloured clay diyas could be cleaned and reused year after year.
You could also paint them as per your fancy, which led to a few fun-filled hours of getting messy :)
We did not mind spending hours filling and refilling those diyas with oil. Because, truly, nothing in the world can illuminate better than earthen diyas.
Rangolis
Diwali was also the time to show off one's artistic skills.
Lovely, colourful patterns would adorn the entrances of every Indian home.
Some societies till date organise rangoli competitions during Diwali, which most of us look forward to.
Greeting cards
Season's Greetings…Ah! Nostalgia
Those 4 inch cards with warm messages and wishes from dear friends, relations and cousins could easily melt anyone's heart.
And if they were hand crafted, all the more special they would be.
Teen Patti
For some of us, Diwali was also the time to indulge in some harmless gambling and earn some quick money.
Teen Patti, Black Jack, Bluffmaster… bring out those cards once again.
Homework
Ugh! Most schools till date continue to torture kids in the name of Diwali homework.
Although the purpose was to ensure kids had enough revision of multiplication tables and grammar, the thought of filling pages of notebooks during holidays still gives us the jitters.
This year, as we get ready to celebrate the festival of lights, let us not forget to enjoy the little joys it brings along.
Wish you all a very Happy Diwali.
Lead image used for representational purposes only. Image: Amit Dave/Reuters