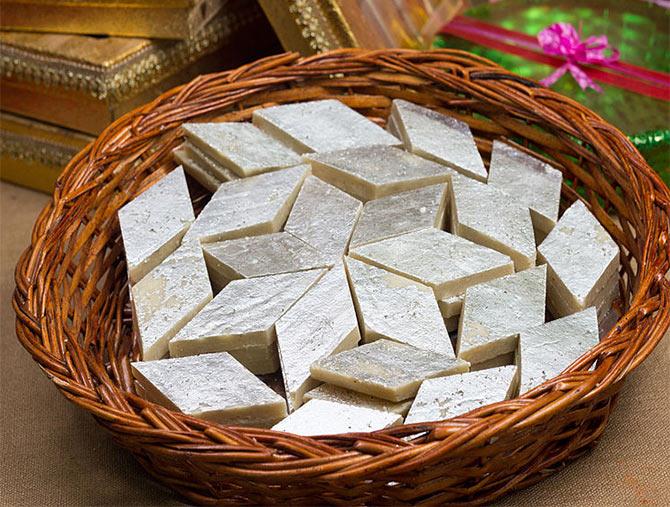 For these TV stars, the festival of Diwali is the perfect excuse to indulge in homemade sweets.
Have you heard of Lavang Latika, a popular Bengali delicacy?
Better still, do you know what your favourite television stars will be cooking for Diwali?
Ahead of the celebrations, Rajul Hegde spoke to a bunch of them and asked them to share the recipes. You can share yours too!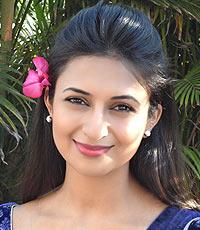 Divyanka Tripathi
Bhopal-born actor's screen character Dr Ishita Bhalla may best be remembered for her cravings for sitaphal ice-cream in the serial Ye Hai Mohabbatein.
But Divyanka Tripathi's favourite dessert is Lavanga Latika.
Filled with the goodness of nuts and pistachios, Lavang Latika makes for a perfect Diwali treat.
It is crusty on the surface and as you bite into it, the richness of clove will get you craving for more. Here's the recipe:
Lavanga Latika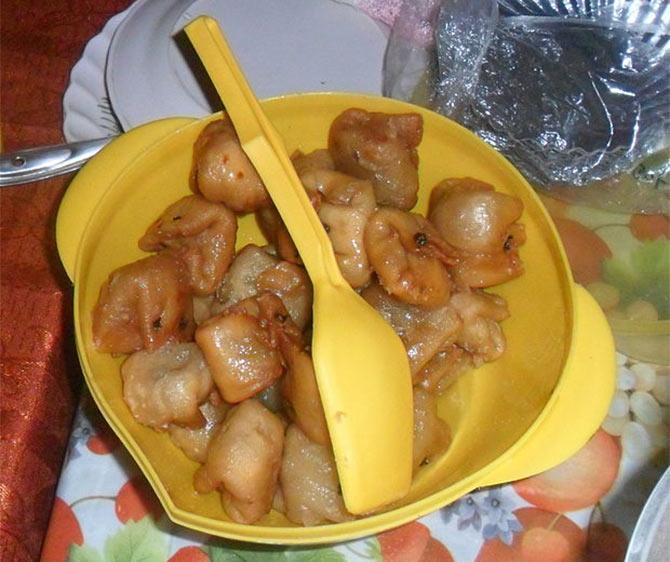 Photograph: Akankshyap18/Wikimedia Commons
Ingredients
2 cup maida
3 tbsp ghee
2 pinches cooking soda
2 pinches salt
1 cup sugar
For stuffing
1 cup khoya
1/2 cup sugar
5 cashew nuts and raisins each
1/2 tsp cardamom powdered
Oil for deep frying
1 tsp ghee
Method
Mix maida, ghee, cooking soda and salt.
Add water and knead into soft dough. Cover and keep it aside.
To make the stuffing, mix khoya and sugar.
Fry cashewnuts and raisins in a tsp of ghee. Add to the khoya. Add cardamom powder and mix everything well.
Make a small puri with the dough, place a tsp of the stuffing in the centre.
Bring the corners to the centre over the stuffing, one by one to fold it like a square. Seal it with wet fingers. Insert a clove (lavang) in the centre.
Take a thick bottom pan, add sugar, two cups of water and bring to boil. Cook till it attains two string consistency. Switch off the stove.
Heat oil in a kadai and put 3 to 4 lavang latikas at a time and fry till it turns light golden.
Put the fried lavang latikas in the sugar syrup and allow to soak for few seconds.
Remove and keep it in a plate. Allow to cool before storing.
---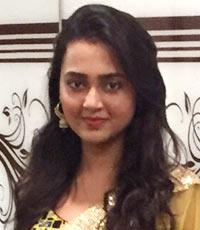 Tejaswi Prakash Wayangankar
Tejaswi Prakash Wayangankar who plays Ragini in the serial Swaragini shares her Diwali memories and Puran Poli and Shankarpali recipes:
"Puran poli being an authentic Maharashtrian dish is made at my home every Diwali.
"We even give it as prasad during Laxmi Pooja. I love making them with mum.
"We have it hot with ghee on top of it.
"I cook it over the pan and mum makes the poli as I can never get it round in shape.
"This year hopefully it'll be better (smiles)"
Here are the recipes:
Puran Poli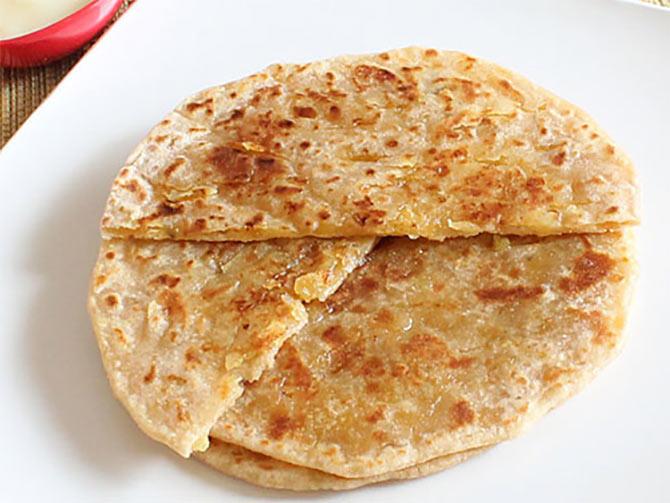 Photograph: Rambhade/Wikimedia Commons
Ingredients
For the dough
400 gm wheat flour or multipurpose flour (maida)
Salt to taste
1 tbsp oil or ghee
For the filling
200 gm split Bengal gram (Chane ki daal)
100 gm jaggery
3 to 4 green cardamom
A pinch nutmeg powder (jaifal)
100 to 150 gm ghee or refined oil
Pinch of salt
Method
Sift flour, add 1 tbsp ghee and salt to taste and mix well.
Knead smooth dough with warm water. Cover and keep aside for an hour.
Soak Bengal gram for 4 to 5 hours. Drain the water. Pressure cook in 1 and /1/2 cup of water.
Turn off the flame after 2 whistles. Drain water and grind the boiled chana dal.
To make the puran, heat 1 tbsp ghee in a pan, add crushed jaggery and ground lentil. Let it cook for 5 to 10 minutes and mix well.
When jaggery melts completely, it will be of very thin consistency. Continue stirring and cooking till it thickens and leaves the bottom.
Cool and mix powdered green cardamom and nutmeg.
Make a small ball of dough, flatten and place 2 tbsp puran in the centre. Gather the edges together to seal the filling in the centre to form a ball.
Roll stuffed ball into a poli of 6" to 7" in diameter.
Heat a flat pan. Place the poli, add ghee. Flip to cook both sides till golden brown.
Puran poli is ready.
Shankarpali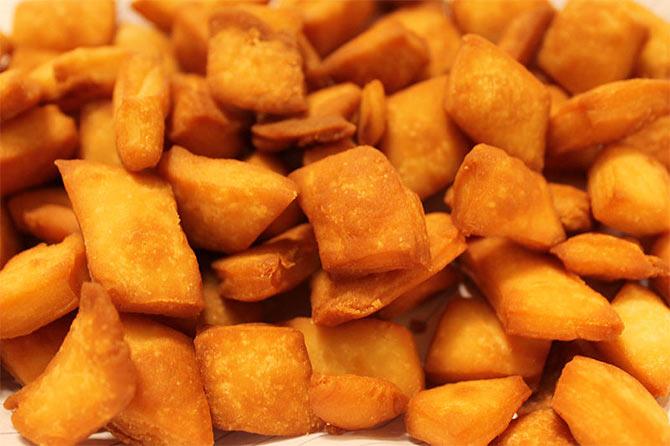 Photograph: Vijay Sonar/Wikimedia Commons
Ingredients
1 and 1/2 cup maida
2 tbsp small rava/semolina
2 tbsp butter /ghee (warm)
2 tbsp sugar powder
1/4 cup milk
A pinch of salt
Water (as required)
Refined oil for deep frying
Method
Mix flour, sugar, small rava, milk, salt, butter, sugar and knead into a stiff dough with little water. Cover it and keep aside for 30 minutes.
Make small balls and roll into thick rotis
Using a sharp knife cut out small diamond pieces.
Heat oil in a deep pan, slide the pieces and fry till it is fully cooked.
Place the shankarpali on a kitchen towel/napkin to remove excess oil.
---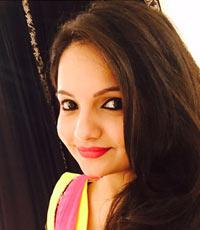 Giaa Manek
Actor Gia Manek who was last seen in Jeannie Aur Juju says her mother makes the best besan ladoos in the world.
"Not just me but my entire family and close friends are big fans of these ladoos," she says.
"Every time we have guests at home for Diwali this is the compulsory item served.
"Whether the guests eat or not, I put 2 to 3 in my mouth easily.
"This Diwali I plan to learn making it from my mom and surprise my friends and relatives.
"This year they'll have besan ladoos made by me (smiles)."
Besan ka Ladoo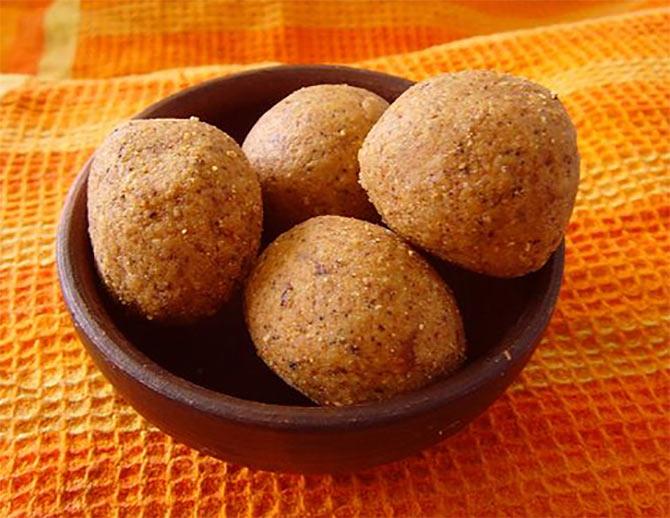 Photograph: Carolina Egana/Creative Commons
Ingredients
2 cups besan
1/2 cup ghee (can add 1-2 teaspoons of ghee while making ladoos only if the mixture is dry)
3/4 cup powdered sugar
3-4 green cardamoms powdered /crushed
1 tbsp raisins, 1 tbsp chopped cashews or almonds
Cashew halves to garnish
Method
Heat ghee in a thick bottom pan, add besan stir continuously.
Roast for about 10 minutes on low flame, till you start getting a nutty fragrance and ghee starts separating besan.
Add sugar and mix well for 2 to 3 minutes. Remember to keep on stirring so that the mixture does not stick to the bottom of the pan. Switch off the flame.
Add dry fruits and cardamom powder and stir well.
When the mixture is warm enough for you to handle, make small or medium sized besan ladoos.
If the mixture looks dry to you, add more ghee while making ladoos.
---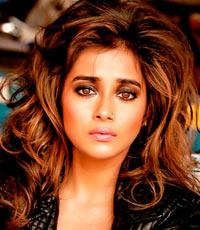 Tina Dutta
Uttaran actor Tina Dutta has a sweet tooth.
The Bengali beauty likes Chum Chum the most.
A popular Bengali sweet, the Chum Chum is made with cottage cheese and sugar.
One can replace sugar with palm jaggery.
Here's the recipe:
Chum Chum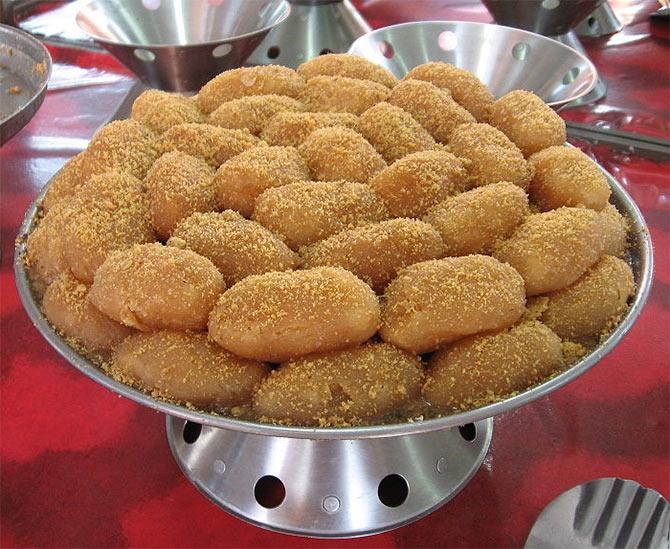 Ingredients
1 litre or 4 cups full fat milk
2 to 4 tsp lemon juice in 4 tsp water
2 tsp of refined flour (maida)
For the sugar syrup
1 and 1/4 cup sugar
3 and 1/4 cups of water
1/4 tsp cardamom powder/elaichi or rose water
For stuffing and garnishing
4 tbsp mawa / khoya
1 tbsp sugar powder or more as per your taste
Few pistachios chopped finely
Method
Boil milk on a medium flame. Add diluted lemon juice and stir until the milk curdles completely.
Add ice cold water to the curdled milk. Drain to separate water from the chenna on muslin cloth. Hang it for about 45 minutes.
Knead with maida to make a smooth dough.
Make 8 to 10 oval shaped balls.
Make sugar syrup by boiling sugar and water.
Add cardamom powder and chum chum.
Cook on a moderately high heat for 5 minutes and transfer the chum chum to a plate and cool completely.
To make the stuffing mix mawa with powdered sugar.
Slit chum chum length wise and stuff mawa.
Sprinkle chopped pistachios on the mawa. Serve chilled.
---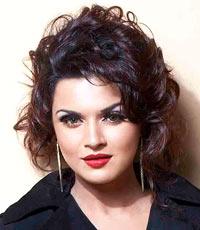 Aashka Goradia
Former Bigg Boss contestant Aashka Goradia is a huge fan of Kaju Katli.
Made from powdered cashewnuts, ghee and sugar, Kaju Katli is a popular Indian sweet loved by all.
It's also called as cashewnut fudge or kaju barfi.
Kaju Katli is easy to make and is irresistible too.
Here's the recipe:
Kaju Katli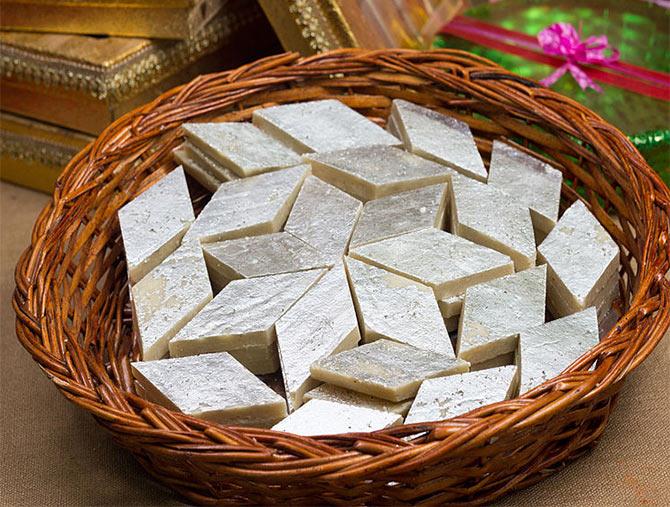 Ingredients
1 cup cashew nuts
1/2 cup sugar
1/4 tsp cardamom powder
1/4 cup water and ghee for greasing
Method
Powder the cashew nuts in a mixer and keep it aside.
Make sugar syrup by boiling sugar and water over medium flame in a deep pan.
Stir and cook until syrup reaches one string consistency.
Reduce the flame and add cashew nut powder and cardamom powder. Keep stirring and cook it till the mixture thickens and leaves the sides of the pan.
When the mixture forms a lump, pinch a very small amount and make a ball with your fingers. If you are able to form a ball, then it is the correct consistency.
Switch off the flame and let the mixture cool for 5 minutes.
Knead into a soft dough and put it on a greased surface.
Roll it out into 1/3 inch thick round shape using a rolling pin.
Cut out diamond shaped pieces and allow the pieces to set for 15 minutes.
Kaju Katli is ready to be served.
ALSO SEE
Festive recipes from my mom's kitchen
What are you cooking for Diwali?
7 irresistible Diwali sweets you must try
Diwali sweets: Kalakand, Khoya Peda, Gulab Jamun
Diwali snacks: Super-tasty savoury recipes
Festive recipe: Nolen Gurer Payesh
Send us your favourite festive recipes. Write in to us at getahead@rediff.co.in (subject: Festive Recipes) with your name, hometown and any interesting details about the origin of the recipe, along with a photograph if possible. We'll publish the best preparations right here onRediff.com and in India Abroad.