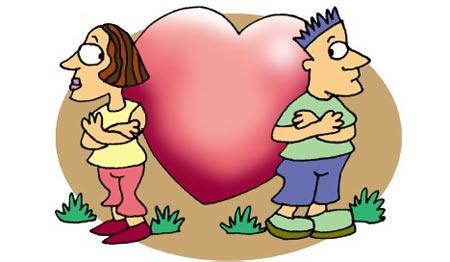 "Women like men who are confident, chivalrous, well-mannered, hygienic, well-read, and self-made..."
"There's much more to life than grief and sorrow..."

In a weekly chat with readers, Rediff.com's Love Guru offers relationship advice.
For those who missed the chat on January 29, here's the transcript:
---
Asif Hossain : What is the best way to know that a particular girl also loves you with ought saying verbally..or what r the indications for that
Love Guru: Asir Hossain, your question shows you have never experienced it.
Trust me, when a girl is in love with you and sends out signs, you will get them.
If you have not got them, it usually means she has not sent any signs your way
---
Rohan Basu: Hi LG, I know a girl for last 3 years and I am in love with her at first sight. But she has always treated me as a friend and doesn't want to indulge into a relationship because she came out of her previous marriage within a span of 10 days and for last 4 months she has been avoiding my calls and neither she is meeting me. Pls help.
Love Guru: Rohan Basu, this love at first sight is fun only if it is two-way, isn't it?
If she is avoiding you for so long, it clearly means she has no such feelings towards you. Why don't you get the message and get away from her?
---
Srini: I am stuck in an incompatible marriage. I feel threatened about the misuse of legal approaches if I take step towards freeing myself from this marriage. Do you have any suggestion for me?
Love Guru: Srini, whether you like it or not we live in a law-governed society.
The law governs everything we do, marriage, birth, death, divorce. I am afraid there is no other way to go about divorce other than the legal one.
What misuse of law can you fear if you move the court for separation?
If any attempt at misuse occurs, then it will only strengthen your case
---
Mohd-Hadi: hi, I know a girl last few year she is very decent and very nice girl I love her but she is not ready for love marriage.
I am a 38 yrs she is 23 yrs she friend telling she loves you but she is not telling so please suggest me.
Love Guru: Mohd-Hadi, don't you think the age difference between the two is rather steep? If you don't think so, fine.
You say you know her for the last few years, so why is she not telling you how she feels towards you but is using a friend to do the job?
I find that strange.
As I keep saying here, if a girl loves you, she won't hide it. If you can't see any signs, then she doesn't
---
Davendra-A Kumar: hai love guru I am davendra. I want to ask you how to impress the girl
Love Guru: Davendra-A Kumar, there is no one template to impress girls, each of them has different preferences.
But overall, women like men who are confident, chivalrous, well-mannered, hygienic (yes, you read that right), well-read, and self-made. Sounds like you, I hope
---
arif-kamal: what is love? No love no tension---are u satisfied with this quote?
Love Guru: Arif-Kamal, how does it matter if I am satisfied with it, what matters is if you are.
---
nand chaudhary: Hi LG, I was in a good relationship with a married woman since 2 and 1/2 year suddenly she broke all relation from me without any reason.
I met him personally for once for the reason but she didn't tell me anything. But she don't want to continue the relation.
I was really very hurt. Is she also feeling bad or not or can she come back to me or not ? please advice
Love Guru: Nand Chaudhary, relationship with a married person is always fraught with such danger. Weren't you aware of it before you began your relationship? Next time, keep this in mind
---
Narender Mitti : sir, we have been in love since 7 years, but now is saying that she want some more time to marry me.
Love Guru : Narender Mitti, and, you think she is taking you for a ride? If so, why don't you ask her for her reasons?
---
akthar sharieff : Hi, LG i luv a girl who is always staring at me. Do u think she's attracted to me?
Love Guru : Akthar Sharieff, No idea. Maybe she is transfixed by your looks.
Or could be that she is thinking of something while looking in your direction, at which time you caught her eye and come to the conclusion that she is attracted to you?
---
khizar-mohd: Sir, I am muslim boy, I love a hindu girl since last 2 years. I want to marry with her. kindly suggest me, what we do?
Love Guru : Khizar-Mohd, marry.
---
Shalini Sharma: LG plsss help.. I have a good friend who is in unrequited love with me but i really don't have any feelings for him.
I tried to cut off the contact with him many a times bt he always convinced me to continue the chat.
I dont want to hurt his feelings but my family don't want me to talk to him. what should i do now.. plss help..
Love Guru: Shalini Sharma, cutting off contact with someone cannot be as difficult as you make it sound.
If you are unable to do it, perhaps you don't really want to cut off all ties with him?
---
Rajiv Ranjan: sir, I hv old father aged 73 years.my wife is ignoring him to much in front of her parents even me also.plz give me right solution
Love Guru: Rajiv Ranjan, why is your wife behaving in such a manner?
Is it a new thing or was it always the case? And when she behaves so in front of her own parents, what do they tell her?
Have you tried talking to her about it, or are you the type who keeps it all stored within?
The easiest thing to do would be to bring it up with your wife and see what she has to say
---
anand shukla: HI LG, I am in husband wife relation with a widow women last 3 years. Unfortunately now she not picking up my phone without any reason.
Please advice what to do further as I do not want to leave her' and believe I really love her.
I have lost all my family health and wealth for her now she saying me that forget me but I can't forget her never please guide me
Love Guru : Anand Shukla, a husband-wife like relationship doesn't make it the real thing.
She has the right to choose who to be with, as much as you do. So don't end making a fool of yourself.
In short, my advice is, don't end up wasting your life in grief and sorrow, there's much more to life
---
brat4life : Hi LG, my GF of 4 years is expecting marriage from me but now I am not connecting with her since she is not financially independent (I have gone through tough childhood and this is my important requirement financial independence) also I am not impressed with her family class/standards.
Please suggest is it wise to break up?
If yes how to without hurting her feeling,
Love Guru: brat4life, I am surprised. You were in a relationship for 4 years and discovered these aspects about your girlfriend only now?
Financial independence is not something that cannot be acquired.
And as for your insistence on class/standards, what can one say!
Except to say that hopefully someday you will realise what true class is. It doesn't come with birth or money.
---
Also read
Advice from the Love Guru does not reflect the opinions of Rediff.com and should not be considered in the capacity of professional counselling.
(Due to circumstances beyond our control, date and time of chat may change)