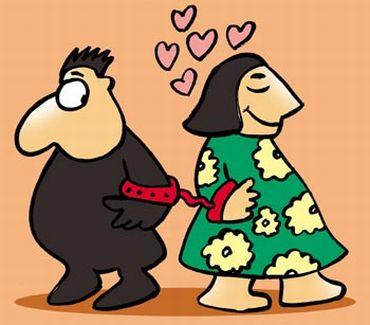 "Every couple has its fair share of quarrels and fights.

"Often it is an accumulation of issues and grievances, real and sometimes imagined. Nothing that cannot be sorted out."
In a weekly chat with readers, Rediff.com's Love Guru offers relationship advice.
For those who missed the chat on January 15, here's the transcript:
---
Vishu Jeet: Hi Sir,I am 31 year bachelor. I have feeling for one of my new colleague who is getting a divorce.
Her hubby cheated on her. We sit next to each other.
Talk our feeling to each other. I really like her and want to marry. But I fear that she is not ready for any relationship because she is just coming out from a bad relation.
At the same time, I am facing pressure of marriage. Plz suggest
Love Guru: Vishu Jeet, you are right, it is too early for her to think of marriage. If you are in a hurry, I suggest you look elsewhere.
---
umar: Dear LG, I have loving a chennai girl last 3 month..i want to impress her ...plz suggest some ideas to impress her in low budjet ..i have to plan go to chennai with out inform and surprise her... plz give some tips to supprise her ..
Love Guru: Umar, I am sorry, but I am not familiar with Chennai to tell you of any low budget surprises.
---
Anmol Prasad: Hi love guru I want to marry with my mother's cousin's daughter but my mom does not agree with this.
On the other hand her family has agreed to get her married to someone else. What I do?
I spoke to my mother but she refused any argument. I'm in a relationship with her for more than 12 years. Pls suggest !!!
Love Guru: Anmol Prasad, as a rule marriage between close relations are not healthy. I am sure that's what's worrying your mother.
To convince her, why don't the two of you undergo a test to see if everything will be okay with your children?
---
Avinash Singh: hey love guru, there was a girl in my life,from 4 years ago and 2 years ago she got married with some other guy who is more salaried than me.
At the time of her marriage she promised that we'll be good friends for life and stay in touch. But two months into her marriage she disconnected all links. Now I really miss her.
Love Guru: Avinash Singh, often, in such situations, the hurt to the ego is greater. Now she is a married woman, so forget about her.
It is okay to look back at the time you both spent together with fondness, but to wish it would repeat is to ask too much.
If you really loved her, let her be happy in her new life, and you find happiness elsewhere. Move on.
---
jayu: HI,, I'm 45-yr -old unmarried. A 30-yr old boy loves me seriously. I have ignored him but he cant stop loving me.
Bahut samjati hu use but wo samjne ko taiyar nahi.. uske parents search kar rahe hai ladki.. .. tell me usko kaise samjhau?
Love Guru: Jayu, if you really want to get rid of him, you would have done so. Are you sure that somewhere you are not feeling flattered by his attention?
---
Truptimayee Dey: Hi Love Guru,I am in a relationship with a guy since 4 year.I love him so much and he also. But we always quarrel. Suggest me what can I do ??
Love Guru: Truptimatee Dey, every couple has its fair share of quarrels and fights. Do you feel you two fight excessively? That could be a problem.
Why don't the two of you sit down and talk it out reasonably, and find out what is it that's making you two fight?
Often it is an accumulation of issues and grievances, real and sometimes imagined. Nothing that cannot be sorted out, though
Truptimayee Dey: Thanks for your response...no we do not fight excessively. Just like no phone call and no contact. We have also talked about this issue many times but there is no solution.
---
anil sharma: Dear LG.I am very upset over my GF. She does not like the way I talk to her, the way I care for her.
She's always irritated over small things.
Whenever I call her she never entertain me and whenever she calls I have entertained her.
She always fights over small talks. Pls get me out of this situation.
Love Guru: Anil Sharma, that's a tough situation to be in.
Have you tried talking to her about it when she is in a good mood?
Are you sure she is happy in the relationship?
Have you discussed your future together, is she okay about it?
There must be some underlying reason that's forcing her to react this way to you, find out what it is and all will be well.
---
suresh jain: A married woman misses me and she told that she will never forget me, what is the meaning of this?
Love Guru: Suresh Jain, it means she will miss you, exactly what she said. As you didn't understand what she meant, it means she didn't matter much to you. So stop fretting over what she said.
---
Ayesha Sajid: I want to throw someone out of my friend's life. How can I do that?
Love Guru: Ayesha Sajid, you can throw them literally, as well as figuratively. I presume you mean the latter?
Stop acknowledging/reacting to the person, that's all it takes.
---
BALA SUBRAHMANYAM: I am 32+ and can I marry 31+ woman or there should be more age gap ie diff between me and her is 1 year 6 months. Is it ok
Love Guru: BalaSubrahmanyam, there is no problem with the age gap, the only thing you have to worry about is if the girl is under age. In this case she is not, so go right ahead
---
Illustration: Uttam Ghosh/Rediff.com
Have a question for the Love Guru? Click here to post them! And be sure to log in next Thursday between 3 pm and 4 pm IST.
Also read
Advice from the Love Guru does not reflect the opinions of Rediff.com and should not be considered in the capacity of professional counselling.
(Due to circumstances beyond our control, date and time of chat may change)