We had asked you, dear readers to share your good and bad ATM experiences
Bangalore resident Ramesha SG, 41, tells us how he left his card at the ATM and lost Rs 26,000.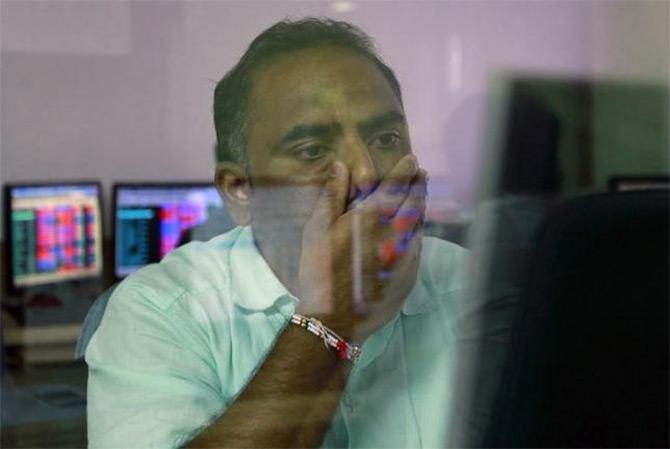 Photograph*:

Danish Siddiqui

/Reuters
Eight years ago, I received an international shopping debit card from HDFC Bank.
Unlike now, the card didn't require any PIN to be entered while being used for shopping. But it had an insurance cover for any fraudulent transactions.
On one dreadful evening, I went to a nearby ATM to withdraw money.
The ATM was close to a bus stand and there was a tiff going on between a girl and an auto-rickshaw driver.
I tried to resolve the issue. The tiff got over and I was happy to have helped them in settling the issue.
Excited, I went inside the ATM, withdrew cash but forgot to collect my HDFC debit card back.
I didn't realise this for two days as SMS alerts weren't available then.
After two days, I had to leave my mom at the bus stop. That's when I realised that my card was missing.
I hurriedly came back home, logged into my internet banking (account) to check if there was any misuse.
To my horror, there were three transactions amounting close to Rs 26,000 debited from my account. I immediately called up the bank and blocked the card.
I followed up with the bank and got the details of places where the card was used.
The card was used at two petrol pumps for refuelling and at an electronics shop to buy a Sony Handycam for Rs 24,500.
I went to the shop and got the charge slip copy used for the transaction.
In the CCTV footage, I saw that the person had simply signed with my name and the shopkeeper didn't even bother to verify the signature.
I went to the police station to file a complaint as an FIR was required for claiming the insurance (this is mentioned in fine print in the card).
I had to wait in front of the police station for many hours for the inspector to turn up. The inspector, after going through the details, flatly refused to file an FIR.
He started questioning me as if I was the culprit.
Even after much convincing, I was unable to get the FIR lodged. Instead they gave me a slip of acknowledgement of the complaint.
Thankfully, my company had a relationship officer from HDFC bank as we had our salary accounts with them.
I approached them with the details. They asked me to visit the main branch along with the police complaint acknowledgement and charge slip.
I visited the main branch, submitted all the details along with a complaint and hoped for the best.
After a month or so, I got the intimation that one transaction (Sony Handycam for Rs 24,500) was credited back to my account.
The other two transactions (amounting to Rs 1,500) weren't, as there wasn't enough proof.
I learnt a lesson from this episode.
Now I carry a debit card which requires a PIN for all the transactions and has a maximum withdrawal limit of Rs 15,000 per day.
And of course, things have changed and we now receive SMS alerts.
Hope my experience helps others to be more careful.
*Lead image used for representational purposes only.
ALSO SEE
ATM woes: 'ATMs need thrashing to work properly'
ATM Woes: 'I'd left my card in the machine'
ATM woes: 'How I lost Rs 25,000'
ATM woes: 'The money was credited in 24 hours'
ATM woes: HDFC paid Rs 2,700 as penalty
ATM woes: 'I got my card back after 30 minutes'
Dear readers do you have an ATM story to share?
What problems did you face and how did you deal with it?
Mail us your stories and advice at getahead@rediff.co.in (Subject: ATM woes) along with your NAME, AGE and LOCATION. We'll share the best ones right on Rediff.com.
DISCLAIMER: The views and responses published are, to the best of our knowledge, original entries submitted by readers. Rediff.com does not assume any responsibility for the views expressed by its readers.