"How much time should one give before getting back in the game, differs from person to person."
"Relationship with a married person usually has no future"
"When will men understand that everyone has a past, just as they do?"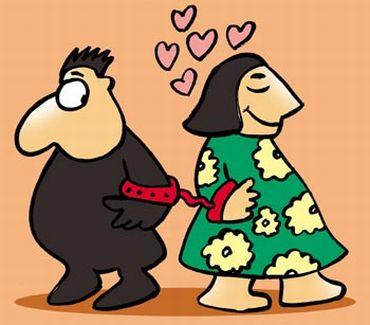 In a weekly chat with readers every Thursday, Rediff's Love Guru addresses their relationship problems and offers solutions.
For those who missed the chat on April 9, 2015, here's the transcript!
---
Shavi: Hello LG, my wife doesn't want to have frequent sex, due to which I need to now look out for options, outside my marriage.
I have already told my wife about the positives of sex but she doesn't understand and find reasons for not having sex.
I'm convinced of enjoying company of similar females whom I met on social networking but not sure of their STD status. Help me
Love Guru: Shavi, could it be that your wife's disinclination to have sex centres around you? Because research has shown that a woman's sexual drive is the same as a man's, and there is no reason to suspect that your wife is any different.
So rather than striking out, why don't you find out from her what you could be doing wrong in bed and try and correct it, and then see how it goes?
---
Shavi: I understand your suggestion but would like to apprise you that I have tried to enquire about this behaviour, but she is always shy and doesn't give enough cognizance to this topic, which I think is important in marriage.
We have been married for 12 years and also have a son, whom both of us love. This behaviour keeps nagging me and is now becoming unbearable.
Love Guru: Shavi, while it is easy to say you made your bed, you lie on it, I still feel that you must try and draw her out of her inhibition.
She must have her reason for avoiding sex, which she is hesitant to talk about. Sure, men have the option of stepping out of line, but it comes with its own risks. I'd advise finding a solution to your woes inhouse rather than outside.
---
Sunil Ahsen: LG,please give tips how to get over the thoughts of my ex gf, and move on?
Love Guru: Sunil Ahsen, there is no one standard format to get over a broken heart.
My own recipe is not to have any idle time that would allow the mind to wander, and also to change the scenery by moving away physically, and avoid common friends who may be well-meaning but sometimes that can bring back memories one is trying to leave behind.
---
chandekar muley: Is it right to fall in love immediately after a break up?
I had a break up with my GF 2 months back, and now I'm in a relation.
Love Guru : Chandekar Muley,it is not like there is a prescribed duration within which one cannot fall in love again.
How much time should one give before getting back in the game, differs from person to person. There are those who don't get into a relationship for months, there are some who do it immediately.
Neither is wrong, after all it is each to himself or herself.
---
Gunjal dhage : When being in a relation it is said that we should give time for each other, according to you how much time is enough to know each other?
Love Guru : Gunjal Dhage, again, these are subjective things and differs from person to person.
There is no universal law governing matters of the heart, or head for that matter.
One makes up one's rules as one goes along.
Some like to take it slow and easy, some like to hurry things up, both approaches work, or don't work, depending on the compatibility quotient of the persons involved.
---
nand chaudhary: LG I had frndshp with a married women since last 2 yrs.
After some time ago we were in relation with her in 3 month but after that relations she was very upset and broke up our relation not even talk to me or nything else.
Now again after 4 mnths later she want to talk with me as a good friend only. Actually I am unable to understand her, what she want. please advice.
Love Guru: Nand Chaudhary, from what you say she seems like trouble.
I am sure you know that relationship with a married person usually has no future.
So rest assured that she has no future plans with you. Possibly she is bored in her life and you are an outlet. If you are fine with it, get back with her but without trying to understand her or her motives.
---
Satyabrata Roul: I love a girl very much. She also loves me but she shared about her past love with me in our conversations.
I don't want her to love anybody except me, as I have decided to marry her only. Please help..
Love Guru: Satyabrata Roul, when will men understand that everyone has a past, just as they do?
Why do they insist that while it all right to have had a past, the woman must be entirely without a past? So she has a past,so?
She shared it with you only because she trusted you enough to believe that you won't hold it against her, and now you want to destroy that trust by showing your petty side to her?
---
kavita bavekar: Hi LG, this is the first time that i'm having a crush on a boy , that happens to be studying in my college, for the past three years i have been looking him, but never managed to talk to him, i want to talk to him and tell him about my feelings, please help me how do I start?
Love Guru: Kavita Bavekar, in which world in which century are you living in? It is the most natural thing for two youngsters in a college campus to strike up a conversation, and here you are asking me how to go about it!
---
SIKENDER: I am not happy with my marriage I want to marry another girl.
Love Guru : sikender, it is not as simple as how it was when you were a child, when you didn't like a toy you could discard it and choose another one.This is life.
You need to stand by your decisions and, most importantly, not treat others as expendable objects. "Not happy" with someone is not a valid reason to dissolve one's marriage
manish dhn: I love a girl for 6 months. now she does not want to continue relationship. but i am in deep love. can not leave without her. so what to do?San
Love Guru: Manish, one can understand how you feel.
Why did she not want to continue the relationship after so much, did she tell you?
I am sure she must have had her reasons to do so. I think you must respect her decision, however hurtful it may be to you, and not hassle her unnecessarily.
That would be the gentlemanly thing to do.
---
Illustration: Uttam Ghosh/Rediff.com
Also read
Advice from the Love Guru does not reflect the opinions of Rediff.com and should not be considered in the capacity of professional counselling.