Harley Davidsons are bought in Allahabad and Jalpaiguri.
A hundred businessmen in Aurangabad bought Mercedes-Benz cars together.
Men and women from mofussil India are buying designerwear from the confines of their homes, either on their laptops or their cellphones
Find out how Internet has taken fashion and luxury to every corner of India...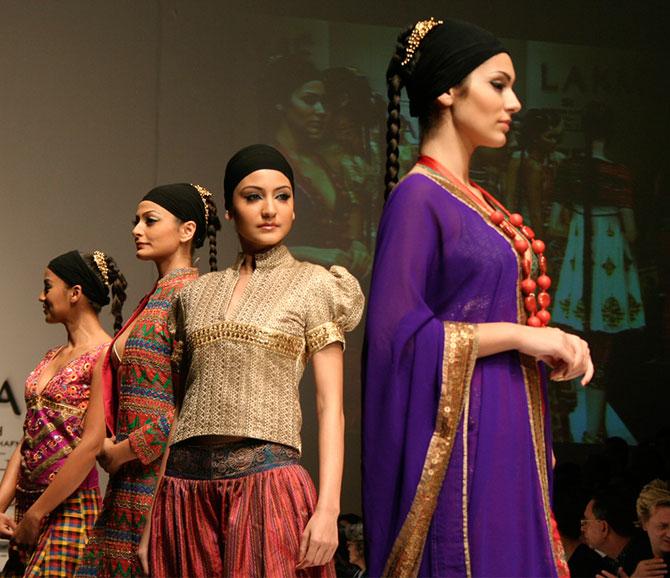 On a crisp January morning, south Delhi's DLF Emporio mall, the hub of luxury labels, is teeming with customers.
It's the end-of-season sale and women in warm jackets and high boots throng the stores of designers Tarun Tahiliani, Raghavendra Rathore, Varun Bahl and Abu-Sandeep.
In a much quieter setting, nearly 2,300 kilometres away, in laidback Dibrugarh in Assam, Mousumi Baruah too checks out Bahl's designs -- on the Web.
In a matter of minutes, the 31-year-old fitness trainer orders a short peach summer dress for Rs 6,500.
Anurag Pandey, a government official in Raipur in Chhattisgarh, buys a Rohit Bal outfit online for over Rs 18,000 for his daughter who has to attend a wedding.
Vishal Sachdeva, a restaurateur in Agra, wants to buy a Dolce&Gabbana belt for himself.
Ever since the 35-year-old bought a Michael Kors tote for his wife on her birthday from Darveys, an online luxury store that hosts international luxury brands like Gucci, Tory Burch and YSL (Yves Saint Laurent), he has not looked back.
He followed it up with another Michael Kors bag, this time for his mother, and Ted Baker shoes.
Like Baruah, Pandey and Sachdeva, men and women from mofussil India -- Kaithal in Haryana, Gumla in Jharkhand and Belagavi in Karnataka -- are buying designer wear left, right and centre from the confines of their homes, either on their laptops or their cellphones.
Their orders have flooded fashion websites, rejuvenated small-town courier services and given designers the opportunity to expand their market.
Fashion is no longer the preserve of the metros.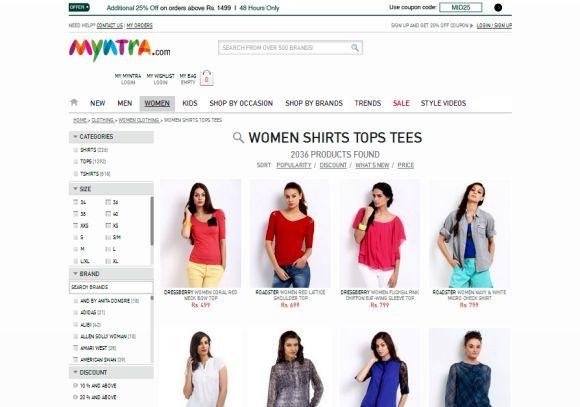 Websites like Jabong, Myntra, Stylista, Amazon and Exclusively.in are shipping dresses, footwear and accessories to places that seldom make news.
Not so long ago, there was a great mistrust of designers in non-metros.
There was a time, recounts Bahl, when rich people in smaller cities would turn up their noses at the designer wear showcased at local exhibitions as they felt crumbs were being thrown at them.
The not-so-rich felt uncomfortable walking into designer wear stores.
Today, exclusive partnerships between e-commerce portals and designers make them feel included and special. The animus is gone.
"We all thought earlier that fashion was tactile and that it would not be bought online and we have all been proved wrong," says Tarun Tahiliani who launched his own e-commerce store recently.
He believes there is a very hungry market in Tier II and III cities, which has started showing in the numbers.
"Currently, nearly 60 per cent of traffic for designer wear comes from Tier I cities and the rest from Tier II and III cities," says Ritika Walia, assistant vice-president (designer business), Myntra.
Amazon and Jabong get over 50 per cent of their designer wear orders from cities other than the eight metros.
According to a KPMG study, around 70 per cent of luxury handbag player Judith Leiber's customers now come from Tier II and III cities.
The phenomenon owes itself to the spread of prosperity beyond the metros, combined with the mobile telephony and Internet transformations.
According to one study, nearly one-half of the country's ultra-high-net-worth individuals now live outside the metros.
Harley Davidsons are bought in Allahabad and Jalpaiguri.
A hundred businessmen in Aurangabad bought Mercedes-Benz cars together.
Towns and villages of Gujarat and Punjab are flush with money repatriated by non-resident Indians.
Earlier, people like Baruah would buy luxury products while on a visit to a metro, which would happen perhaps once a quarter.
The Internet has brought that barrier down. Some websites even give the buyer the option to see how the dress will look on her.
The final mental block was removed by uniquely Indian e-commerce practices like cash-on-delivery and free returns.
The flow of orders from non-metros is large enough for experts to analyse the trends, and the results bust more than one myth.
The biggest takeaway is that non-metro buyers are not a bunch of bargain hunters or occasional shoppers.
"Their order sizes are pretty decent and purchase frequency is amazing," says Pernia Qureshi, founder of Pernia's Pop-Up Shop, India's first online high-street fashion store, which executes orders even from Uppaluru and Mangalagiri in Andhra Pradesh.
"The order size is usually of Rs 5,000 to 10,000, except for this customer from Gumla who purchases top designers like Manish Malhotra and Sabyasachi."
The online retailers have also found that non-metro buyers pick up more high-end products vis-a-vis those from the metros.
According to figures given by Jabong, the average buyer in a metro paid Rs 6,646 for a Ritu Kumar outfit last year, while her counterpart in a non-metro paid Rs 6,762.
Vikas Purohit, category leader (fashion), Amazon, too has noticed higher sales in the non-metros for super-premium apparels.
"There is a higher affinity for the range between Rs 5,000 and Rs 20,000, provided the labels are by known designers and brands," he says.
This has caused online fashion retailers to look at the market differently -- price is no longer the deciding factor in non-metro India.
"We look at the mindset of the consumer and not the city that he or she hails from. The person could be living in Delhi or Kanpur, but the lifestyle of a person interested in high fashion would be the same: they are all upwardly mobile, ambitious and have a keen interest in fashion," says Arun Chandra Mohan, chief executive officer, Jabong.
The "universal" consumer is extremely aware, has grown up on a healthy diet of YouTube videos and fashion magazines and is completely "with it", aware of the latest fashion trends.
Ritika Walia, owner, Ombrello Pastels (not to be confused with her namesake at Myntra) from Ambala is a perfect example of this consumer.
She recently bought an antique necklace by Monisha Daga from Carma Online Shop for Rs 8,000 and also a set of bangles by Sabyasachi for a friend for Rs 15,000 to 18,000.
The 26-year-old is an aspiring poet and owner of a mobile game company, and dreams of starting centres for stray animals.
"The place really doesn't make a difference. I have been fortunate enough to enjoy all the luxuries, even while living in Ambala," she says.
Similarly, Guwahati resident Luna Chilha, 46, owns a lifestyle boutique and is in sync with the global fashion trends, and likes to order accessories from Carma Online Shop and Pernia's Pop-Up Shop.
She feels that designer wear, even when sold online, inspires trust.
Like any other top-end buyer, she feels a connection with the top designers.
"You really feel like owning Sabyasachi's creations as he comes across as such a pleasing personality," says Chilha.
The current favourites on Amazon in the designer wear space are Satya Paul, Mandira Bedi, Bhaavya Bhatnagar, Quirkbox and Manish Arora.
The non-metro buyer chooses to play safe and does not experiment with newer designer labels -- that is left for the metro buyers.
At the moment, buyers look satisfied with online fashion.
Most online fashion stores insist that no buyer returns the consignment, unless it is to get a different fit.
The challenge is delivery -- if it spins out of control, it will take little time to destroy the nascent market.
The courier network is already bursting at its seams. This can breed dissatisfaction.
LimeRoad, an e-commerce portal that offers aspirational luxury brands like Celine Dion, has partnered with couriers such as Blue Dart, Aramex and Ecom Express to maximise its reach, and where the courier doesn't go, Indian Post comes to its rescue.
"It has a list of 30,000 PIN codes, out of which it is able to provide cash-on-delivery service to nearly 6,000 destinations," says LimeRoad spokesperson Suchi Mukherjee.
This hunger to reach out to more and more places has spurred some innovations.
Jabong is working on new models of distribution.
"One such pilot is a self-pick up model, as part of which customers can choose to collect their orders from a pick-up point near them, at a time of their convenience," says Praveen Sinha, founder and managing director, Jabong.
As the market expands into the hinterland, expect more such innovations.
The online story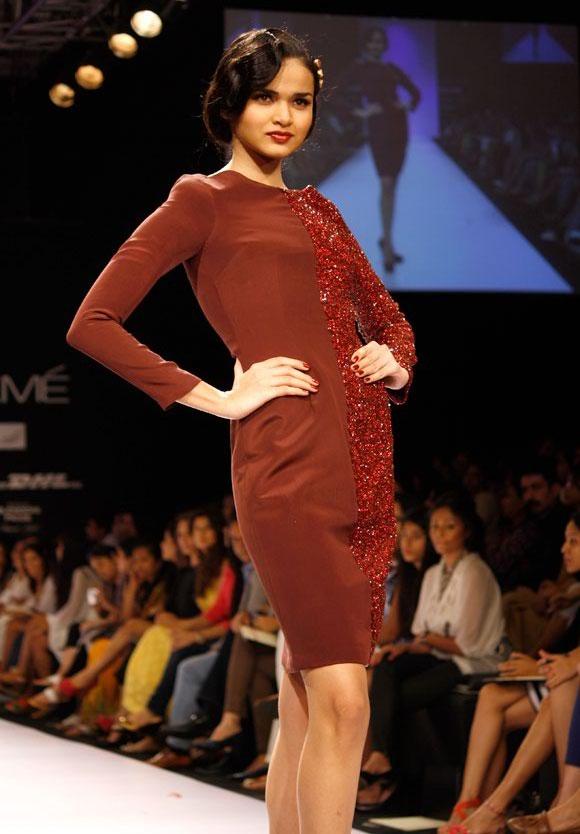 It all started with Pernia Qureshi's online store, Pernia's Pop-Up Shop, which she started in 2012 to offer curated collections by designers.
"It really was the game changer. It laid down the ground rules for the rest," says Varun Bahl.
Before her, in July 2010, Sunjay Guleria had launched Exclusively.in, which partnered with names such as Manish Arora, Rohit Bal and Payal Singhal to create a comprehensive collection of designer apparel and accessories.
However, according to Guleria, it is only in the past year or so that things have become interesting.
Last year was a landmark for online fashion. Both e-commerce portals and designers realised the far-reaching benefits of this association.
Gaurav Gupta and Rohit Bal created exclusive collections for Jabong, while Pankaj and Nidhi partnered with Myntra.
"Designers have realised that they don't have the distribution network to reach the mass market," says Avnish Chhabria, CEO of Stylista. That's why they are happy to tie up with online stores.
These partnerships have been perfectly timed with the designers' own plans for expansion.
Gupta, for instance, realised that as his brand was getting bigger, there was the need to reach out to more people.
So he came up with Gaurav Gupta Tribe after Jabong approached him.
The label features clothes priced between Rs 6,500 and Rs 20,000.
"Last year we saw 10 per cent of sales coming from this fast-growing segment, which is likely to increase to 25 per cent in the coming year," says Gupta.
According to Bal, pret-a-porter is the future of fashion, as is e-commerce.
He had already signed up with Biba to create one such line when he was approached by Jabong with a similar proposal.
"I realised that it was a brilliant idea. It is a challenge to create clothes that are beautiful and yet affordable," he says.
But with his name associated with a portal that usually caters to the mass market, does he feel that his brand name is getting diluted?
"Not at all. What can be more important than making clothes accessible," he says.
So, how does the partnership pan out?
Are there clearly assigned roles or a fluid collaboration between the creator and the marketer?
Designers make it clear that it is their brand that is getting marketed, and hence must bear their creative stamp.
"You are investing in me because of my brand and designs. Quality can never be compromised, even if the collection is affordable," says Bal.
The merchandising team of the e-commerce company goes only as far as sharing research about which colours and fabrics sold well in the past.
Does this spell the slow demise of brick-and-mortar stores?
"E-commerce can never replace the luxury of coming to a designer's store. Online was not invented to replicate retail but to boost sales," says Varun Bahl.
"I realised that it was a brilliant idea and a challenge to create clothes that are beautiful and yet affordable" says Rohit Bal.
Photographs: Rajesh Karkera/Rediff.com
ALSO SEE
Mandira designs saris for women who rule the world