Cyberstalking is a real threat as social media increasingly becomes an extension of one's life. But there are things you can do to protect yourself from it
Photographs: Anant Nath Sharma/Creative Commons
Apart from allowing one to seek dates, popular app Tinder is known to provide fodder for jokes or a casual scanning of faces to kill boredom. But 26-year-old user Vandana Bhaskar (name changed) had a brush with its ugly side. She "matched" with and began talking to a seemingly nice man until he revealed he was married and only wanted to have some "fun on the side". Bhaskar immediately declined, unmatched and blocked him. Within hours though, he had found her on Facebook, Twitter and Instagram, and sent a slew of dirty messages. In one ominous note, he warned of coming to her house in Hyderabad, even accurately naming the area in which she lived. The dating app that only displays first names is fairly safe, observes Bhaskar, which means her follower had gone to great lengths to track her. A worried Bhaskar reported abuse and blocked him on all sites, successfully stifling his access.
Some pursuers are more easily deterred than others. Cyberstalking -- the recurring use of the Internet, email, or related digital communication devices to upset, alarm or threaten someone -- is becoming a common type of abuse in India and the world. The proliferation of social media websites and features like geotagging have made it remarkably simple to trace various details about a person including photographs, location, phone number, workplace and preferences. Cyberstalkers can range from mild to obsessive, from idly curious to abusive. "These are people with a lot of time on their hands," says Seema Hingorrany, clinical psychologist and author of Beating the Blues. They are also emboldened by the anonymity online. Often, victims are celebrities or those who trust easily and who overshare.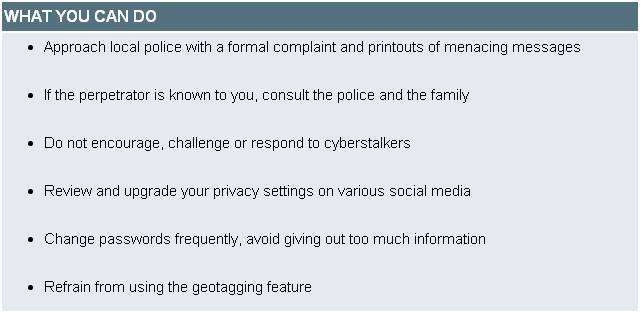 Those cyberstalkers who are in it for fun can be intimidated if challenged with action, says Hingorrany. Others are delusional and truly believe their victims are in love or can fall in love with them with persistence. The psychologist reveals the case of a 17-year-old boy who posed as a 31-year-old and repeatedly harassed a 26-year-old woman he was obsessed with. He was tracked down and given treatment. A few stalkers are vengeful for petty or vested reasons. Neha Rajadhyaksha, a NGO worker who is popular on Instagram, was abused by someone using multiple accounts. He turned out to be a depressed, married banker who was upset because she did not follow him back. More recently, a young Mumbai-based management executive met a man on a matrimonial website, who after a few chat sessions began blackmailing her for money and said he would morph images of her.
There have been high-profile cases in the past, as early as 2001. Most reported was the stalking of Ritu Kohli. Manish Kathuria had used Kohli's name, posted obscene language and shared her number on the MICR Electronics chat service inviting dirty calls. He was arrested and charged for "outraging the modesty" of Kohli. In other incidents, poet and writer Meena Kandaswamy and singer Chinmay Sripada faced repeated threats to life. The targets, notes Hingorrany, are mostly women, although a few men get stalked too. She had recently counseled a male model being chased by an unknown girl who threatened suicide if he ignored her.
For victims, the way they use social media changes after these experiences. They post or respond to posts with a heavy sense of caution. For example, before revealing anything, they ask a reporter to describe exactly what the story is about. A 28-year-old freelance writer, who was relentlessly harassed by an acquaintance, simply quit Facebook when she discovered he had looked through pictures of her from seven years ago. She now encourages friends to maintain their professional and personal information separately, and to fiercely guard their privacy. Another victim stopped checking into locations on Foursquare and Facebook. Targets go through intense anxiety, stress, phobic avoidance, panic spells, disturbed sleep, nightmares, even paranoia, says Sameer Malhotra, director, mental health and behavioural sciences, Max Hospitals. Rajadhyaksha and Bhaskar, for instnace, report experiencing sleepless nights and trust issues.
Everyone agrees it is important for anyone being stalked online to bring it to notice. The cyberstalking section is now covered in the Indian Penal Code (IPC), after the Criminal Amendment Bill 2013 was passed. Under section 354D, the punishment for first conviction in such a crime is imprisonment up to three years and fine and for the second conviction, imprisonment up to five years and fine. On the second occasion, it is a non-bailable offence. The crime could also have been covered in section 66A if it had not been struck down earlier this year because of unfortunate and rampant misuse, says advocate N S Nappinnai, a cyber law expert. If an online stalker knows the victim's location or stays in proximity, attacks can transition into the offline world too, says advocate Prashant Mali, cyber law and cyber security expert.
Experts also suggest acting fast, before the attacks become aggravated. The cyber crime cell of Mumbai Police is very helpful, says victim Rajadhyaksha. While she was discouraged by most friends from lodging a formal complaint last year, she went ahead and approached the local cops. Her harasser was tracked by them in about two months. Social media is a definite extension of our lives and sharing online can seem like a most natural thing to do but as advocate Mali notes, the privacy and security in popular apps are attuned to business gains rather than protection of social interests or human rights. So it is wise to exercise discretion.