On the occasion of Chinese New Year, we bring you a look at what 2015, the Year of the Sheep has in store for you!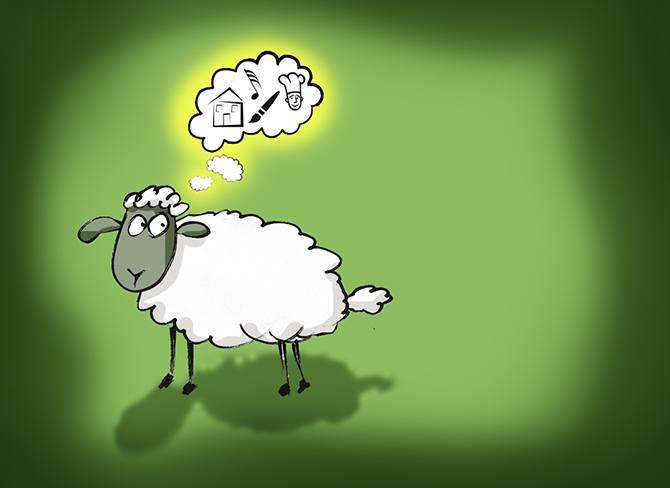 Illustration: Dominic Xavier/Rediff.com
The New Year according to the Chinese zodiac will fall on February 19 this year -- the Year of the Sheep.
Based on the cycle of the moon, the date changes every year and each year is identified with one of 12 animals to express zodiacal time. The choice of these animals is based on a tale from Chinese mythology that has been given several interpretations.
One version is: The rat was assigned the job of inviting a variety of animals to a banquet to meet the Jade Emperor, who rules the heaven and the earth. At this special meal the animals would have a chance to be selected for the zodiac signs.
The animals who showed up found a place in calendar. The cat apparently never found a spot because the rat fooled him into believing that the banquet was one day later; hence since that day the rat and the cat have been enemies for eternity.
Based on your year of birth, find out which sign you belong to:
The Sheep: 1919, 1931, 1943, 1955, 1967, 1979, 1991, 2003, 2015
The Monkey: 1920, 1932, 1944, 1956, 1968, 1980, 1992, 2004
The Rooster: 1921, 1933, 1945, 1957, 1969, 1981, 1993, 2005
The Dog: 1922, 1934, 1946, 1958, 1970, 1982, 1994, 2006
The Pig: 1923, 1935, 1947, 1959, 1971, 1983, 1995, 2007
The Rat: 1912, 1924, 1936, 1948, 1960, 1972, 1984, 1996, 2008
The Ox: 1913, 1925, 1937, 1949, 1961, 1973, 1985, 1997, 2009
The Tiger: 1914, 1926, 1938, 1950, 1962, 1974, 1986, 1998, 2010
The Rabbit: 1915, 1927, 1939, 1951, 1963, 1975, 1987, 1999, 2011
The Dragon: 1916, 1928, 1940, 1952, 1964, 1976, 1988, 2000, 2012
The Snake: 1917, 1929, 1941, 1953, 1965, 1977, 1989, 2001, 2013
The Horse: 1918, 1930, 1942, 1954, 1966, 1978, 1990, 2002, 2014
The Sheep
Calm, quiet and cultured, the Sheep likes living a graceful and peaceful life. They enjoy company, but prefer to watch from the sidelines.
Sheep make for excellent architects, illustrators, musicians and art historians, editors and paediatricians.
Given their love for serenity, they usually keep good health. Any sort of confrontation or argument can make them sick.
Sheep are happy to take low-key roles and positions.
They enjoy home-hobbies of reading, cooking, and watching movies.
Famous people born: Barbara Walters, Muhammad Ali, Billie Jean King, King George IV, The Shah of Iran.
2015 for the Sheep
From February to May 2015 you will move forward at work and become master of your trade.
Study is not ruled out. Many will specialise in their favourite subject to enhance growth and fame.
You could attract envy both personally and professionally. Avoid criticism and be low profile and focused.
Develop a new hobby this year: sports, yoga and nature play an important role in rejuvenating you.
Career: There will be some progress. Travel is frequent and visibility increases in summer as your ideas are approved and you could get prestigious projects to handle.
A partnership offer by the end of this year is worth looking into.
Politics at work is healthy and competition keeps you ticking. Be diplomatic. Big money in store all of 2015, and purchasing a new home is on the horizon.
Tip: The stock market, trading and investments will prove lucky from March to July 2015.
Lucky stone: Emerald
Lucky colour: Green
Lucky direction: South

Romance: Love is in the air as you leave no stone unturned to prove to your beloved that you care deeply.
Misunderstandings are worked out and promises are made.
If single, you are likely to meet your life mate by the end of the year.
***
The Monkey
Curious and inventive by nature, Monkeys can run circles around other people. Clever, result-oriented and sharp, they appreciate challenges of any kind.
At work, given their memory and ability to adapt, they tend to be very successful.
They don't share their emotions and feelings with others.
They are active and healthy. They prefer the buzz of city life. People-watching is a big hobby.
They prefer finance, accounting, science and dealing of any kind.
Famous people born: Walter Matthau, Edward Kennedy, Mick Jagger, Duchess of Windsor, Nelson Rockefeller.
2015 for the Monkey

The frisky and lively Monkey will have a colourful and bright year.
Much is expected from you. With power will come responsibility and in November the urge to take shortcuts, which must be curbed.
Litigations will get postponed; that will prove fruitful in the long run as it will give you time to figure out the correct strategy.
This year get back in shape. Long morning walks, the gym, sauna spas and spa treatments will keep your energy level up.
An online course to enhance your current profession or in media/mass communication is a good idea.
Your social life will be very active from June 2015 onwards.

Career: Your clarity and focus at work is keen, but there will be days when you tend to take on more than you can handle.
A good relationship with your team members and regular meetings and outings will help communication and building bonds in business.
National and international travel post March gives you the edge over your competitors.
Those working in call centres, communication, liaison work, software and real estate do well and make money.
Health is good. The tendency to overeat and gain weight must be curbed. Make sure your blood pressure is under control.
Lucky stone: Diamond
Lucky colour: Yellow
Lucky direction: East

Romance: Surprise calls, gifts, visits and short holidays over weekends will make a positive difference.
If single, the pressure to get married mounts. Meet eligible people through family and friends. Your lucky phase starts in July.
Wedding bells are likely.
***
The Rooster
Flamboyant, feisty and obstinate, Roosters are extroverts who love to blow their own trumpet.
They are hardworking and trustworthy, direct and forthright.
Happiest when surrounded by a crowd and under the spotlight, they can get very angry if crossed.
The environment around a rooster is clean, neat and extremely organised given their habit of being fussy about small things.
They make excellent actors, armed forces personnel, musicians and chartered accountants.
Famous people born: Prince Phillip, Elton John, Pope Paul VI.
2015 for the Rooster

A perfect year! Make sure that you don't compare yourself with others and only compete with yourself.
The tarot card for you is "the world" making sure your hopes and desires are high enough to ignore petty people and situations this year.
No matter whose advice you take, following your own instincts is best.
November onwards you will get a response to your networking efforts and enjoy fame and power.
Make quality time for yourself: a makeover, a beauty routine, new clothes and a dashing attitude to match.
Make sure you get enough fresh air, fresh fruit and make music an integral part of your daily routine.
Career: Those in the media, advertising, entertainment industry, writing, publishing or fine arts get a platform to showcase their talents.
Being choosy or moody may not work; visibility is important.
Money may be minimal to start with and then grows in leaps and bounds.
Seminars/conferences you attend from April to July 2015 will lead to new ventures.
Lucky stone: Ruby
Lucky colour: Orange
Lucky direction: North-west
Romance: A year of much yearning as you are infatuated by someone. Be patient, be a friend first and then broach the topic of romance.
Good endings are possible provided you have faith in your love. The period after May 2015 is lucky and can be very romantic.
Misunderstandings are likely; allow elders in the family to intervene and help you make peace. Keep your ego out of all situations.
***
The Dog
People born under this sign are compassionate, loyal and giving. They are always available for their friends and family.
Dogs make for great partners and can be extremely attentive. They take charge of any situation. Money and status don't matter as much as the wellbeing of loved ones.
Honest, trustworthy and ethical, Dogs make excellent counsellors, interior decorators and priests.
They dislike hurting other people's feelings and can get into quite a sulk if treated unfairly. Love is what keeps their world going.
Famous people born: Charles Bronson, Pierre Cardin, Sir Winston Churchill, Elvis Presley.
2015 for the Dog

There will be temptations both at work and in personal life.
At work, motivate your peers and colleagues. Business partnerships prosper and adding a third partner to the equation will be enhancing.
The outdoors is vital: Trekking, river rafting etc will keep your spirits high.

Your health will be good, but curb the tendency to be addicted to food or drink.
Career: You have too much on your plate so delegating work will help.
Those in the field of marketing, exports, electronics, public relations and banking will need to be more on the ball in research and development.
There is plenty of domestic travel on the cards.
Money grows steadily and those in business may plan to re-invest and expand.
Lucky stone: Pearl
Lucky colour: White
Lucky direction: North

Romance: Love is a serious word for you. You will feel the need to express more this year as your mate is demanding and seeking commitment.
If single, someone you have liked for a long time will reciprocate and you can strike up a strong friendship before going further.
Socialise and mingle to find your ideal mate. December onwards you're in a lucky patch.
***
The Pig
People born under this sign are honest, frank, chivalrous and gallant though they appear rough.
They have a tendency to overdo things -- overindulge with food, alcohol or even partying. This results in poor health so an exercise regime is necessary.
Pigs tend to have comfortable homes as they like to ensure their wealth is displayed. Cleanliness is not really top of their agenda.
They make excellent doctors, caterers and hoteliers.

Famous people born: Ronald Reagan, Julie Andrews, Woody Allen, Alfred Hitchcock.
2015 for the Pig
The very magnetic, aggressive and astute Pig has a challenging year ahead.
There are a lot of trials and tribulations from April to October 2015. Be strong and look them in the eye, working each one out calmly and confidently.
Family support will be immense. Take good advice. A family holiday to celebrate a happy event will be memorable. Helping a relative in need is good karma.

Career: You are in a mood to experiment and will put your fingers in more than one pie.
Choose one or two main assignments and focus on that. Success and investments are slow yet sure.
Those in the field of education, web design, software, hospitality and printing will do well.
Loans and licences are sanctioned so you can breathe easy.
Get your correspondence and paperwork in order, in case of legal issues or contracts.
Lucky stone: Red coral
Lucky colour: Navy blue
Lucky direction: South-west

Romance: Love plays an important part in your life. If you are chasing someone who is not interested, it's time to get real. Open the doors to the real love that's waiting to enter your life.
Some of you may be surprised to get a call from an ex-boyfriend who wants to have another chance. Think about it carefully instead of rushing into it.
***
The Rat
Easy to get along with, hardworking and extremely enterprising, Rats know how to find solutions and take care of themselves without troubling others.
Reserved and quiet under the surface, Rats are always busy with activity and getting things done.
They need constant stimulation, are intellectual and extremely sharp.
Rats are thrifty and save for a rainy day. They make excellent writers, broadcasters, directors and race-car drivers.
Cautious and cunning with money, Rats always have a stash saved away for a rainy day!
Famous people born: Pope John Paul, William Shakespeare, Yves St Laurent, Prince Charles, Karim Aga Khan.
2015 for Rats
The lucky, methodical, fun loving and ambitious Rat will have a disciplined year.
You will take time off from work to catch up with family from out of town.
Dreams come true as you draw plans meticulously and are goal oriented.
The months from March 2015 are busy. You will be the centre of attention and shoulder responsibility. Delegating is wise.
Take short weekend trips, join a gym, catch up with old friends, and express your affections.
Health is perfect as you are particular in not neglecting diet and exercise.
Career: Work is on a good wicket and yet you are choosy about assignments and particular about the money you receive.
Start small and the money will flow in by end of the year. Ideas could come to fruition in April 2015.
Frequent short work-cum-pleasure trips keep you happy and allow you to unwind.
Lucky stone: Opal
Lucky color: Mustard
Lucky direction: North-west

Romance: Love is in the air and wedding bells for some.
Your mate may be shy and an introvert so focus on the romance with long drives and candle light dinners.
A secret vacation is not ruled out and togetherness helps in keeping the relationship stable.
If single, consider before you make up your mind. You meet someone fascinating by July 2015.
***
The Ox
The Ox or the buffalo sign symbolises prosperity through fortitude and hard work.
People born under this sign are dependable, calm and methodical.
Beneath a modest but neat appearance, the Ox usually shields a resolute and logical mind. They are systematic and you can rely on their promises.
They take their time in matters of the heart. They are slow to warm up and reveal their true feelings. If you marry an Ox and place your trust in him/her you will never be disappointed.
They excel in politics, farming and agriculture though their rigid and stubborn nature may lead to conflicts.
Famous people born: Jawaharlal Nehru, Walt Disney, Richard Nixon, Margaret Thatcher, Adolf Hitler.
2015 for the Ox

The artistic, aesthetic, creative Ox will have a warm and wonderful year.
There will be big changes as the year unfolds.
Monday is a fantastic day to worship Lord Shiva, wear a ruby and distribute sweets to the less fortunate.
The months between April and August 2015 will bring interesting experiences.
Spend time with Nature: Gardening, pottery and art/painting for peace and pleasure. Some of you decide to keep a pet and allow unconditional love to enter your life.
Health remains good, however stay mentally occupied, help others and don't think too much. Yoga and nature are good for you.
Lucky stone: Ruby
Lucky colour: Red
Lucky direction: East
Career: Those in fine arts, architecture, creativity, writing and entertainment are in the limelight.
You will work with dedication, making sure your clients and bosses are satisfied.
Those with revenue deadlines will meet their target.
Business partnerships flourish. Taking more people on your team is a good idea.
Money wise, you are more in control. From May onwards you will earn more through your job, investments, and inheritance.
Property and real estate are great avenues to make money.
Romance: You are in your element this year, and charismatic to the core.
The opposite sex is very attracted to you and you may discover more than one love interest. However, don't encourage flirting and be more loyal in your approach.
If involved in a steady relationship, plan a romantic weekend/outing/ holiday.
***
The Tiger
Courage, power, passion and daring… the Tiger is a master of it all.
They are protective in their instincts. Tigers seek approval from peers and family. They are restless, reckless and always geared for action.
At work, they are energetic and ready to leap into new plans and pursuits. They are attractive people and draw the world in.
They make for compelling speakers, actors and painters.
Keeping on their right side is necessary as Tigers can also be extremely cruel and make quick work of an enemy.

Famous people born: Charles De Gaulle, Groucho Marx, Queen Elizabeth II, and Marilyn Monroe.
2015 for the Tiger
The enigmatic and intelligent Tiger will have an action packed year.
You have perfect plans in your head and you decide to execute them discreetly, making the most of opportunities.
Between May and September 2015 you will branch out in new directions, take a few risks, and march ahead with the rewards.
Friday is a good day to make important calls and doing good deeds.
You decide to detoxify your system and clear the clutter from the inside out.
Lucky stone: Cat's eye
Lucky colour: Saffron
Lucky direction: South-west
Career: Those in the area of teaching, counselling, astrology, publishing, telecom or liaison work do extremely well.
Big money comes in at the beginning of next year. Litigation over property ends in your favour.
Be good to yourself and take long holidays in the mountains, camping, trekking, fishing and beach hunting.
Romance: You are lucky in love this year. Infatuations and admirers are aplenty and you seem to be in the mood to experiment till February 2015, after which someone dynamic enters your life.
Those in relationships and facing many issues may decide to take time off for a while to rethink their strategy.
***
The Rabbit
The Rabbit symbolises graciousness, good manners, sound counsel, kindness and sensitivity to beauty. They make successful diplomats.
Their thoroughness makes them good scholars. They also shine in the fields of law, politics and government.
They are extremely lucky in business and monetary transactions but also tend to be moody!
Famous people born: David Rockefeller, Ingrid Bergman, Joseph Stalin, Fidel Castro, Albert Einstein.
2015 for the Rabbit
The optimistic, positive Rabbits have a sweet and significant year.
Family relationships will be more binding with lavish dinners and distributing sweets.
Work-wise, you may decide to put an end to routine and chase your passion instead. You make huge changes by taking your creative interests further, and even starting your own independent business.
Between February and June 2015, there are good deals, contracts, and national and international travel that enhances your visibility.
Finances are fantastic and purchasing luxury items and paying off old loans is easy. You may even help a friend in need.
A new hobby /sport is indicated. Guard against eating too much junk food.
The tendency to work without taking breaks can result in back problems and restless sleep.
Make sure you take your multi vitamins, regular Ayurveda massages, light exercise, eat leafy green vegetables and get rest.
Lucky stone: Amethyst
Lucky color: Purple
Lucky direction: North-west
Career: Those in multinationals, internet related work, teaching, public relations and science do well.
Your ideas and ideals at work are appreciated. You meet likeminded folk and that helps you.
You may decide to reside and work away from home, in another city, to complete important assignments.
Finances improve by mid June 2015, and you may be able to fulfill your desire of buying office space.
Romance: You are looking for real love, for someone kind and understanding who provides companionship and respects you.
Be less impulsive when dating; get to know people before you jump to any conclusions. A surprise awaits you in March 2015.
If in a committed love relationship, you could be thinking seriously about marriage.
***
The Dragon
Vital, full of power and good fortune, Dragons are authoritative. Energetic and lively, they are the free spirits of the Chinese Zodiac.
Dragons have big ideas, big themes and attempt everything new.
On the downside they could be tactless, quick tempered and suspicious.
Dragons work better when in positions of power and make for excellent campaigners, politicians, and PR and advertising managers.
They take risks and burn the midnight oil, making them susceptible to stress-related tensions.
Famous people born: John Lennon, St Joan of Arc, Frank Sinatra, Yehudi Menuhin, Che Guevara.
2015 for the Dragon
March 2015 onwards there is expansion; all risks must be calculated and it's wise to keep your accounts clear and straightforward.
Students must study hard if aiming for universities overseas.
Learning a new language, travel to different countries and enjoying interesting cuisines fills your year with joy.
Lucky colour: Gold
Lucky stone: Blue sapphire
Lucky direction: West
Career: You have great intuition when it comes to choosing the right areas and avenues at work. Don't let fear of failure stop you.
Starting your own website will bring visibility and security.
If involved in garments, beauty, leather, footwear, accessories, hospitality or publication houses, a jackpot awaits you.
By the end of the year, revenue will increase. You are clever enough to re-invest and create new and dynamic cycles of success.
Avoid the temptation to take shortcuts at work. Be kind to all and you will receive love and kindness in return.
Romance: You are trusted and steadfast in romance. Once you decide on your mate, you are fully committed.
You are in the process of making a big choice if single.
Love is in the air from November 2015 onwards and marriage bells follow soon enough.
***
The Snake
Calm, shy, and low-profile, Snakes are wise men and women. They are thinkers, diplomats and savvy investors.
Intuitive, attractive and graceful, people born under this sign will be contemplative and private.
Snakes manage others well and are usually found in senior positions.
They are affectionate with family and friends and yet appear brisk and businesslike with work mates.
They need calm and quiet to survive and succeed -- no adrenalin rushes for them.
They make fabulous astrologers, politicians and photographers.
Famous people born: Indira Gandhi, Mao Tse Tung, John Kennedy, Abraham Lincoln.
2015 for the Snake
Snakes will get themselves a full makeover this year: from their wardrobe to their outlook on life.
You decide to be spontaneous and energetic and less critical about others.
Saturdays are special; success is assured from March 2015 till the end of the year.
Your health is good but drink plenty of water and stay hydrated, especially in summer.
Beware of rash driving. Give time to yourself, your friends and hobbies.
Lucky colour: Pink
Lucky stone: Pearl
Lucky direction: North-east

Career: A great worker, diligent and the favourite of your seniors you manage to make the most of your profile and position at work.
You inspire your team to give their best. Equations are perfect and you take up challenging assignments.
Money is good; you make some key investments that provide great dividends and old debts are paid off.

Romance: Searching for love is a thing of the past as someone you have admired finally loves you back and openly declares it.
Singles are on the prowl. Make new friends; join social media events and parties.
Those married spend happy moments and plan a baby.
***
The Horse
Excited, extroverted -- everything about the horse is extra. The life and soul of every party, the Horse charms friends and strangers.
Quick witted, sharp, intelligent and practical, Horses can multi-task, and have an independent streak.
Horses love company; visitors to their home will always be treated like royalty!
Freedom is a critical aspect of their personality. Careers in communication, media and performing arts suit them.
Famous people born: F D Roosevelt, Barbara Streisand, Rembrandt, Chris Evert, Amitabh Bachchan, Oprah Winfrey, Katie Holmes.
2015 for the Horses

You could decide to take up a part time course in your special subject to ensure higher success and wages.
The period from April 2015 onwards is positive and happy. Clear the clutter and get geared for greater times.
Fridays are lucky for you. Start anything or have an important conversation on that day.
Take time out to travel. Photography, art, astrology and other intriguing subjects keep you busy.
Domestic life is peaceful and decorating and renovating your home is a great choice.
Health is good as you are particular about your outdoor activities and diet.
A check up with dentist and skin specialist may be in order.
Lucky colour: Cream
Lucky stone: White sapphire
Lucky direction: South-east
Career: Generally positive and inspired. Those in sales, marketing, distribution, film, advertising and the airlines do well. Growth is indicated post February 2015.
Finances improve. You are able to pay back loans taken for study and home and feel a sense of freedom.
Stay out of office politics and make sure you get along with all at work. Spend quality time at events and get-togethers.
You may want to start your own business which will prove happy.
Romance: The always-in-love Horse is at his/her flirtatious best this year. Try to get serious at some point with the intention of settling down.
Those already in a relationship may go through a shaky period due to misunderstandings. Keep communication open and discuss issues openly.