Anvita Telang, 11, wins the Doodle for Google contest 2016; her doodle features today on the search engine's home page, November 14.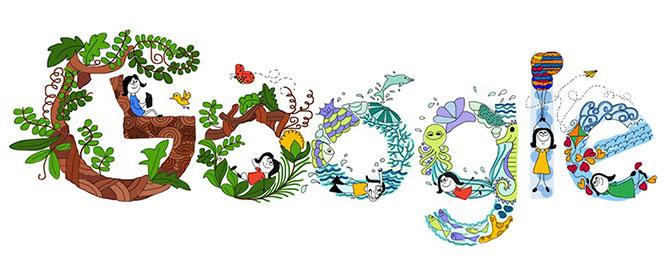 IMAGE: The Children's Day doodle by Anvita Prashant Telang. Photograph: Kind courtesy Doodle for Google
The Children's Day Google doodle today is by eleven-year-old Pune girl Anvita Prashant Telang.
She is the national winner of the Doodle 4 Google contest in India.
The class six student from Vibgyor High School, Balewadi, was chosen for her doodle entry on the theme: If I could teach anyone anything, it would be...
Anvita's doodle features different elements of nature -- plant, water bodies, birds, fish and balloons.
Each letter of the word Google shows a child enjoying the little pleasures of nature, which signifies the message of loving and living with nature.
The Google doodle aptly celebrates the talent of young children on Children's Day.
Every year, Google invites students from across India to participate in the Doodle for Google contest. This year, the participants went through two rounds of judging, first by a panel of school authorities, followed by a national panel of art director Savio Mascarenhas, Google's chief Doodler Ryan Germick, cartoonist Ajit Ninan and creative artist Rob.
In its eighth year, Anvita has been adjudged the winner.