Disclaimer: You may be called a spoilsport while attempting one of these actions. But the happiness you derive in doing these will make your day.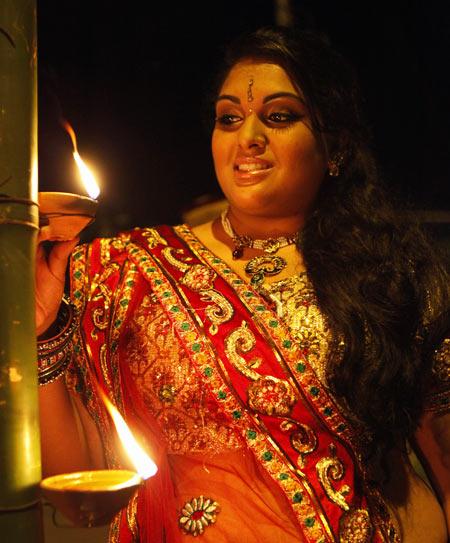 Every Diwali, most of us celebrate the festival by buying loads of firecrackers, sweets and new clothes.
This time, how about making a difference?
Here's a list of things you can do to make this festival more joyous and meaningful for you and the people around you.
1. Say NO to crackers
What's Diwali without crackers, your friends and family might ask you.
According to a report by Central Pollution Control Board (CPCB), Delhi, Mumbai, Chennai, Kolkata, Lucknow, Bengaluru and Hyderabad recorded a 90 per cent increase in noise levels during Diwali last year.
The situation is likely to be as bleaker this year.
So, before you light up that firecracker this Diwali, spare a thought for senior citizens, young kids and animals in and around your area whose health is at stake.
In keeping with the festive spirit, light a diya instead.

Also, avoid blasting crackers near animals. You will scare them.
Diwali is about spreading joy, so how about being a little kind to animals?
2. Save electricity
Like every year, this year too, you'll receive an alleged satellite image of a fully lit Diwali clicked from somewhere above the Earth.
But according to a report in The Economic Times (external link), some 400 million Indians go to sleep without access to electricity.
The least we can do is cut down on the extravagance. After all, why explode our savings just to light up an already colourful festival?
3. Share the joy
Diwali celebrates the joy of giving, so how about donating some of your clothes to the less privileged.
They may not necessarily be old, it could be something that is new and doesn't fit you any more; maybe an extra handbag that you haven't used in a long time, an extra box of sweets someone gifted you or something you know you have enough of.
This Diwali, share the joy.
4. Contribute wisely
This is not about China vs India.
Every year, thousands of labourers across cities sweat it out to mould clay into shapely diyas.
They may be less attractive than the Chinese lanterns and candle-filled lamps, but they add a magical charm to the festivities.
This Diwali, buy from the local sellers and make the festival special for their family.
5. Recycle or upcycle
Go back to your craft and art days at school.
Use old newspapers, cardboard boxes and maybe glass bottles to make your own lantern.
If you have old diyas that have turned black, clean them and paint them in your favourite colours.
Get your friends and cousins to join you in this group activity and see how joyful it is to do things together.
6. Travel
If you are living in a different city, you can surprise your parents, spouse or children by visiting them on the festival. Or simply, step out of your home and surprise one of your old friends from your school or college.
Talk about the old days when things were simpler and you found happiness in simpler things.
The rush of nostalgia will make Diwali memorable for you.
7. Smart, useful gifts
Ditch the sweets and gold; instead gift something more useful, something healthier to your loved one.
Sign them up for a free Zumba class, a fitness tracker or buy them an air fryer maybe.
This Diwali, think smart, and celebrate the festival in a distinct way.
So, dear readers, which of these would you like to follow this year? Take the below and tell us.
Lead image used for representational purposes only. Image: Ajay Verma/Reuters