"Tinder wants to keep all its users hooked. Once you get a match they probably stop showing your profile to others."
A Tinder user shares some secrets to stay on top of the online dating game.
We want you to share your experiences too.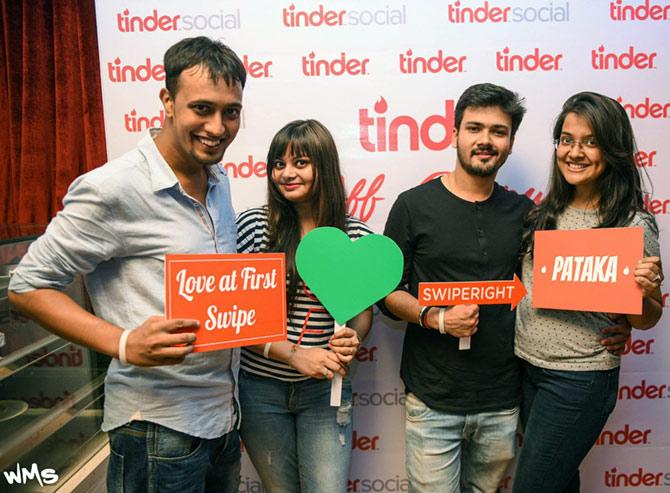 IMAGE: Tinder, an online application, allows its users to interact with interesting people in the vicinity. Photograph: Kind courtesy Tinder/Facebook
The world of Tinder is amazing; it gives you some amazing experiences and even some creepy ones. It even makes difficult for people to get a match.
So, Ramanuj Mukherjee, CEO at Ipleaders, National Institute of Juridical Sciences, has come up with his first hand experience on Tinder, which may help people to get more matches for themselves.

"I have been on Tinder for more than a year now and my own experience has been entirely different. I absolutely love Tinder. I have met a lot of people from Tinder, and a lot of them exceeded my expectations and became part of my life in one way or the other," he said.

Speaking about coming forth with the points, he said, "I am not on Tinder any more since the last couple of weeks as I am dating someone seriously (we didn't meet on Tinder though). Now that I have left Tinder, probably for good, I can't let all the expertise get lost without a trace."

Here is what Mukherjee got from Tinder:
He got a number of friends who remained in touch, even when they shifted cities.
Number of acquaintances increased for social hang outs. However Mukherjee mentioned, "these Tinder dates never escalated to romantic or sexual encounters, but I have no reason to complain."
It even helps one to increase professional contacts.
Sharing his thoughts about what worked for him and what did not, he listed 11 tips. Take a look:
#1. Express yourself through your photos. This might interest more people.
#2. What works is the designation or workplace or college you mention on your profile. "Once I mentioned my designation as CEO at iPleaders, it had a significant impact on the rate and the quality of matches that I started to get," Mukherjee said about his own experience.
#3. Unless you are a drop dead gorgeous Adonis (a Greek God), what you write actually makes a big difference. Play to your strength.
#4. Swiping less is a must as according to the author, "Tinder wants to keep all its users hooked. Once you get a match they probably stop showing your profile to others."
#5. Getting a premium account is a must. The best thing about a premium account is that you can super-like five people every 12 hours, which means you can ensure at least 5 to 10 women see your profile every day.
#6. Have a clear agenda and asking for number and meeting early.
#7. Try and match with people in your neighbourhood
#8. Be playful and cool.
#9. Be genuinely interested in people.
#10. Make people feel great.
#11. Deal powerfully with rejections and keep playing. The biggest barrier to getting to yes is your own fear of rejection or weird reaction to rejection or anything you perceive as rejection. Fear of failure or fear of being invalidated is very strong in all, and the more you work on it, and more you are beyond it, you will succeed.
---
Dear readers, have you ever signed up for an online dating site?
Did you find your partner online? Or did you have an awful experience?
Share your advice and experiences, good and bad with us.
E-mail them to getahead@rediff.co.in (subject line: My Online Dating Experience) along with your NAME, AGE and LOCATION, if possible. We'll publish the best responses on Rediff.com.

Note: Your request to privacy will be considered.