'We are in heaven. To be precise, on a flat piece of ground that juts out into an ocean of mountains, open on every side,' says Anjuli Bhargava.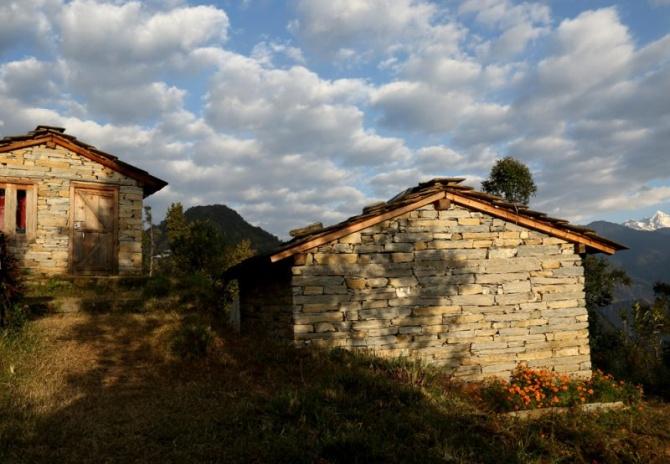 It's Day Two at Wildrift's camp in Shaama and the sun falls on the mighty Nanda Devi.
The somnolent peak lights up in a pink blaze. Our group of seven loses control. Whoops of delight waft into my ears as I lie frozen in my stone hut.
Cameras click in a frenzy. The sun moves on quickly to warm Nandakot, Trishul, Panchachuli and the rest of the ice-caked mountain tops.
I stir lazily and take a photo or two from my dying cellphone. It's not even 7 am.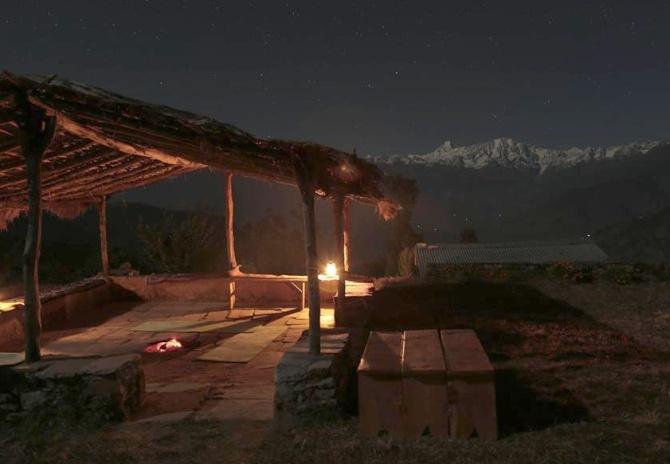 We are in heaven. To be precise, on a flat piece of ground that juts out into an ocean of mountains, open on every side. A rare 360-degree view.
The valleys are filled with clouds. It's like being in an open aircraft at 32,000 feet.
Clouds below you and everything -- arms, legs, feet, fingers, water -- at freezing point. Brushing one's teeth requires grit.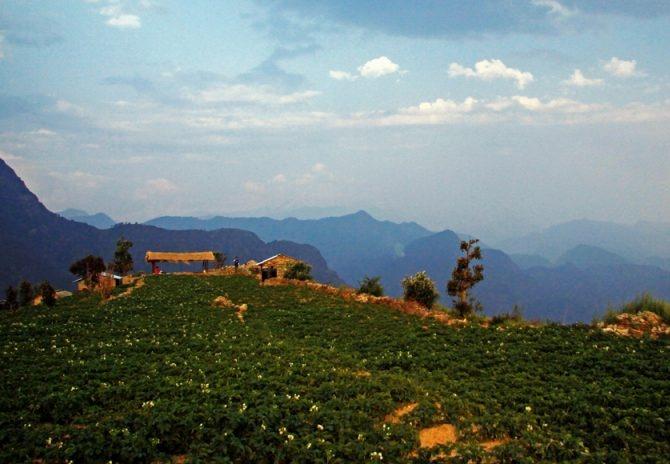 Let me begin by dissuading readers from trying to get here. It is a herculean task: we drove 11 hours and 32 minutes from Delhi to Bageshwar, an unattractive town in Kumaon.
From Bageshwar, it's a beautiful drive to Shaama village, another two hours and 10 minutes. So, all in all, you will be in a car thrown around on Indian roads for 13 hours and 42 minutes.
That's just the beginning.
Once you arrive, it's a 45-minute, captivating walk to the camp. It's not steep and anyone -- even I -- did it with ease.
The camp is not at a great height although Shaama is at one end of Kumaon, en route to Munsiyari, which marks the end of Uttarakhand.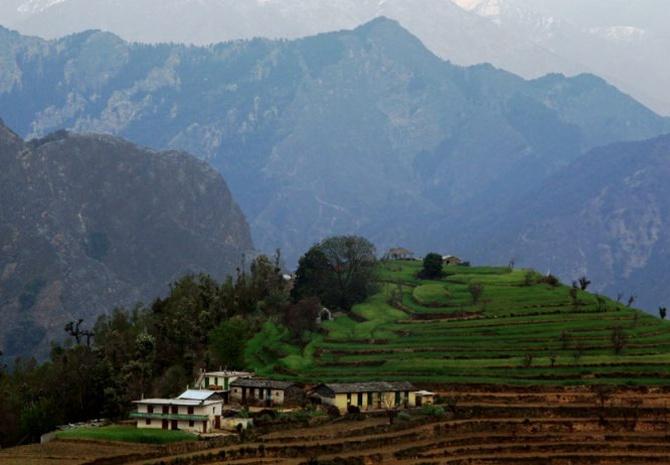 Reaching is one thing, surviving another. The camp has no Wi-Fi connectivity, almost no phone signal and no electricity.
The stone huts are freezing and only have two marvellously comfortable beds (I considered stealing a mattress and carrying it down on my head) with clean sheets and a fantastically warm quilt.
You can't touch anything else in the hut if you don't want to lose a finger or two to frostbite.
The toilets are spotless, but shared.
I think of asking for hot water but since everyone else has already washed up with icy water, I'm embarrassed to sound namby-pamby.
So Shaama is unlikely to be everyone's cup of tea.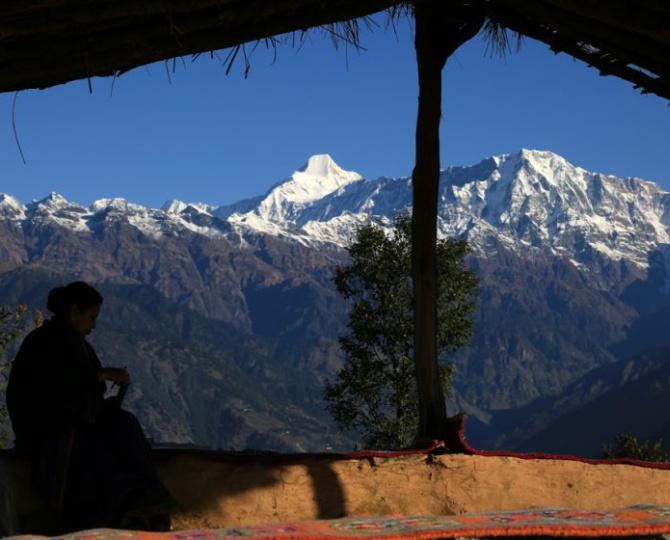 But let me tell you what it does offer.
A vast blue expanse of sky, the kind Delhiites are now willing to kill for. Hills and mountains on all sides.
Green grass flanking the camp. Wonderful walks in a remote village area. And some of the most beautiful children I have seen.
They are less than happy to see us, though: we must look like alien monsters with our large goggles, trekking boots, hoodies.
We startle them into staring and they run away if we open our mouths.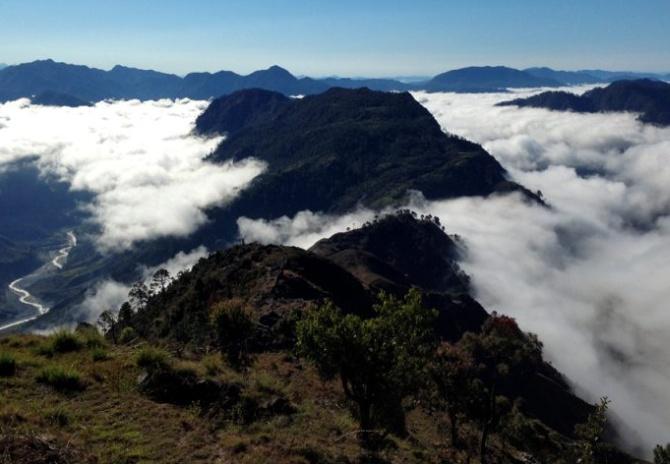 The children seem remarkably happy and unburdened. Pink cheeks, ragged clothes, snotty noses and carrying light backpacks while running down the hill to school, laughing.
Life is simple here. No addictive gadgets, no overweight kids, no harried parents.
I fall in love with two little girls who don't reciprocate in the least.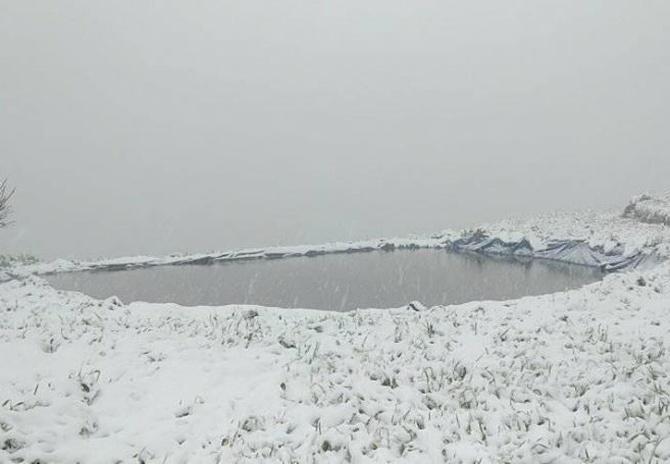 The camp also offers delicious food, all grown in the vicinity and cooked over a fire in a dark kitchen hut.
Everything -- even the cabbage growing all around -- tastes divine. Carrots and cucumbers are impossibly juicy.
The meat eaters say the mutton curry is to die for (a goat just did, I think to myself, feeling holier-than-thou).
The spinach is unique as is a salty chutney with green chillies. I decide to leave the mattress behind and steal a jar of chutney instead.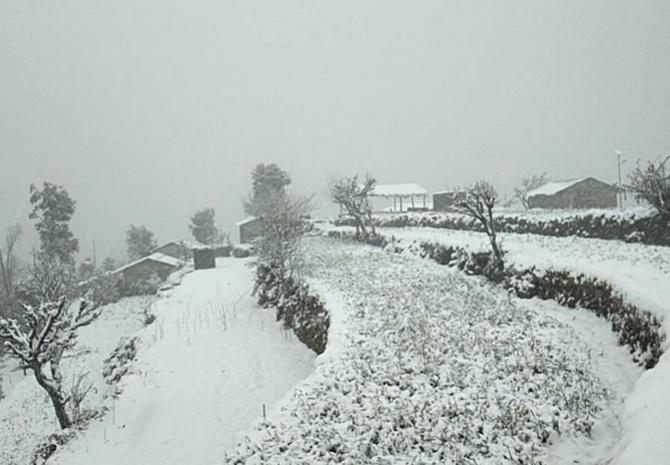 Shaama also offers a glimpse into local life. Wildrift, an outfit that runs camps at various spots in the mountains, markets the place; a local family runs it.
Many of the family leave on the second morning to help a local who is laying the roof of his house.
The community gathers to help as they believe it is a job to be done on a single day. The women prepare a feast for 50-odd.
The food sounds so inviting that many of our group consider gatecrashing. The locals also join us both nights around a fire and chat shyly.
I befriend Kharkhu, a year older than my son, and listen to his life story.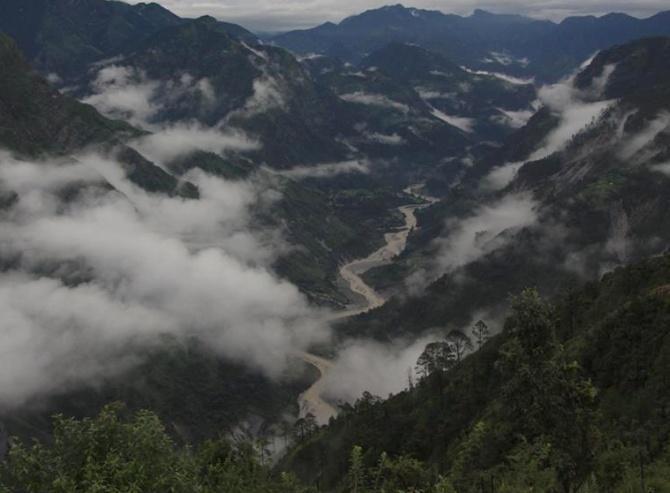 The locals ask us for feedback: how can they get more groups to come and enjoy the outdoors with no trappings? We suggest adding a few chairs (the oldest among us is a fit 65-year-old but he says he could do with a back-rest).
We also recommend re-thatching the roof to ensure that the rain doesn't douse the fire that's keeping guests alive.
I could continue, but let me end by saying: dear reader, if you think this is your cup of tea, feel free to email me at anjulibhargava@gmail.com.