The face of E! network at the Oscars has been accused of sexual harassment.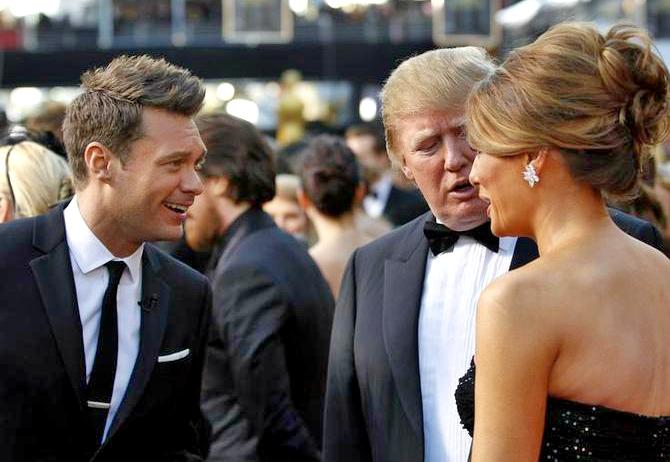 Ryan Seacrest (left) speaks with Donald Trump and his wife Melania at the 83rd Academy Awards in Hollywood, California, in 2011. Seacrest is as much an Oscars night phenomena as the red carpet he has graced for years.
Photograph: Lucas Jackson/Reuters.
After the Golden Globes and the BAFTAs, where stars turned up in black, and the Grammy's, where the stars sported white roses -- all in solidarity with the #MeToo and #TimesUp campaigns, the Oscars red carpet faced a curious problem.
E! decided that Ryan Seacrest, the face of the network on the Oscars red carpet for years, would stay on the job despite being accused of sexual harassment by his former stylist.
The accusation against Seacrest first surfaced in November 2017, when the stylist, Suzie Hardy, sent a letter to E!, its corporate parent NBC Univeral, and Seacrest, through her attorney, claiming Seacrest had subjected her to years of 'unwanted sexual aggression'.
She claimed that her torment ended in 2013, when she reported Seacrest to the human-resources team and her employment ended.
It was Seacrest who took the allegation public the same month and announced that E! was investigating the complaint.
E! issued a statement three months later saying its investigation was over and that it found 'insufficient evidence to support the claims against Seacrest'.
Seacrest even wrote an essay for The Hollywood Reporter titled 'What happened after I was wrongly accused of harassment.'
The allegations however became even more public a week before the Oscars when Variety published a detailed accounting of what Hardy's allegations entailed. She 'claimed that she endured the abuse for years out of concern over being able to provide for her daughter.'
Seacrest once again denied the allegations and E! stood by him.
In a statement issued through Ryan Seacrest Productions, the host said he supported the #Me Too and Time's Up movements, but 'I have worked extremely hard to achieve my success and I don't take my opportunities for granted.
'I don't want to accuse anyone of not telling the truth but in this case, I have no choice, but to again deny the claims against me, remind people that I was recused of any wrongdoing, and put the matter to rest.'
But in the post Harvey Weinstein era are no longer that easily laid to rest.
Golden Globes best actor winner James Franco didn't even land an Oscars nomination following sexual misconduct allegations. And breaking years of tradition, last year's Best Actor winner at the Oscars, Casey Affleck, will not be a presenting an award this year due to two sexual harassment lawsuits in the past.
Noting that having Seacrest as the face of E! at the Oscars put the stars on the spot, a column in Slate noted, 'It was a bad move for E! to put an alleged sexual abuser in the middle of a public debate on the first Oscars red carpet since the advent of #MeToo.'
In a column for NBC News, Jennifer Gerson Uffalussy, an award-winning writer and reporter, states that 'by allowing Seacrest to continue in his hosting duties — at this point, as veritable of an Oscars' tradition as the awards ceremony itself — the network is sending a message loud and clear to survivors of workplace harassment and sexual violence: You too? Meh.'
She added, 'It is true that in America, all are innocent until proven guilty, and private corporations are free to make decisions about individual's employment for a variety of reasons.
'But for a big player in Big Hollywood to choose to keep someone who has been accused of such gross abuse on the air as the public face of the festivities is in turn a choice to continue to reinforce the status quo that keeps women victims unemployed and ensures that male stars maintain unfettered access to the road to infinite success.'