Ruchi Shah loves to paint and tell stories. But she's more than just an illustrator.
Honoured at British Council's Study UK Alumni Awards, Ruchi Shah's illustrations are now part of children's books across nine Indian languages.
Ruchi Shah's free spirit took her from Yahoo's highest salary bracket to perhaps the lowest among her peers in a year-and-a-half, because life as a senior UED designer was simply devoid of the feel of paper and paint. So, she gravitated to freelancing instead, to journey back to the basics.
Her love for giving back took her from the cushy corner office to banausic schools in Ladakh and dilapidated ones in Indian hinterlands -- where she used art and illustration to help school children embrace storytelling, English and of course, their hidden talents at doodling!
This well-known illustrator tells us all about working as an art facilitator in remote schools in tribal areas, which has provided a deeper context to her illustrations and stories.
The 34-year-old was raised in Mumbai, amid a home-run printing press owned and operated by artist parents, with storybooks and art material rather than toys and the friendly but fierce dinnertime cackle of whether an artwork would be best printed in PVC or matte inks.
It was no wonder then, that Ruchi metamorphosised into an artist and procured her masters in design from Industrial Design Centre, IIT-Bombay in 2008.
Straight out of college, in a stint at Yahoo, she experimented with a fluid format of working until she found her calling with Bengaluru-based Pratham Books.
In 2012, she received a full scholarship to study a Masters in Visual Arts in Camberwell, UK -- where she spent a year, specialising in illustration while immersing herself in the vibrant art scene of London.
On her return to India in 2013, Avalokitesvara Trust invited her to volunteer as an art teacher in remote schools of Ladakh.
The volunteer journey in Ladakh, apart from helping her discover her passion for wall art, also gave her an opportunity to interact with children. She returned from this stint filled with insights about the way children learn, and learn better.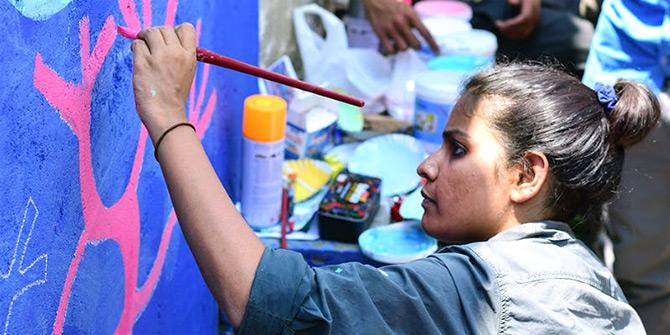 Ruchi was invited to join The LETS – or Learn English through Stories - project, the brainchild of Professor Alka Hingorani at IDC, IIT Bombay -- in 2015 as a Design Associate. But when they began testing the app with children, they noticed while the students embraced the technology readily, there was a dearth of local content on it.
In fact, she had made this observation when she first started dabbling with illustration in 2007. The books she had been reading by local authors to explore different illustration styles, also threw up one stark theme -- or the lack of it thereof of good Indian illustrated stories despite our rich storytelling culture.
So, she chose 'Our Incredible Cow', written by Nobel Prize nominee, social activist Mahaswetadevi, to push the boundaries of Indian illustration as well as her own. Mahaswetadevi, in the book, describes the many escapades of her pet cow 'Nyadosh'.
"The illustrations were inspired by everything this crazy cow ate, she had a mind of her own. Each page was created with a different medium -- fish, onions, grass, bottles etc. I would make large, intricate arrangements of all these materials, shoot a photograph and then build the visuals," she explains.
This work was published in 2015, by Tulika Books.
Therefore, books became her playground for experimenting with different techniques to draw, paint and print -- all of which came in handy for LETS.
During the course of this project she worked with over 100 children from different schools -- Gram Mangal School, Dahanu, Maharashtra, Agastya International Foundation, Kuppam, AP and Government Secondary School, Khun, HP.
Her work was published in six books, and Professor Athavankar, a senior professor at IDC, commended her saying it was a good way of giving back, and implored her to make at least one book a year.
Over the next three years, she created books that were visual wonderlands for children, with meaningful messages layered into images.
One of her favourites is Cat in the Ghat, written entirely as a rhyme. The real-life journey of National Geographic Explorer Sandesh Kadur and his journey in the Western Ghats for a mythical cat the 'Pogeyan,' this book was text heavy, playful and captured every animal and creature he saw in the Ghats.
"I created bold illustrations with colourful ink splashes to reflect the region in India which receives a lot of rainfall," she says.
Another project she thoroughly enjoyed working on, was the illustrations for the story, 'Book is Bee.'
"This book reminds us about the different roles that a book can play in our lives. Whether it opens us to a sea of words, or a forest of sounds, each page of this book has been created as an environment. I created a collage of pencil drawings, ink illustrations and dried flowers to create the images of this book," she tells us.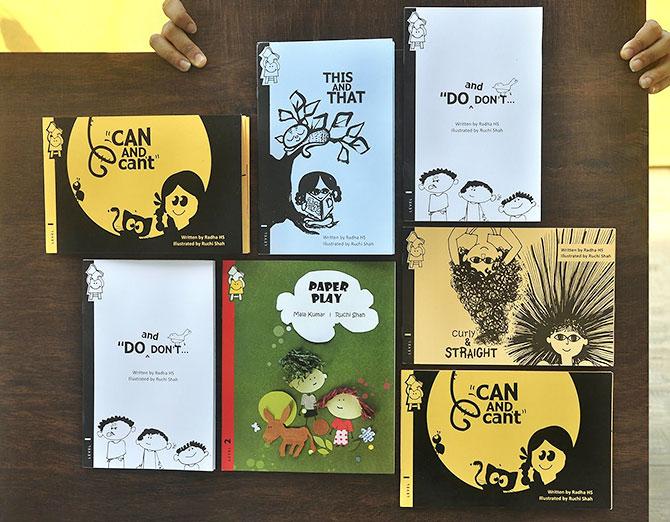 Currently, she's working on a book in collaboration with two organisations -- The Walking School Bus, Vancouver and Pratham Books, India which is going to be entirely drawn by the children from Himalayan Public School, Uttarakhand.
"Working primarily with non-profit publishers has been a challenge. Whether it is the size of the book, or content, quantities of printing or type of paper, it is an uphill task but it doesn't limit me from putting out good quality children's literature," she says.
Another challenge that persisted in her projects is when villagers from remote areas are spellbound at her independence and autonomy as a woman artist.
"When I go to work in remote areas -- although locals embrace me, they wonder why I'm travelling alone to a village. The remote schools I have worked with have male art teachers mostly -- who find it more challenging to work with me as an art facilitator," she says.
This condescension, in fact, follows her to the swanky offices she decorates as well, when she finds herself predominantly on semi-constructed office sites, with labourers who may not be completely sensitised.
"In most scenarios, I'm the only woman working there. It is a huge speed breaker to my work as I have to create a space for myself, make some boundaries, and yet get my work done. No one takes me seriously, but that is only until I start my work," she explains.
She has been an independent artist for the last two years working on her own venture, KreativeRush, in Mumbai -- but her projects take her across the country.
She is primarily a wall-artist for corporates, but also spends half her time on art direction, illustrating storybooks and facilitating art workshops in tribal schools.
One can see her in action in Bengaluru next, painting for two start-ups -- followed by a project in Uttarakhand, working with children to create a book.