The first step? Get in touch with past employers and colleagues to see if there are any opportunities, advises Ravish Agrawal, founder and CEO, Able Jobs.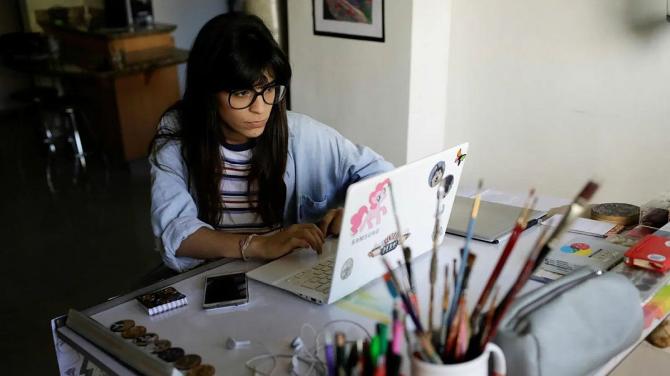 The job market might be undergoing a major change, thanks to the onset of the lethal coronavirus pandemic -- but undeniably, there are a lot of opportunities available.
Sourcing a job in the midst of a global health crisis, especially by the ones who have had taken a break from their career and are wanting to kick start their career again, may seem like a daunting task.
But a ray of hope does exist and there are umpteen strategies that can help aspirants in these uncertain economic times.
With many industries booming during COVID-19 -- from pharmaceutical to healthcare, food, and agricultural services to supply chain management, and communications to technology -- a wide array of options persist for both, those restarting their professional lives after a sabbatical, as well as job seekers looking for new employment.
The transition from one phase of life, especially professional, to another is typically a time of heightened anxiety for most, and there is no doubt that restarting or switching careers in the middle of a pandemic can exacerbate those emotions.
However, luckily, it is not all doom and gloom as we are already witnessing many sectors outpouring their hiring right now.
While these opportunities and job functions may not coincide with what was anticipated prior to the crisis, it's important to remain encouraged and leverage everything that is available, rather than letting the pandemic paralyse the situation.
Read on to find out how you can get started!
1. Connect with your network
The first step when considering the idea of restarting your career is to get in touch with past employers and colleagues to see if there are any opportunities that may be willing to offer.
Other than that, they might also help you in getting familiarised with the latest scenarios and trends in the job market.
Being in contact with your colleagues will give you an in-depth understanding of the current skill-sets leading brands are looking for.
2. Let your transferrable skills be known
When revamping your application package (resume and cover letter), ensure that you highlight to the potential employer how your expert skills can help their business navigate the path to growth and improvement during a recession.
Make it a point to demonstrate that you are capable of developing ideas and strategies that can have an impact on the bottom line.
And most importantly, showcase in the best possible manner that you are a team player, a good decision-maker, and an even better communicator.
3. Present a valid reason for your gap year
For someone who has taken a break for less than a year may not have to worry about giving a thorough explanation for the gap, however, if this period extends beyond two years and more,
employers would want to know what caused you to put a halt on your career.
In a situation like this, you want to answer with utmost honesty and confidence. You should be in a position to convey your willingness and commitment to work.
There is nothing better than practicing speaking about your skills, past professional experience, achievements, and challenges encountered.
Remember, the key is to sound eager, but unapologetic as well, especially for the time out of the workforce.
4. Negotiate for what you deserve
The traditional salary package along with perks may not be the same as earlier times, particularly due to the pandemic, but do not let it discourage you from making an attempt to move forward.
It is practical to think that a pay reduction as compared to your peers in the industry might be essential owing to the gap, new job role, industry, or field, however, also make sure whether or not the offer meets your financial needs.
Here's where managing your expectations and considering your options against the exterior scenario of the pandemic comes into play.
You don't want to lose the opportunity without even having a backup, so enhance your profile, prove your worth, and show what makes you stand out from the crowd of other applicants.
5. Keep applying and be patient
Yes, organisations, both small, as well as large-scale, are still hiring and on a constant lookout for the 'right' employee.
The only thing different is that your job hunt could take a little more time than usual. And thus, the best approach remains to stay cordial, communicative, and optimistic as possible with hiring managers and recruiters.
Remember, when you undergo change, it demands time, dedication, and courage. So, develop it all and keep the right attitude!