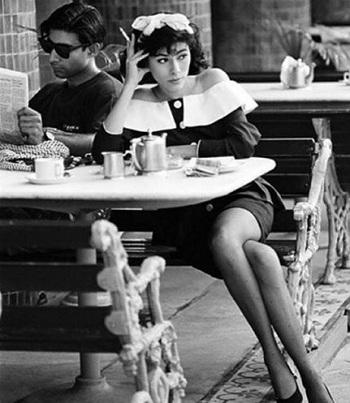 Avantika Bhuyan on how Feroze Gujral is making her mark on the world of art.
IMAGE: Feroze Gujral photographed by Prabuddha Dasgupta in 1989 for designer Suneet Varma. Photograph: Courtesy Suneet Varma Official/Instagram.

A winding staircase leads into a warm, cosy space, complete with exposed bricks and minimalist furniture. Located in New Delhi's upscale Meherchand Market, this is the new home of the Gujral Foundation.
"I finally have an office now, after having worked from the dining table at home for nearly seven years," smiles Feroze Gujral, who established the Foundation with her husband, Mohit, in 2008.
From being a leading model in the 1990s to managing a design studio, events company and export business along the way and now helming the Foundation, Gujral has made a smooth transition from being a fashionista to an art philanthropist. "I have been doing philanthropy for many years now, having given a certain per cent of my earnings to charity. I have supported programmes by Save The Children, WWF and Teach for India. As a family, we have a school, an orphanage and home for street children," she says.
However, there came a point in 2006, when she realised that there was a serious lacuna in the field of art philanthropy. "I thought let's do that one powerful thing that can really bring about a change," says Gujral.
Two years later, she launched the Foundation.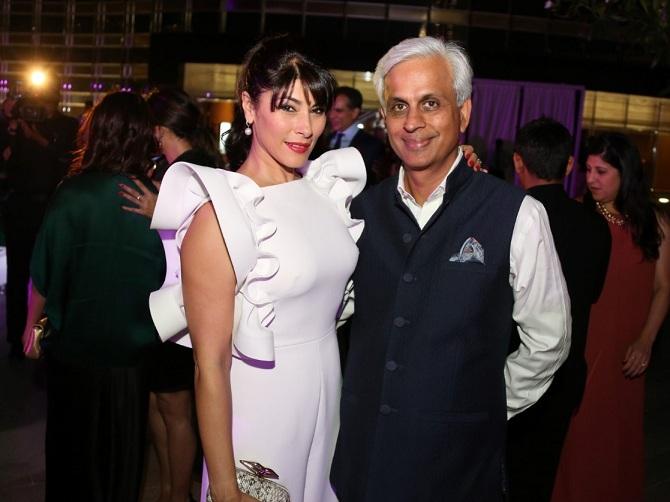 IMAGE: Feroze with her husband Mohit Gujral. They bring a business approach to philanthropy. Photograph: Rediff.com.


Since then, she has started the India chapter -- in 2011 -- of Outset, a philanthropic organisation that supports new art by bringing private funding from its patrons to public museums and art projects, and become part of the advisory board of the Kochi-Muziris Biennale. "All creative people have an idea of building things, but have no space or support. I want to provide that support," she says.
So, has Gujral been effectively able to fill the gap that existed in the field?
"Definitely," says Bhavna Kakar, founder-director, Latitude 28, a contemporary art space located in Lado Sarai, and editor of the Take On Art Magazine. "Before her, there was hardly any private entity that did philanthropy in art."
Collectors did their bit by buying works of a particular artist, but there was no consistent effort to improve production of works or growth. "She has shown the way to do philanthropy in a planned, structured manner," says Kakar.
Gujral calls this the business approach to philanthropy. "We are business people, so I approach the Foundation work with a business plan," she says.
The Foundation is funded through a corpus, with the amount coming in as interest being used for expenses. "I am looking at sustainable philanthropy," she says.
IMAGE: Feroze Gujral at the Gujral Foundation's 'My East is Your West' exhibition in Venice, Italy, in 2015. Photograph: Awakening/Getty Images.

Aware of her limitations, she tries to collaborate with experts in the field to put up a project. Partnership is key to her working style.
And 2016 has been a significant year for the Foundation, having carved a space for itself in the contemporary art space both in India and across the globe. Fresh from the success of "My East is your West", which was the official collateral events project at the 56th Venice Biennale in 2015, Gujral started this year with a collaboration with the British Museum, London, to support Desire Machine Collective's work, Krishna in the Garden of Assam -- The Cultural Context of an Indian Textile. In November, she presented a new site-specific installation by artist Vishal Dar, entitled Storm Deities (Marut), at the 11th Shanghai Biennale, where it can be viewed till March 2017.
A young conceptual artist, Dar has been mentored by Gujral since 2011. "If Gujral takes up an artist, she supports him throughout. Similarly, if she has taken up the Kochi Biennale, she will support it all the way," says Kakar.
For instance, in 2012, the Gujral Foundation arranged Aspinwall, which has become the primary location of the Kochi Biennale ever since.
"It is important to have infrastructure for a project such as this, which the Gujral Foundation supported us with," says Bose Krishnamachari, founder-member of the Kochi Biennale, who feels that her exposure to creativity at an early age fuelled her interest in the arts. "Her father-in-law (Satish Gujral) is such a celebrated artist, husband is an architect and she comes from the fashion and design world," he says.
Gujral feels that the fact that she didn't have a mentor makes her want to support an artist or organisation in whichever way she can. "I have wonderful friends and advisors such as Richard Armstrong of the Solomon R Guggenheim Museum, Amin Jaffer, Pooja Sood, Roshini Vadehra, and more. But there has been no one to tell me this is how you build something," she says.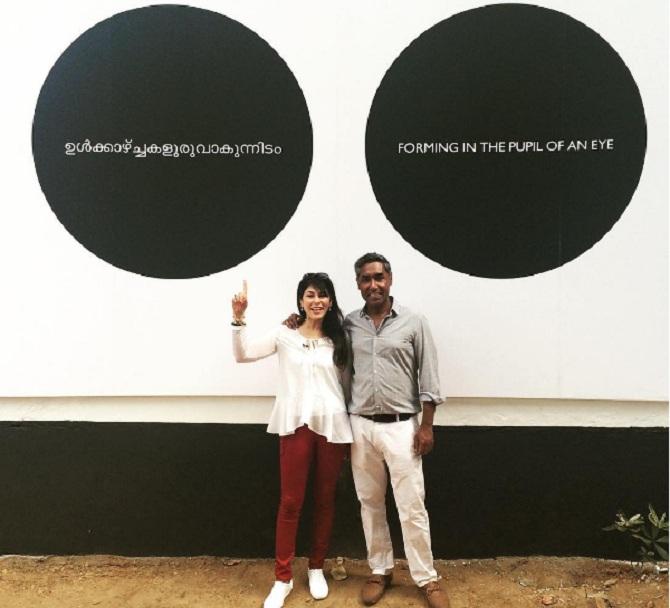 IMAGE: Feroze Gujral at the Kochi Biennale this year. In 2012, the Gujral Foundation arranged Aspinwall, which has been the primary location of the Biennale ever since. Photograph: Courtesy Aspinwall/Instagram.

The coming year will see Gujral use her new space in Meherchand Market for talks and workshops more actively, through the newly activated segment, the Gspot. "They have already had a couple of interesting talks from the best of minds from the art world," says Krishnamachari.
There was "NO-SENSE. speed arting -- an experience", a talk by curator and gallerist Peter Nagy, and a design presentation titled "Towards Histories of Indian Design 1".
"In the new year, I want to focus a lot more on design and architecture, besides art," she says.
For instance, at the upcoming India Art Fair, the Foundation will be presenting an official collateral event, Open Hand, which will look at the architecture of Chandigarh. "I haven't finished the curation for that yet. Open Hand looks at the future of the last city to be built on an imperial plan," she says.
The Foundation has also commissioned four films by artists from the subcontinent to be presented at the Contour Biennale 8 in March. And at the same time, it will publish a book with PHOTOINK to explore Madan Mahatta and 100 years of architecture.
"Hopefully by next time this year, we will be rocking it in the new space," she says.