India has not had a friendly equation with condoms since 1991, when the first condom commercial was aired on TV.
The recent blanket ban, reinstates, that 26 years later, nothing has changed.
Earlier this week, the Information and Broadcasting Ministry called for a nationwide ban on all condom ads on television between 6 am and 10 pm alleging that it is 'indecent for children'.
'All TV channels are hereby advised not to telecast the advertisements of condoms which are for a particular age group and could be indecent/inappropriate for viewing by children. Indecent, vulgar, suggestive, repulsive or offensive themes or treatment shall be avoided in all advertisements,' the Ministry's advisory ruled.
But this is not the first time, this country has played moral police against condom advertisements.
Here are some instances from the past to refresh your memory:
Kama Sutra premium condoms, 1991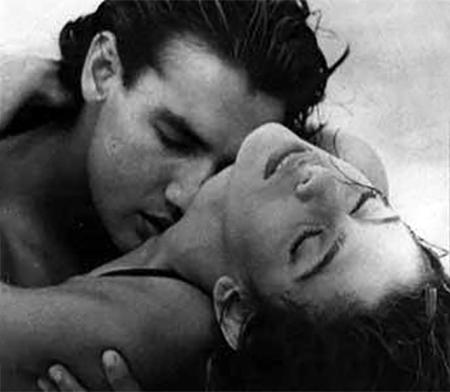 A screenshot of Pooja Bedi and Marc Robinson in Kama Sutra condom commercial, 1991.
This was the time when India's only knowledge about birth control came from Nirodh's advertisements telecast on Doordashan.
Pooja Bedi and Marc Robinson disrupted the market by featuring in a racy ad, promoting Kama Sutra's premium condoms.
In the minute-long ad where Bedi is pleasuring herself in the shower, Marc enters and the two get flirty.
Bedi's hands reach out to squeeze Marc's body and the brand reveals its product on screen.
Two decades later, Gautam Singhania, chairman & MD Raymond who'd launched the ad remembered how difficult it was to position the brand in the market.
'At the time of its launch, Kamasutra ads faced resistance in the form of accusations of challenging conservative Indian sensibilities.
Media channels refused to carry the bold ads.
However today, the brand is a success in terms of consumer acceptance,' he told the Times of India in 2011.
Manforce condoms, 2015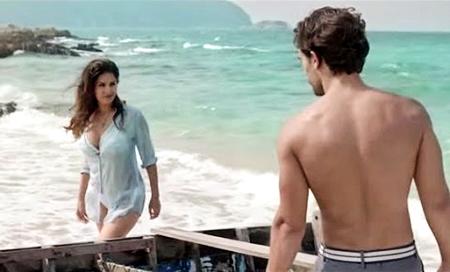 Screen shot of Manforce commercial starring Sunny Leone.
In this ad for Manforce condoms, released in 2015, actor Sunny Leone is wearing a transparent blue top and seducing a man on a beach.
Former Delhi Commission for Women chief Barkha Singh demanded the ad be banned because it was 'shabby' and 'ugly' .
'The shabby, ugly or immoral way the actress seduces or sexually provokes a man in the advertisement to use condoms is nothing but serving immorality and bad practice to the audience of the country which is not acceptable in a country of moral values, ethics, religious values and spiritualism renowned as abode of gods around the globe,' Singh stated.
CPI leader Atul Anjan agreed with Singh.
'This advertisement develops a sexually infected mindset and finishes off your sensibility, If such advertisements will continue to be shown on television then there will certainly be an increase in rape cases,' he added.
Whew!
Playgard condoms, 2017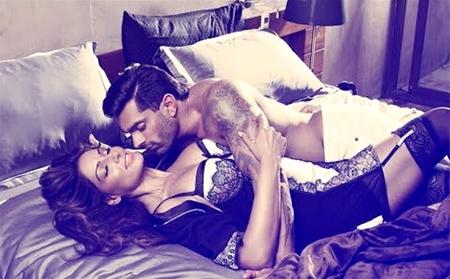 Bipasha Basu and Karan Singh Grover got flirty for Playgard condoms.
More than two decades after the first condom commercial was aired, nothing much has changed.
Bipasha Basu and husband Karan Singh Grover got raunchier to promote Playgard condoms by Alkem Healthcare in an ad, which was also aired on Colors TV.
The caption read: If you want more, you #GiveHerMore.
Apparently, the ad irked Salman Khan, who did not want the ad to be aired during the break of the reality show Bigg Boss 11, which he was hosting.
For some time now Salman Khan was embarrassed about the condom ads. He felt they violated the family-appeal ethics of Bigg Boss. When he expressed his misgivings about the ads, the show's producers promptly volunteered to pull the ads out,the source reasoned.
Manforce, 2017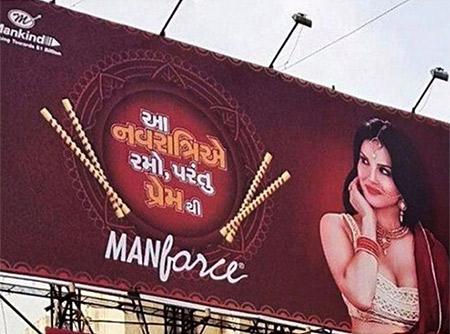 Sunny Leone's poster for Manforce condoms was pulled down in Gujarat.
During Navratri, Manforce decided to make use of the festive season to promote safe sex in Gujarat.
A regional poster for the condom featuring its ambassador Sunny Leone read: 'Aa Navratri a ramo, parantu premthi' which translates to 'This Navratri, play but with love.
The citizens, obviously, did not take it well.
A Surat-based group headed by businessman Narendra Chaudhary demanded the posters be brought down, claiming it hurt Hindu sentiments.
The insinuation on the hoardings from a condom brand insults the religious sentiments of Hindus,' Chaudhary told the media.
In the past too, similar commercials have been targeted by women's wing and religious groups.
The Confederation of All India Traders (CAIT) have welcomed the I&B's recent blanket ban on condom commercials.
'Condom ads presently are being shown in a vulgar manner which can't be accepted by civil society,' CAIT's spokesperson said.
Dear readers, do you think condom ads aired in India are indecent?
Take the poll given below and let us know!