With her latest campaign, photographer Sophie Mayanne wants all mothers to feel proud and confident of their bodies.
UK-based photographer Sophie Mayanne hopes to send out a strong message to all women.
She photographed 10 beautiful mothers who revealed their tummy wrinkles, scars, stretch marks and belly fat.
The idea was to showcase real moms who are proud of their post pregnancy bodies.
'One of the questions I've been asked the most in the past year is why I don't retouch 'flaws' in photographs,' she writes on Instagram. 'This question always baffles me.'
She added: 'Why wouldn't we want to see reality in the images that surround us?
'How can we become more accepting of ourselves -- if we aren't truly ready to accept a change in the images we see?'
Scroll down to read the stories of beautiful women she photographed.
---
This mother is in love with her tummy wrinkles.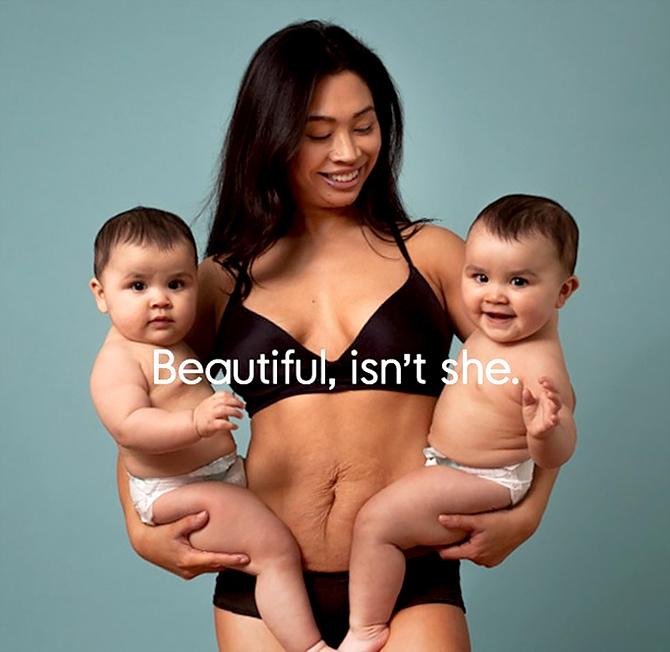 'Before giving birth, I was very preoccupied with my figure,' says Sophia.
'I worked out a lot and I had very high expectations of myself.
'Throughout my pregnancy I was shocked at how much changed and it was hard to accept the changes.
'I had a healthy pregnancy, but it was hard.
'My belly was full term size at 6 months and it kept growing.
'I found it really hard to walk and I constantly had people stare in shock at my size.
'I even had strangers make comments on the size of my tummy.
'Since giving birth my body image has changed, and I am proud of my body for holding two babies.
'They were born at full term and no health issues.
'I don't mind having tummy wrinkles, it's a small price to pay for these beautiful little girls.
'To watch my babies grow and achieve their baby milestones inspires me to be healthy and happy and do my best for them -- not what social standards tell me I should be.'
---
This mother is in love with her surgical scars.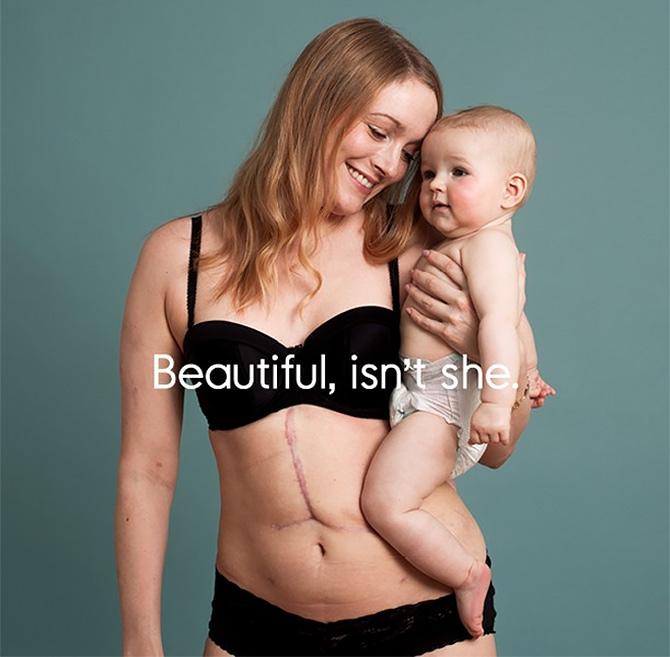 'I wanted to do this partly for my own self-confidence, to help with acceptance of my scars and new life.
'Also, I wanted to bring some attention to post-natal disease and complications.
'Giving birth caused me to go into sudden liver failure, due to a rare pregnancy related disease.
'I had to have an emergency liver transplant and spent the first month of my daughter's life in hospital in London away from her.
'My shape has changed since giving birth, my scar causes my stomach to be a little disfigured and I lost most of my muscles from being in the hospital bed so long.
'Sometimes my scar reminds me of the surgery and the difficult recovery I had in my daughter's early months.
'However, it's also a wonderful reminder of how generous other people can be, because without someone's decision to donate organs, I would not have survived to be here with my family now.'
---
'I'm happy with my new body'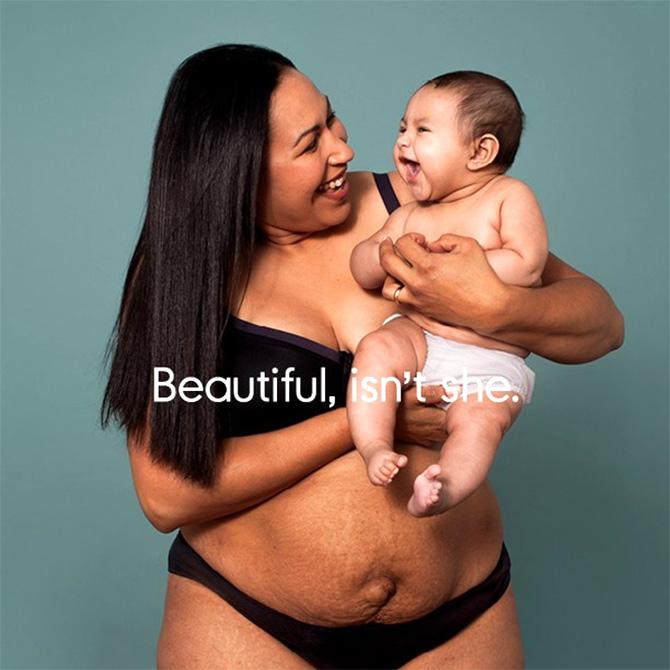 'Being a mum of six is a blessing and knowing how my body has changed in the last seven years is really amazing in so many different ways.
'Hard work to grow a tiny human, and then going back to normal full-time function deserves a celebration, and gratitude towards my body.
'So when I heard about the campaign, I felt inspired to be a part of it, regardless!
'I don't measure up to what society tells me should be the ideal.
'I feel people need to put less pressure on moms to go back to their previous bodies before the babies and worry about their overall health mentally, emotionally and physically, to live a fulfilling life in order to give love and care for the new life.
'I'm happy with my body, and only have an umbilical hernia that needs to be repaired due to my twin pregnancy, but other than that maybe I need to exercise when I get more time, as I need more energy to look after my six children.
'I don't feel different after giving birth -- I feel the same and feel happier even though I gained lots of weight afterwards.
'It's rewarding to be able to produce fruits and look after them!'