Food blogger Taruna Bakshi's super indulgent Kesar Elaichi Kulfi and irresistible Kesar Phirni are great make-ahead desserts and go perfectly with the Independence Day theme.
Go all out and treat yourself to a delicious saffron-inspired sweet course.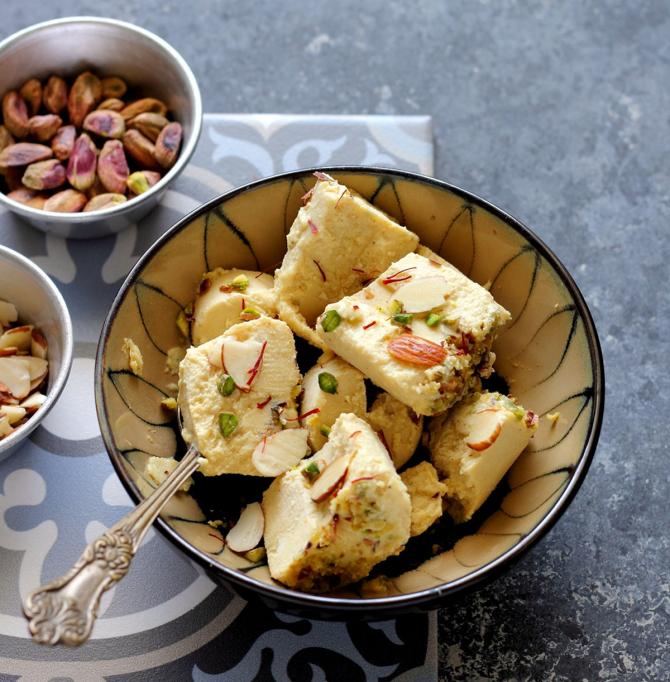 Kesar Elaichi Kulfi
Serves: 8
Ingredients
2 tbsp warm milk + ¼ cup milk
1 l full cream milk
Few kesar or saffron strands
100 gm khoya or mava or milk solids
4 tbsp sugar
2 tbsp almond powder
½ tsp cardamom powder
1 tbsp cornflour
2-3 tbsp finely chopped pistachio
Chopped nuts of choice, for the garnish
Method
Prepare the kulfi moulds by washing and drying them well. Set aside. You can do this a day in advance.
In a small bowl combine two tbsp warm milk with saffron strands.
Mix and set aside for the colour and flavour to infuse into the milk.
Preferably it should be soaked for at least two to three hours for best result.
In another bowl grate the khoya and set it aside, preferably in the fridge.
Heat the full cream milk in a heavy-bottomed saucepan.
Keep simmering the milk on low heat, stirring often till it is reduced to nearly half its original quantity.
Keep scraping the milk solids from the sides of the pan and adding it back to the milk.
Add the sugar, almond powder, saffron milk and cook for another two to three minutes.
Dissolve cornflour in the reserved ¼ cup milk.
Stir well.
Add to the simmering milk in a slow steady thin stream.
Ensure you are stirring the milk continuously while adding the cornflour mix.
Cook for a half a minute. At this point the milk should be half its original quantity.
Take off heat, add the chopped pistachio, khoya and cardamom powder.
Keep stirring the milk to incorporate everything well.
Cool the milk completely but keep stirring often to prevent cream from forming on the top.
Fill the prepared moulds with the thick reduced milk and carefully place the moulds in the freezer overnight.
Next morning, take out the moulds from the freezer and give them a quick dip in hot water.
This will make it easier to extract the kulfi from the moulds.
Place the frozen kulfi in a plate and serve immediately garnished with nuts of your choice.
---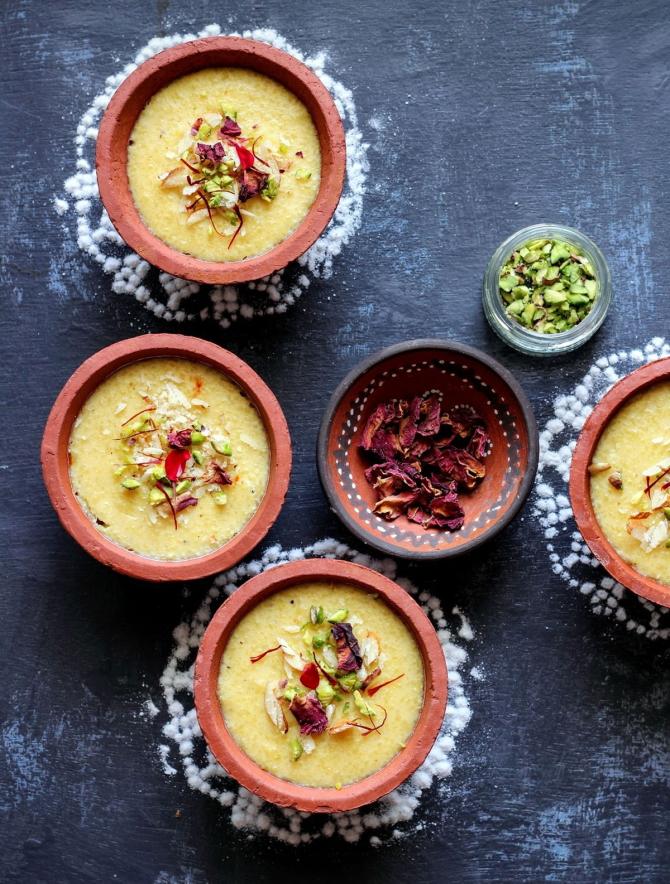 Kesar Phirni
Serves: 10
Ingredients
2 tbsp milk
1 l full cream milk (can be swapped with coconut or almond milk)
¾ cup low fat milk
¼ to 1/3 cup powdered almonds
Few strands of kesar or saffron
60 gm Basmati rice
½ to ¾ cup shredded date palm jaggery or sugar, adjust to taste
¼ to ½ tsp cardamom powder, adjust to taste
2-3 tbsp finely chopped nuts of choice like almonds, cashews and pistachios
10 earthen pots for the phirni
Method
Wash and soak the earthen pots in water for least 10 to 12 hours and then leave them to dry completely.
Do this process a day in advance.
Soak the saffron in two tbsp of warm milk and set aside.
Wash the rice no more than twice or thrice.
Soak it for half an hour in plenty of water.
Drain the rice and spread it over a kitchen towel or napkin to dry.
You can dab the rice now and then allow it to dry out completely.
Grind the rice till it attains semolina-like consistency. Do not add water while grinding.
Do not grind it in one go or it will turn to powder.
Grind the rice in short pulses of a few seconds each and then stop. Pulsing again and then stopping.
Keep checking texture, between the pulses, till desired texture is achieved.
Set aside.
In case your jaggery has impurities, transfer it to a small pan and add a tbsp of water.
Stir it continuously on low heat till it has completely dissolved.
Turn off heat and sieve the jaggery to get rid of any impurities or grit.
Set aside.
Heat the 1 l milk in a heavy-bottomed pot over medium-high heat.
Bring it to a boil while stirring occasionally.
Keep stirring it to prevent it from burning at the bottom.
Once it begins to boil, reduce the heat and let it simmer till it reduces to ¾ the amount. Stir in the saffron milk.
Meanwhile, in a bowl combine ¾ cup low fat milk along with ground almonds.
Mix in the ground rice and stir well.
Add this to the simmering milk, stirring continuously.
Keep cooking on low heat, stirring till the phirni thickens but is of pouring consistency.
The phirni will thicken further when it cools, so keep that in mind while checking the consistency.
Take off heat and keep stirring.
Stir in the sugar or jaggery, whichever you are using.
If adding the jaggery dissolved in water, then you need to cook it for a couple of minutes more.
Take off heat and immediately transfer the hot phirni into the prepared earthen pots or serve in bowls of your choice.
Garnish with dried chopped nuts.
Once the phirni is cool, keep it in the refrigerator to chill for a couple of hours.
Do not cover the pots with any cling wrap.
Serve garnished with more nuts, if desired.
Note: These dessert is always served in individual portions.
Serving the phirni in small and shallow earthen pots is highly recommended since that is the traditional way of serving it. Or else you can serve it in small glass bowls, preferably shallow.
Taruna Bakshi lives in Mumbai and is the creator of the food blog Easyfoodsmith.