Easy-to-make Tiranga Barfi and crispy Tiranga Bread Pakora are two tricolour recipes by Maharaj Jodharam Choudhary, corporate chef at Khandani Rajdhani, a chain of thali restaurants serving Rajasthani food.
You can pair them with Tirangi Dhokla, Khandvi, Pulav and Lassi to make your Independence Day celebration a memorable one.
Tirangi Bread Pakoda
Serves: 3-4
Ingredients
4-5 slices of bread
Oil, for frying
Tomato ketchup, to serve
For the stuffing
100 gm paneer, cut into thin triangles
Small bowl mint chutney
1 tsp chopped green chillies
4-5 tsp chopped green dhania or coriander or cilantro
2 tsp chopped pudina or mint leaves
¼ tsp red chilly paste
Few tsp tomato ketchup
¼ tsp garam masala powder
½ tsp amchur or dry mango powder
Salt to taste
For the batter
1 cup besan or gram flour
¼ tsp red chilly powder
¼ tsp garam masala powder
Pinch hing or asafoetida
Pinch baking soda (optional)
½ to ⅔ cup water or as required
Salt to taste
Method
For the batter
Mix the besan, red chilly powder, garam masala, hing and salt in a bowl.
Add ½ cup water, baking soda (optional) and mix well.
The batter should not be very thick nor too thin. Add more water if it is too thick. Keep aside.
For the pakoda
Heat the oil in a heavy-bottomed kadhai or frying pan over medium heat.
Slice the bread diagonally to form triangles.
Apply the mint chutney on one triangle and the chilly paste mixed with tomato ketchup on the other one.
Place one piece of the sliced paneer on the bread and place the second slice on top (please see pic above).
Press the slices together and dip in the batter.
Slide the batter-coated bread slices into the oil and fry in batches until crisp and golden brown.
Keep flipping so that it fries evenly.
Drain excess oil, remove from heat and place on a plate lined with tissue or a paper towel.
Serve warm with tomato ketchup.
---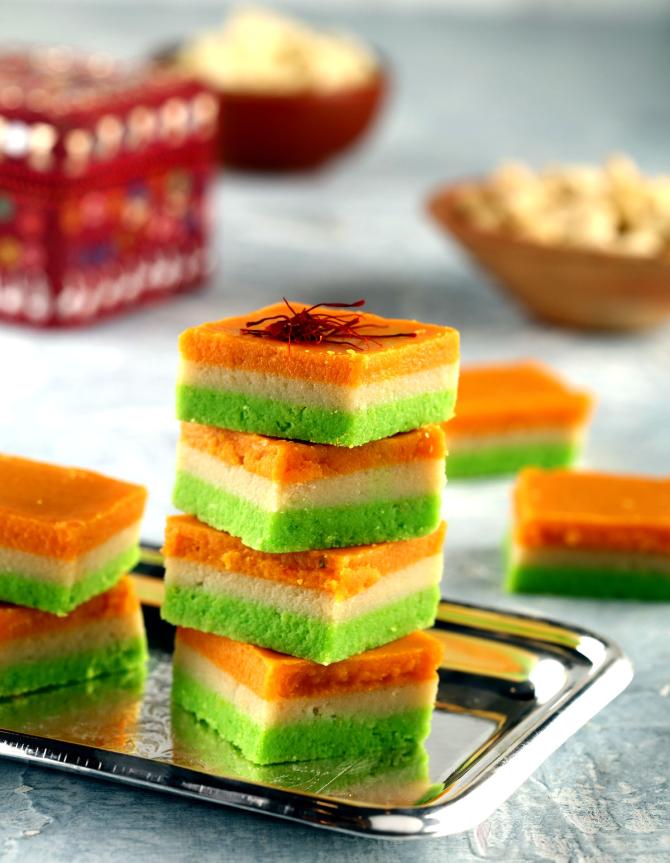 Tiranga Barfi
Serves: 4-5
Ingredients
½ cup ghee or clarified butter
1 cup maida or all-purpose flour
2 cups sugar
1 cup water
¼ tsp green elaichi or cardamom powder
2 drops orange food colour (combine red and yellow food colour to get orange)
2 drops green food colour
Few strands saffron for garnish
Method
Heat the ghee in a heavy-bottomed kadhai or frying pan over medium heat.
Add the maida. On low heat, dry roast the maida for 2-3 minutes until it turns aromatic.
Take off heat and keep aside.
In another heavy-bottomed kadhai mix sugar and water and heat.
Keep stirring until the sugar dissolves.
Let the sugar syrup boil and keep stirring until you achieve one-thread consistency (please see note below).
Reduce the heat and add the roasted maida.
Stir well so that the maida combines with the sugar syrup. Try and break down all lumps.
Add the cardamom powder and mix well.
Cook until the mixture is of flowing consistency.
Take off heat and let it cool.
Divide the mixture into 3 equal parts.
Keep one part the way it is.
Add green colour to the second part and orange colour to the third part.
On a plate, first spread a thin layer of the orange mixture, followed by the white mixture and then the green mixture.
Use the back of a spoon to spread out the mixture evenly.
Allow the mixture to rest until it sets.
Cut into small squares, garnish with saffron and serve or store in an air-tight container for up to a week.
Note 1: A one-thread syrup is sugar syrup viscous enough to pass the one-thread test.
It is important to keep testing for consistency while the sugar syrup is boiling.
The test for this is: Dip a spatula, preferably wooden, into the boiling sugar syrup and take out.
Some syrup would have coated the spatula.
Let it cool.
Touch the cooled syrup with your forefinger. Some syrup will come onto your finger.
Touch that with your thumb and separate thumb from forefinger.
When one little continuous delicate thread is formed by the syrup, when the coated forefinger is pulled away from your thumb, you have one-thread consistency sugar syrup.
Note 2: 1 cup = 255 ml