Colourful, cool Holi drinks by Sanket Thakur, Food and Beverage Manager at The Resort, Mumbai.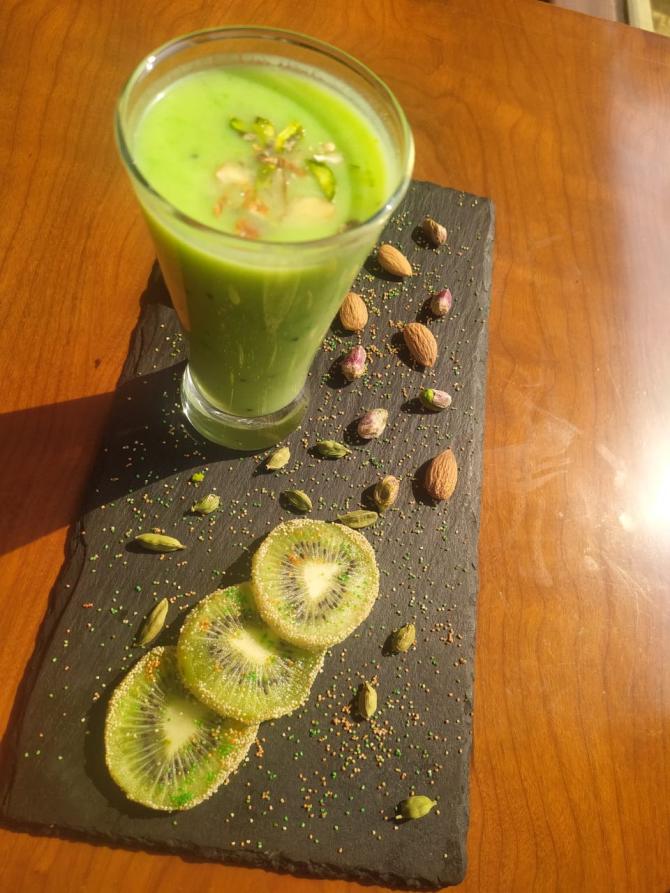 Kiwi Thandai
Serves: 2
Ingredients
2 cups water
1 cup pureed kiwi
4 cups warm milk
6-8 almonds, blanched and chopped
2 cloves
1 small green elaichi or cardamom
2 small pieces stick or dalchini or cinnamon
¼ tsp saunth or ginger powder
Few drops of gulab jal or rosewater
1 cup sugar, reduce as per taste
Method
In a pot, bring the water to a rapid boil over high heat. Keep aside.
In a mortar, add the almonds and kiwi paste, along with a few tsp of warm milk.
Keep grinding this mixture with the pestle until you get a fine paste.
Using your palm, squeeze the paste and collect the liquid in a bowl.
Repeat this process a few more times, until all that is left behind are fibres and nut meal. Discard this residue.
In a spice grinder or mixer, grind the cloves, eliachi and cinnamon into a fine powder.
In a large bowl mix the the water, warm milk and the liquid from the mortar.
Add the powdered cloves etc and the ginger powder, and give it a good mix.
Add few drops of rose water and sugar. Stir till the sugar dissolves.
Refrigerate this mixture and serve chilled in tall glasses.
---
Whiskey-Spiked Thandai
Serves: 2
Ingredients
45 ml whiskey
250 ml warm water
30 gm badam or almonds
20 gm pistachios
2 tsp khus khus or poppy seeds
30 gm melon seeds
2 tsp gulkand or rose petal jam, easily available in grocery stores or online
1 tsp saunf or fennel seeds
½ tsp kali mirch or black peppercorns
3 to 4 green elaichi or cardamom
Few strands of kesar or saffron
100 gm sugar
1 glass chilled milk
Ice cubes
Method
In a deep bowl pour in the 250 ml warm water.
Add the almonds and black pepper and let it soak in the water for 2 hours.
Once it is well soaked, skin the almonds and put it in a blender.
Add the black pepper along with the water and blend together.
Add the cardamom and saffron and blend again till it all becomes a fine paste.
Now add into the blender the pistachios, poppy seeds, melon seeds, gulkhand, saunf, sugar and chilled milk.
Blend till you get a smooth consistency.
Shake well and pour in pretty tall copper glasses. Or attractive high-ball glasses.
Add the whiskey and top it up with ice. Serve chilled.