Why not have Tricolour Kheer, a delicious bowl of three-coloured Indian rice pudding by food blogger Nadiya Sarguroh for your Independence Day celebrations?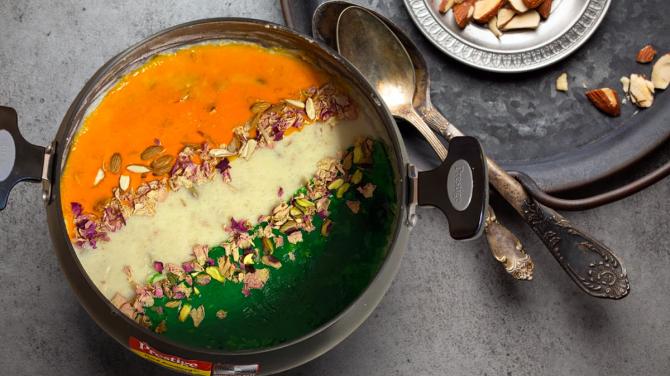 Tricolour Kheer
Servings: 4
Ingredients
3 tsp ghee
200 gm rice, soaked for a few hours
2 l full cream milk
300 gm sugar
200 gm khoya or milk solids
50 gm dried rose petals
50 gm almonds, slivered
50 gm cashew nuts, diced
50 gm pistachios, blanched and slivered
3 gm orange food colour
3 gm green food colour
Chopped nuts of choice, to garnish
Method
Add the soaked rice in a food processor and grind until coarse.
Keep aside.
Heat the ghee in a heavy-bottomed saucepan over high heat.
Add the milk and bring it to boil.
Once the milk starts to boil, reduce the heat to medium and add the ground rice.
Cook for 20 minutes or until the mixture thickens.
Keep stirring so that the mixture doesn't burn or stick to the sides and bottom of the saucepan.
Add the sugar and cook for 5 to 7 minutes.
Mix well and keep stirring continuously until the sugar dissolves.
Add the khoya and mix.
Reduce the heat and let the mixture simmer.
Add the pistachios, cashews, almonds and dried rose petals.
Mix.
Let the mixture continue to simmer on low heat for 5 to 7 minutes.
Take off heat and let it cool.
Add in two different bowls the orange and green food colour.
Add a few tsp of milk to each bowl and mix.
Gently pour the orange mixture on the top 1/3 part of the saucepan (please see pic above).
Do not mix or the colour will spread.
Keeping the centre white, pour the green mixture in the lower 1/3 part of the vessel.
Add the rose petals between each colour to cover any inconsistency.
Before serving transfer into small bowls and garnish with chopped nuts of your choice.
Nadiya Sarguroh lives in Mumbai and publishes the food blog HautePot.