Fasting needn't mean boring food.
If you're done with sabudana khichadi and the likes, food blogger Nidhi S Raj has just the thing for you.
So this Navratri spice up your menu!
Buckwheat Pizza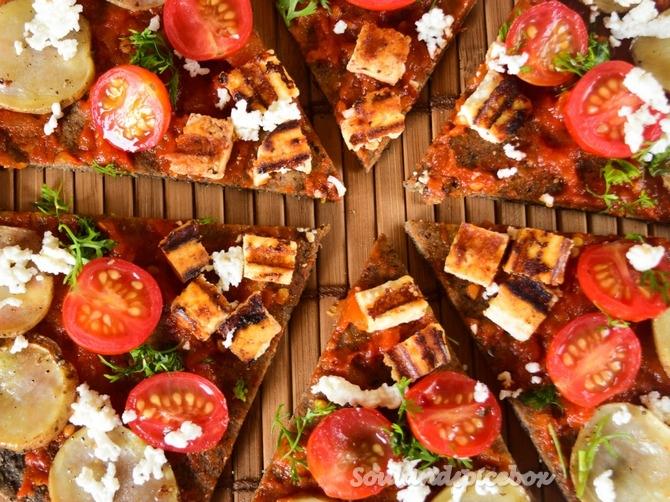 Ingredients
For the base
3/4 cup buckwheat flour (Kuttu ka aata)
1 tsp rock salt
1 potato boiled
Water to knead
For the pizza sauce
2 tomatoes
1/2 tsp rock salt
1 tsp red chilli powder (paprika)
1/2 tsp pepper
1 tsp sugar
2 tsp oil (I used extra virgin olive oil)

For the topping
4 baby potatoes
Rock salt and pepper to taste
1 tbsp extra virgin olive oil
6-7 cherry tomatoes
1/4 cup cottage cheese (cut in small cubes)

For the garnish
1 tbsp cottage cheese (grated)
1 tsp fresh coriander leaves

Method
To prepare the sauce, take a pan and add two cups of water.
Add the tomatoes and let them boil till the skin looks wilted (this may take 8-10 minutes).
After they are done, remove them from the heat and run them under cold water. Peel off the skin and discard the skin.
Grate the tomatoes or blend them in a food processor for one minute.
Take a pan and add in the tomatoes, oil, rock salt, pepper, sugar and paprika. Let this cook till the tomatoes are of sauce like consistency. (It took me about 10 minutes to get there.)
To make the sauce extra fine, you can blend this mixture after it cools down. (I didn't feel the need to do it, but you can go ahead and blend it once more if you feel the need.)
To make the base, boil the potato and let it cool down completely.
Combine the rock salt, potato and buckwheat flour. Use 1 to 2 tsp of water if you think that the dough is too dry.
Knead this for 3 to 4 minutes and then refrigerate the dough for 15 to 20 minutes.
Pre-heat the oven to 200C (400F). Line a cookie sheet with parchment paper and dust it with a little bit of buckwheat flour.
Take the dough and place it between two sheets of butter paper or zip locks.
Use your rolling pin to flatten it out into a disk shape. I used my fingers to flatten it out to a round shape.
Transfer it to a cookie sheet and bake for 15 to 20 minutes at 200C (400F) or till the crust turns brown.
Once it is baked, transfer it to a cooking rack and let it cool down completely.
While the pizza base is getting baked, make the toppings.
Chop the baby potatoes into small round shapes (this was done with the intention of making them look like salami).
Rub the potato disks with olive oil, salt and pepper.
Bake them in the oven at 350 F (180 C) for 15 minutes and then let them cool a bit.
To make the cottage cheese topping, combine the salt, pepper and some olive oil and dunk the cottage cheese cubes in the mixture.
Grill this on a non stick pan for 4 to 5 minutes or till the cubes look done.
Chop the cheery tomatoes into half and set them aside.
Once the pizza base was baked, I felt the crust was too dry so I transferred the pizza base to a non-stick pan and used 1 tsp of olive oil to quickly brush it and give it a nice glow. You can skip this step if you like.
To assemble the pizza, put the pizza base on your serving platter.
Take the pizza sauce and generously spread it over the entire base.
Arrange the cottage cheese cubes, cherry tomatoes and baked potato chips in the way that you like.
For garnishing, sprinkle the grated cottage cheese over the pizza and use coriander leaves to give it a pop of colour.
Cut the pizza into six pieces and serve.
Banana Almond Smoothie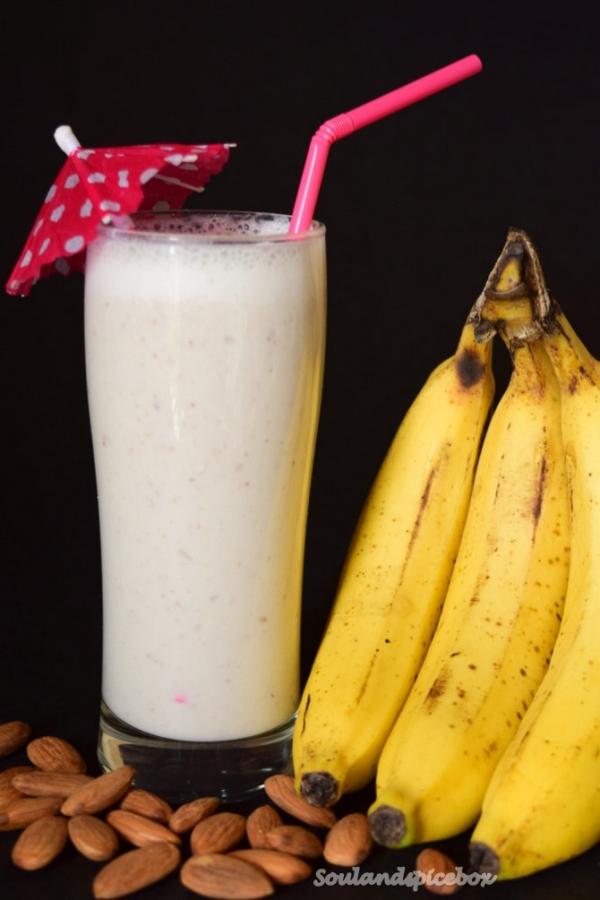 Ingredients
For the smoothie
1 banana frozen (If you are using fresh bananas, add in 2-3 ice cubes while blending)
1/2 cup thick curd/yogurt
1/4 cup milk
7 pieces almonds
1 tsp honey
1 pinch nutmeg
A pinch of cinnamon

To garnish
2 chopped almonds
A pinch of cinnamon

Method
Freeze the bananas, by putting them in a zip lock bag and store the bag in your freezer overnight. Don't thaw them before use. They should be ice cold when you blend them.
Put the almonds in 1/2 cup of hot water and let it sit for about 30 minutes.
After 30 minutes, peel off the skin of the almonds and set them aside.
Toss all the ingredients into a blender or food processor and blend until it is smooth.
Pour the smoothie into a tall glass and garnish with some chopped almonds and a pinch of cinnamon.
Baked sweet potato wedges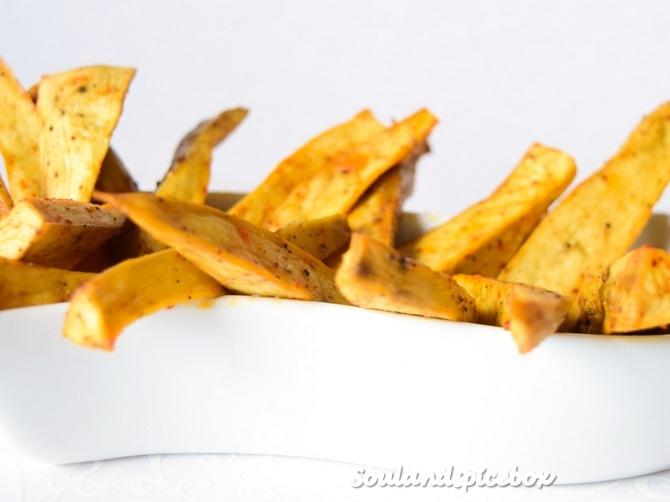 Ingredients
1 sweet potato
1/4 tsp rock salt
1/8 tsp pepper
1/4 tsp red chilli powder
1 tsp oil

Method
Pre-heat the oven to 350F (180C) and line a cookies sheet with parchment paper or aluminium foil.
Peel and thoroughly wash the sweet potatoes. Chop them into long wedges.
Take a bowl and combine all the ingredients. Mix them well so that everything is well incorporated.
Transfer the contents to the cookie sheet and spread them out so that they have enough space. If your oven is small, bake them in two batches.
Bake at 350 F (180C) for 15 minutes, then flip the wedges and bake them for 10 minutes or until they turn golden brown.
Serve them hot and enjoy your healthy snack.
Courtesy: Soulandspicebox.com
Reader Invite
Do you have an interesting festive recipe that you'd like to share with our readers?
Simply e-mail your recipe to getahead@rediff.co.in (subject line: 'Festive recipes') with your name, hometown and any interesting details about the origin of the recipe, along with a photograph, if possible.
We will publish the best preparations right here on Rediff.com.
Click here for interesting food recipes and features!